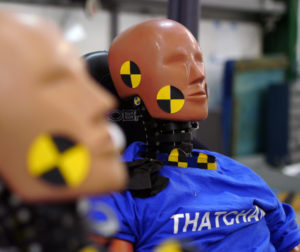 Risk intelligence specialist Thatcham Research is nearing the end of a project in the UK focused on how electric vehicle collision repair and salvage processes impact insurance claims and their associated costs. The findings will be presented to OEMs in March and will likely be beneficial to the U.S. market, according to Adrian Watson, Thatcham's head of engineering research.
"We've been researching electric vehicles, and particularly battery electric vehicles for about three and a half years now and during the course of that research, I think what we found is that there are risks associated with the impact that those have on the insurance claims flow process," Watson said. "We brought that to the UK government's attention, and they then commissioned this piece of work."
The research will focus on differences in claims handling between internal combustion engine (ICE) vehicles and BEVs.
"An awful lot of things are the same so one of the things that we have found is 80% of the claims that we think we're going to see in battery electric vehicles are going to be handled in exactly the same way as you're going to handle in a traditional vehicle," Watson said. "This [research] is just about where there is potential involvement in the battery and why is that so important? …What we can see is that the battery is incredibly expensive, that there are limited recycling options associated with recycling re-use and, therefore, you've got this incredibly expensive asset in a vehicle, which once it's involved in an accident potentially makes change and makes complication to the flow."
He provided EV quarantine — the time a damaged EV has to stay outside of the shop and away from other vehicles in case of thermal runaway and fire — as an example of how claims flow can be delayed by several days or weeks depending on the OEM, which impacts the customer experience, including length of rental.
"We're doing everything we can to see whether there are ways of optimizing that flow of potentially doing better diagnostics around the battery so that you don't need to enter the quarantine period in the first place," Watson said. "Why we're doing the research is finding these nuggets of difference and then trying to think about what might be done to make them better."
"We look quite regularly at the way the car parc develops and how vehicles flow through the car parc, specifically in the UK. We look at the age of the fleet, we look at how that flows through in terms of the buying relationship and the average life of vehicles in the market."
All of those factors, as well as recycling and reuse opportunities, come into play in the research and how they'll affect EV adoption rates and public acceptance. What is learned from the research will decide if more detailed work may be required in the future, according to Thatcham.
Thatcham is working in close partnership with LV= General Insurance, one of the largest insurers of EVs in the UK, and part of the Allianz Group. Vehicle salvage, dismantling, and recycling specialist SYNETIQ will also play a key role in the project.
Vehicle safety
Kelley Blue Book recently highlighted how EVs will complicate vehicle safety because of their added weight.
Raul Arbelaez, vice president of the Vehicle Research Center at the Insurance Institute for Highway Safety (IIHS), told KBB that EVs becoming more common, battery weight is "pushing vehicle mass higher."
The heaviest vehicle the IIHS ever tested, Arbelaez says, is a larger electric SUV, the 2019 Audi e-tron. That vehicle, as tested, was "under 6,000 pounds." But, he says, "some of these electric vehicles that have been advertised as coming in the next few years" are significantly heavier, "one as high as 9,500 pounds."
Late last year, IIHS tested its propulsion system to ensure that it could handle heavier EVs by adding heavy steel plates and concrete blocks to add 9,500 pounds onto a F-150 to see if it could tow a vehicle of that weight and reach the target speed of 40 mph for frontal, small, and overlap crashes on both sides of vehicles. The test proved the system successful in its ability to tow a vehicle in at that speed for the frontal crash.
"The fact that the IIHS worried it might need to build new equipment to accommodate them [EVs] illustrates something important," KBB wrote. "At the rate the auto industry is modernizing toward EVs, almost all of us will be driving them someday. But there will inevitably be an overlap period when some cars on the road are electric, and others are gas-powered.
"In an accident, weight matters. If you doubt it, watch videos of the time the IIHS crashed large cars into small cars. Those tests look radically different than tests of a car crashing into a barrier. The larger vehicles often stay in their lane while sending smaller cars well out of theirs. …Safety engineering is about to get a lot more complicated."
And repairs will be more complicated as well. I-CAR has provided some guidance on EV collision repair and so has the KPA in its "Plugging into Electric Vehicle Safety" eBook.
The eBook covers how to reduce EV fire and storage hazards, the "anatomy" of EV batteries, proper PPE, and EV safety compliance.
Safest Vehicles
Global automakers are paying greater attention to safety than ever before, according to Thatcham, which has compiled its list of the safest new cars that hit the market in 2022.
Cars that feature on the 10 safest list are selected by judges based on European New Car Assessment Programme (Euro NCAP) test scores, in addition to other core criteria such as mass-market appeal, safety technology innovation, and the performance of the car's Assisted Driving technology.
"Thatcham Research actively promotes innovation in both impact protection and crash avoidance technologies, and as leading advocates for the Euro NCAP programme, it is satisfying to see 50 out of the 66 cars tested in 2022 achieving a five-star rating, resulting in perhaps the strongest safest cars list we have seen," said Matthew Avery, Thatcham Research chief research strategy officer, in a statement. "This is something for which carmakers should be applauded, and we are pleased so many are continuing to prioritise motorist and vulnerable road user safety – especially during times of great technological and economic disruption."
The 10-car shortlist represents the nominations for the coveted "What Car? Safety Award 2023." All are five-star performers and feature vital safety equipment that will help to ensure the safety of motorists and vulnerable road users in this new era of assisted driving technology.
Judges noted an "encouraging trend" with Driver Monitoring System (DMS) technology that Thatcham Research believes is fundamental to the safe and successful deployment of automated tech in the future.
Comments from judges included:
"DMS has a pivotal role to play in improving road safety. In fact, we believe it to be one of the most beneficial tech advances in recent times."
"This technology is not a 'spy in the car' and doesn't record or log driver activity."
"Its impact as a 'guardian angel' technology in the short-term is profound, preventing fatigue from killing people, while ensuring motorists remain engaged with the driving task and undistracted by handheld devices."
"Next-wave DMS can also improve the performance of current Advanced Driver Assistance Systems (ADAS), for example, by helping the car to better understand the driver's intentions and, by doing so, preventing unnecessary interventions by the technology."
The finalists are: BMW X1, Hyundai IONIQ 6, Lexus NX, Mazda CX-60, Mercedes-Benz EQE, Nissan Ariya, ORA Funky Cat, Smart #1, Tesla Model Y, Toyota BZ4X,
This year's "What Car? Safety Award" winner and two runners-up will be announced on Jan. 19.
Images
Featured image: A BioRID dummy is shown. (Provided by Thatcham)
Share This: