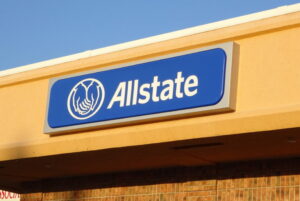 Allstate's CEO received $15 million salary last year for 'excellent' leadership
By on
Insurance
Allstate's top executive received $14.9 million in salary and incentives last year for delivering "excellent operating leadership in a difficult external environment," the company said in a filing to the SEC this month.
Tom Wilson was compensated with a $1.38 million salary, $2.39 million annual cash incentive, and $11.6 million in long-term equity despite Allstate's claims it has struggled to keep its auto insurance sector profitable amid inflation and supply chain challenges.
However, the insurance giant said in its SEC filing that its non-auto insurance business had strong operating and financial results. It credited Wilson for:
"Implementing a comprehensive auto profit improvement plan in response to inflation in loss costs including significant increases in insurance premiums;"

Investment returns that "were significantly better than external benchmarks;" and

Returning "over $3.4 billion in cash to shareholders."
Wilson has led the company since 2007. His overall compensation last year was less than the $18.4 million he received in 2021.
Allstate's other executives were also well compensated last year, with Executive Vice President and Chief Financial Officer Jesse Merten taking in about $2.4 million in salary and incentives. Mario Rizzo, Allstate's president of property-liability, received $3.8 million.
Allstate reported a $1.4 billion loss for 2022, despite strong results from home insurance, protection services, and fixed-income investments. Its descent into the red was attributed by executives to underwriting losses on auto insurance and market-to-market losses on its equity portfolio.
Speaking to investors during a Q4 conference call in February, Wilson said a number of measures were necessary to right the ship.
"[This] includes broadly raising auto insurance rates, reducing expenses including temporary moves such as less advertising and permanent reductions including digitizing and outsourcing work and lowering distribution costs," he said. "Underwriting restrictions have been implemented to reduce new business volume until profitability is acceptable. 
"Claims operating processes are also being modified to manage our loss costs. This plan is being implemented but earned premiums from auto insurance rates have not increased enough to offset higher loss costs."
Allstate has been hiking its rates for more than a year.
Last September, Wilson said the company would continue pushing its auto insurance rates higher, and at a faster pace, for the remainder of 2022, as Allstate dealt with entrenched higher loss costs, the carrier's CEO said during the Barclays Global Financial Services Conference.
Speaking during the Barclays Global Financial Services Conference, he addressed labor rates, disclosing that rival State Farm "just raised their labor rates $6 an hour across the country. We don't do it that way. We do it market by market, vendor by vendor so that puts some pressure [on costs]."
Severity factors, such as used car values and inflation in parts and labor costs, have risen significantly and are not expected to go back down, Wilson said. "The real trick will be how much is inflation going to keep going? Used car prices kind of leveled out but that's not true with labor costs and parts, [with] auto manufacturers still trying to catch up and raise prices on OEM parts."
Allstate began filing auto insurance rate actions in late 2021, raising its rates by 10% since the fourth quarter of that year. Last August, it implemented rate increases of 14.5% across eight locations, resulting in a total premium impact of 3.2%. Since the start of 2022 through last October, the carrier has implemented 72 rate increases averaging approximately 10.3% across 51 locations.
Images
Featured image: An Allstate agency in Acme, Mich. (John Huetter/Repairer Driven News)
Share This: