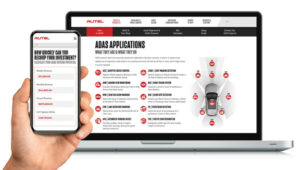 Autel U.S. has launched its redesigned advanced driver assistance system (ADAS) webpages that provide comprehensive resources for shops looking to add ADAS calibrations to their list of services. And on Wednesday, Opus IVS and Body Shop Business will host a webinar on ADAS calibrations and shop setup.
There are 99 million ADAS-equipped vehicles on North American roads today and that number is projected to grow to 210 million by the end of the decade, Autel said in a news release.
Opus IVS ADAS Solutions Vice President Frank Terlep has called ADAS calibrations "the biggest opportunity" for the industry in 20 years with 98% of vehicles that were sold last year having ADAS. Couple that with the potential for 14 million accidents and 13 million windshield replacements that call for calibrations and a lot of money can be made, he said. At 10-12 calibrations a day, or 4,800 a year, at a cost of $300-400 each, Terlep said a calibration center can make over $773,500 in profit a year.
He has also given a rundown of what it takes to open and operate a successful ADAS calibration business, and will again on April 27 during a webinar with Body Shop Business' Jason Stahl.
At 2 p.m. EST, Terlep and Stahl will:
Help shop owners determine if offering ADAS calibrations is the right fit;
Review training, equipment, and partnership investment opportunities to consider;
Review shop capabilities that would provide the greatest customer satisfaction and profitability;
Review the most effective ways to market advanced vehicle technology repair capabilities;
Provide tips on customer ADAS education; and
Provide information on the specific technologies that provide the best ROI.
Registration for the webinar is available here. Terlep says a professionally managed and busy ADAS services and calibration business can generate gross profit percentages as high as 70% and receive a payback in as little as one year. However, both he and Autel note that many shops are subletting calibrations to mobile technicians or recommending customers go to dealerships for the service.
"Those are lost opportunities to generate revenue and for shops to give quality key-to-key service to their customers," said Autel ADAS Sales Senior Executive Stewart Peregrine, in a statement. "There are a lot of misconceptions and a good deal of fear among shop owners and technicians about performing ADAS in one's shop, and those fears break down into three questions: Is my shop large enough to perform ADAS calibrations? Can I afford a calibration system? Can my technicians and I learn the technology? We developed the site to mitigate those fears by providing a wealth of information that addresses each of those concerns."
Autel's ADAS site pages break down into the following sections: "Intro to ADAS," which Autel says is a primer on the types of ADAS there are, including Automatic Emergency Braking and Blind Spot Detection; "ADAS & Your Shop," which provides an overview of the space needed to perform each type of calibration; an ADAS Setup Guide, and Autel's alignment and ADAS products.
Autel also offers an ADAS Return on Investment (ROI) calculator for those looking to get an idea of how much it would cost to bring ADAS calibration in-house and when that investment will be recouped. There are promotional print-ready "Intro to ADAS" brochures and posters that can be downloaded as well — good materials to not only promote new ADAS calibration services but to educate customers on vehicle safety systems and the importance of calibration after a repair or alignment.
Shops can reach out to Autel for a no-obligation consult to ask general questions about ADAS and/or shop setup.
Autel U.S. is headquartered in Port Washington, New York, and is a subsidiary of Shenzhen, China-based Autel Intelligent Technology Corp. Repairer Driven News recently reported on the corporation's requirement for shops to agree to an end-user license agreement (EULA) on its scan tools. Before the tools can be used, the EULA is shown, which allows for the collection, processing, storage, and transfer of data — including personally identifiable information (PII) — to the Republic of China under its laws, or lack thereof.
After the EULA is agreed to, there isn't an option to view it later or save a copy. It also can't be found online.
"We are actively reviewing all of our End User License Agreements in keeping with evolving public conversations surrounding data security," Autel told RDN.
Society of Collision Repair Specialists (SCRS) Aaron Schulenburg explained during the Collision Industry Conference (CIC)'s April meeting that if a shop owner buys a diagnostic scan tool, then lets a technician set it up, there may be a EULA that isn't read, or is agreed to without the owner ever knowing effectively causing legal risk in the future.
Editor's note: This article has been updated to add Autel's response to RDN's request for comment post-publication.
Images
Featured image: Autel has launched an ADAS buyer's guide for shop owners on its website. (Credit: Autel U.S.)
Share This: