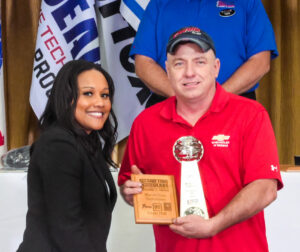 A U.S. veteran who participated in General Motors' Shifting Gears initiative while fighting cancer received a rare distinction upon graduating  from the program earlier this year.
Staff Sgt. Chris Hall, who spent more than 20 years in the military serving both Iraq and Kuwait, is among the nearly 750 veterans to graduate from Shifting Gears Automotive Technical Program.
As the program marks its 50th cohort, Hall is being recognized as an exemplary graduate who is among 2,000 technicians to ever receive GM's World Class Technician certificate.
He graduated from Shifting Gears in 2017, finding it a natural progression from his prior role as an Army mechanic. He now works for All American Chevrolet in Midland, Texas; it's an added bonus for a man who has always driven Chevy vehicles and is passionate about fixing them.
After graduating from the program and settling into his new job, Hall spent five years mastering the auto technician trade and working toward earning the World Class Technician distinction, which required him to pass at least eight master technician certifications.
In the process he faced a devastating setback: a cancer diagnosis.
While undergoing six-months of treatment for lymphoma, he said keeping up with his studies helped keep his mind off his health issues.
"I was fortunate that I had an employer that was willing to work with me," Hall told Repairer Driven News. "It was an adjustment and I pushed myself as hard as I could. I believe the key was not sitting there dwelling on what was happening, but to do all I could to support myself and family as long as I was physically able."
Being recognized by GM for his hard work isn't all Hall has to celebrate: his cancer went into remission last June.
"I feel very fortunate that the chemotherapy worked for me as well as it did," Hall said. "I know there is always a chance of it coming back but I have been cancer free for almost a year now. It has made me realize that you have to make every day count."
Hall was the second Shifting Gears graduate to receive a World Class Technician certificate.
GM launched its Shifting Gears auto tech training program in 2014 to help soldiers transition into civilian life while building successful careers as GM service technicians.
The 12-week program includes classroom, online and hands-on technical training that provides soldiers transitioning from the Army with the necessary skills to become GM service technicians.
Last year, Repairer Driven News featured Retired Sgt. 1st Class Christopher Watters, who completed his World Class Certification through GM's program in September.
Watters served 21 years in the U.S. Army as a light-wheel mechanic. He told RDN he found Shifting Gears when he was researching jobs he could work after his military service ended.
"It was a great introduction to today's vehicles compared to what I was used to working on before I joined the military, so it kind of brought me up to speed on where we were at," Watters said. "That way when I got to my dealership, I just hit the ground with both feet running. I already had mechanical knowledge. This just prepared me to be able to come into these vehicles and take that next step and get that hands-on [knowledge] going into it and knowing what I'm doing with them.
"I didn't have to worry as much as I see veterans coming in that didn't go through this program trying to get into this [work] struggling because they don't know what they're getting into. They just say, 'Oh, I wanna be a mechanic today.' They step into this world and they're just struggling because they don't have the background, the training."
For more information about Shifting Gears and to sign up for the program, visit their website.
Images
Chris Hall is pictured with GM employee Nicky Doss/Courtesy of Shifting Gears
Share This: