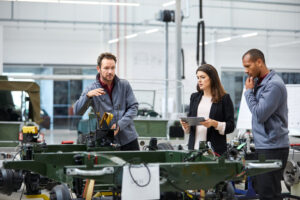 NLRB: Tesla violated labor laws by silencing employees
By on
Legal
Tesla broke the labor rules by putting a gag order on employees, forbidding them from discussing wages or employment terms with colleagues, a National Labor Relation Boards (NLRB) judge ruled.
The case could serve as a warning for repair shops on the dangers of unfairly reprimanding employees, or punishing them for discussing wages or escalating internal complaints.
Under the National Labor Relations Act, employees have the right to discuss their wages in most scenarios and it is illegal for businesses to punish them for doing so.
"Wages are a vital term and condition of employment, and discussions of wages are often preliminary to organizing or other actions for mutual aid or protection," the act says.
"If you are an employee covered by the Act, you may discuss wages in face-to-face conversations and written messages.  When using electronic communications, like social media, keep in mind that your employer may have policies against using their equipment.  However, policies that specifically prohibit the discussion of wages are unlawful."
In the case of Tesla, its former collision technician James Eyman filed a complaint against it last April, alleging it discriminated against him by suspending him and later discharging him "in retaliation for engaging in protected concerted activities," the NLRB said in its ruling.
Eyman's complaint against the OEM alleged the automaker violated a section of the National Labor Relations Act by:
"Telling employees in December [2021] not to discuss their wages with others or complain about pay to higher level management";

"Telling employees on dates in January, including January 20, [2022] not to discuss newly hired employees with others, complain to higher level management about terms and conditions of employment, or discuss the suspension of an employee with others"; and 

"Telling employees on January 31 [2022] not to discuss an employee discharge with others."
The complaint relates to a group of employees at a Tesla collision center in Orlando, Florida, where Eyman was hired in 2017. Discord began brewing after he and other employees learned Tesla was bringing in new employees to replace existing ones at a higher rate of pay, the complaint said.
The filing also noted Tesla's "open floor" policy that is shared with candidates during the hiring process.
"Employees have the right to freely discuss their wages, benefits and terms and conditions of employment, and to raise complaints internally or externally," the policy says, according to the complaint. "Tesla encourages you to bring any concerns or complaints you may have to any member of management. This open communication is a reality at Tesla and your concerns will be given attention as promptly as possible."
But when word got out about the salary discrepancies, the collision center's managers issued an order that forbade employees from discussing their pay rates or filing complaints with higher-level managers, the complaint said.
When Eyman indicated he planned to lodge some concerns with HR, he was suspended weeks later, the filing said. His supervisor contended he was suspended for threatening violence, a claim Eyman denied.
U.S. Labor Board Judge Michael A. Rosas ruled last week that Tesla violated federal rules through its actions, and ordered it stop violating labor law.
Tesla has yet to publicly respond to the ruling.
Those with questions about their rights under the NLRA Act can call 844-762-6572.
Images
Featured image credit: Morsa Images/iStock
Share This: