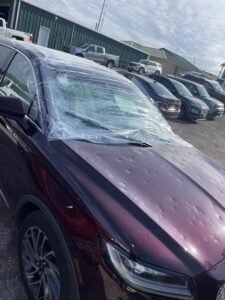 Texas hail storm damage prompts reminder for shop emergency preparedness
By on
Collision Repair
A Texas hail repair shop owner became overwhelmed with customers following a freak hailstorm that damaged hundreds of cars, and now he's encouraging other shops to establish contingency plans to prepare for unexpected events.
Burl Richards, owner of Burl's Collision Center in Henderson, said the East Texas town he lives in was hammered last week by a hailstorm that sent baseball-sized chunks of ice plummeting from the sky.
The National Weather Service reported last Wednesday that several storms across Central Texas were "producing very large, destructive hail." It was the latest in a number of severe storms to plummet the southeastern U.S. this year, with insurers attributing weather events to rising premiums.
Richards said last Thursday alone, the day after the storm, his shop inspected 223 cars. The next day, they assessed 100 more.
"We had customers with mirrors broken off their cars in a way that I've never ever seen," Richards told Repairer Driven News. "The hail busted out so many windows, and so many panoramic roofs and sunroofs, which caused water damage."
Although they didn't have a predetermined plan in place to deal with the hundreds of customers who turned up at Richard's shop for help, they quickly established one.
The shop manager turned up to work at 5:15 a.m. the day after the storm to find dozens of people waiting in the parking lot and began to set up a triage-type area to begin the intake process.
All employees were put to work, bringing out tables and chairs usually reserved for parties to accommodate customers.
"I've got to give my manager and my team so much credit here because they were so prepared," Richards said. "They started processing claims from about 6 a.m. through 6 p.m. and in that period processed 223 cars and trucks, which is pretty phenomenal."
There was only so much his shop could standardize, however, as each insurance company has its own claims process. Most ask their policyholders to submit photos while others will send an appraiser to assess the damage in person.
He said they managed the process by sorting out which customers had claim numbers and which ones didn't. Those who didn't yet have a claim number were advised to contact their insurer for guidance on how the shop should proceed.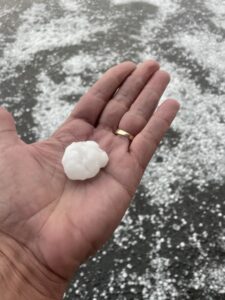 Richards also guided his technicians on how to work customers through the process so that they could also step in to help with processing.
Once customer data was logged and photos were taken, the team then worked to determine which cars were drivable and which were not. They covered drivable cars with crash wraps to prevent customers from being injured by shards of glass and avoid additional damage.
He noted that repairing the broken windows and sunroofs is not as simple as it once was.
"Here's the thing: 10 years ago if you had a busted windshield, you could just cut the windshield out, put another windshield in and it's no big deal," Richard's said. "But today a lot of these vehicles have these [assisted driving assistance systems] with cameras and technical things."
Not knowing whether insurance was willing to pay for such repairs and the necessary calibration, Richard's team left those vehicles on the lot. By the time they finished their assessment of each vehicle, 90 remained on the premises that were considered not drivable.
From there they marked the vehicles as either total losses or repairable, and sorted them in lots based on which insurer would provide coverage. That way, when an appraiser arrived to view a car, employees could tell them exactly where to look for it.
Throughout it all, he said his team remained calm and in control.
"I was so proud of our crew because we had so many posts on Facebook and comments from people who said they couldn't believe how organized we were," Richards said. "They would say, there was zero chaos," and 'your team handled this so professionally.'"
Richards said one insurer, Farm Bureau, was so impressed with the way his shop managed the situation they chipped in to help cover general supplies with a check for $500 to offset the cost of crash wrap being used to protect vehicles.
"I've never seen an insurance company do that," Richards said. "It was cool that the insurance company saw the value in what we were doing by trying to help the customers."
Now that he's witnessed the storm's aftermath, Richards is encouraging other shops to determine how they would handle a similar situation.
"The best thing I would do is have a meeting, get with managers and do my due diligence to prepare for a disaster like this," he said. "I would figure out what works best for your shop, how you are going to be able to process this many cars and think outside the box a little bit. We were fortunate that we just came up with [our plan] at the spur of the moment."
Richards said he also took the opportunity to educate drivers, whether they chose his business or not, to ensure their vehicles are repaired properly or, in the event of a total loss, that they receive a fair payout.
"This is not about drumming up business," Richards said. "I explained to [people]: whether we fix their vehicle or not, they should make sure the repairer they choose uses OEM procedures and processes. Number two, if their vehicle is totaled, they should be aware and mindful of the appraisal clause which is in most policies."
Images
Images courtesy of Burl Richards
Share This: