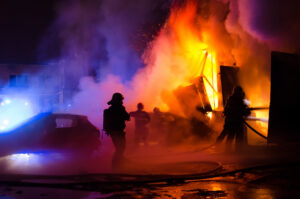 Underwriter offers guidance on repair shop fire coverage
By on
Announcements
A series of recent repair shop fires serve as a reminder of the importance of obtaining comprehensive insurance policies to guard business owners against significant financial losses.
Earlier this week an autobody shop in National City, California was gutted by a fire that investigators believe was caused by arson, local media outlets reported. And on Wednesday morning, a repair shop fire in Sperryville, Virginia caught fire and exploded, according to a report.
It's not known whether those businesses have coverage, but a number of GoFundMe accounts have been launched for other cases where buildings were not insured, or where policies did not cover personal items.
With many repair shops stocked with hundreds of thousands of dollars in tools and equipment, having the right policy can be critical to protecting their assets.
Shaughn Kennedy, a vehicle specialty market underwriter at Spark Underwriters, said shops should be their own advocate when shopping for insurance. He said they should ask the right insurance coverage questions to understand how they're being insured and ensure they have the correct coverage limits.
"The majority of the time, the shop's building and contents are some of the largest monetary assets of the company," Kennedy told Repairer Driven News. "The single most important step is to know what they are worth and make sure your insurance policy has kept up. The point of having insurance is to make you whole in the event of a loss. Do not let common missteps prevent you from having adequate insurance."
Kennedy said most commercial insurance policies cover the building and property on a replacement cost basis, with some offering enhancements to extend limits. He said a good starting point for shops seeking a new policy would be to establish how much it would cost them to rebuild their business in the event of a fire.
The right insurance companies, he added, will provide a reconstruction cost estimate based on a building's unique features and share it with the business as a starting point for creating the policy.
"A collision shop has many expensive built-in items such as a paint booth," Kennedy said. "Make sure the reconstruction cost evaluation takes these items into account."
Business and personal property should be taken into account as well, he said, adding such items encompass anything that would fall if the building was turned upside down and shaken.
"This is your welders, shop-owned tools and equipment, computers, inventory of parts/paint — to just name a few," Kennedy said. "You will be surprised how this added up."
Shops that are renting space should ensure tenant improvements and betterments are covered if a business made alterations to the building after moving in, he added.
Insurance considerations shouldn't be restricted to the cost to rebuild a property and replace items.
Kennedy said businesses should also factor in the cost of environmental cleanup. Some policies offer just $10,000 for remediation, while the cost could be closer to $50,000.
Another key consideration he referenced was garagekeepers limit, which provides physical damage coverage for customer vehicles while in a shop's care. He said shops should take time to calculate the number of cars in their location and estimate the average value to determine how much coverage they should obtain.
"If you have a fire loss you will likely be held legally liable for the damage to your customers vehicles from the fire event," he said. "Not having adequate coverage limits could cost you money but also damage your reputation in your community."
Shop owners and their employees can also turn to the Collision Industry Foundation, which supports those with ties to the industry after disasters, for help if they've been affected by a fire.
The nonprofit was established in 2001 to provide emergency relief for collision repair professionals affected by natural disasters or other catastrophic events.
Images
Featured image credit: tiborgartner/iStock
Share This: