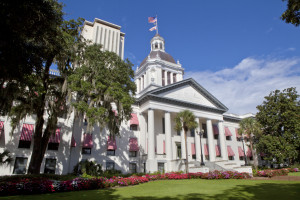 Florida lawmakers reject $2M request to develop EV repair workforce
By on
Collision Repair
A Florida project that aimed to help those from "underemployed, underserved and underrepresented" communities pursue careers in electric vehicle (EV) repair failed to secure funding for the state's budget.
During a conference committee meeting held last week to discuss infrastructure and tourism appropriations for the 2023-24 fiscal year, a $2 million request to develop an EV workplace training program was rejected.
The request for program funding was brought forward by Evelyn Cardenas, president of the Central Florida Auto Dealers Association (CFADA). In an application submitted on the association's behalf, Cardenas laid out her hopes for the program.
"Our vision is to provide underemployed, underserved, and underrepresented communities opportunities for gainful careers in electric vehicle repair by developing, piloting, and launching a training ecosystem," she said. "The workforce ecosystem will be designed for training, on-the-job support, reference, and micro-learning. It will support up-skilling the current and new workforce. At the end of the training, students receive a credential that certifies successful program completion and workforce readiness."
The request also broke down how the budget would be spent. It included:
$75,000 for the executive director;
$100,000 for statewide marketing, advertising and promotion;
$450,000 for curriculum development;
$350,000 for salaries and benefits;
$725,000 for workforce placement;
$180,000 for nonprofit partnerships; and
$120,000 for facility rental allowance.
The financial ask laid out out how dealerships, private businesses, and governments are in need of technicians to maintain and repair EVs, and said there is currently no educational program in existence that meets the need to train them.
According to the application, CFADA would have used the funding to develop theoretical training on EVs, followed by hands-on training that would give students real-world experience before becoming certified as an EV technician.
The application cited a statistic showing there are more than 70,000 unfilled positions for gas-powered vehicle techs; it also pointed to a projection indicating more than half of new vehicle sales will be EVs by 2028.
"In 5 years, there will be 9 million EVs on the road," the application said. "We need to build the talent pipeline of EV techs to service these vehicles."
It said the program wouldn't just benefit shops. It would also benefit the most vulnerable members of the population while giving others a pathway into the field.
"Young adults, veterans, and individuals seeking a career in electric vehicle technology can receive training and certification to pursue a career as an EV tech," the application states. "Funding is necessary to meet the unique and immediate need for effective and affordable training that allows underserved and underrepresented populations to enter a long-term lucrative career in zero-emission transportation."
Cardenas told Repairer Driven News that the project is necessary to accommodate the transition to EVs. She said she is not aware of any other state-funded training programs that meet the need for technicians trained to work on EVs.
She said she'll continue to work with the legislature on the need for expanded EV infrastructure and training. CFADA is already working with the Florida Department of Education Career and Technical Education on the approval and launch of its EV tech apprenticeship program, she said.
"If we do not get ahead of this now, the required workforce is not going to be there," Cardenas said. "Our industry is rapidly changing. The growth in alternative fuels is exciting. As some industries contract, there is an opportunity to offer high-skilled wage careers in other industries such as ours."
Florida has the second-largest number of EV registrations in the nation, falling only behind California.
There have been EV training programs in Florida funded by the private sector. In early 2022, Universal Technical Institute (UTI) began offering an electric vehicle certification curriculum as part of its 15-week Ford FACT (Ford Accelerated Credential Training) program at nine campuses, including one in Orlando, Florida.
Last month, two back-to-back panels during the annual International Bodyshop Industry Symposium (IBIS) USA conference in Nashville gave the nonprofit, technical school, and employer perspectives on the nationwide technician shortage as well as what they're doing to attract young talent to the collision industry.
Panelists said good first steps are to work with nonprofits and schools to offer curriculum guidance and apprenticeships. But it's also about building an encouraging and inclusive classroom and workplace culture.
One speaker, Caliber Collision Senior Vice President of Operations Max Sorensen, touched on how the industry workplace is transforming to meet the needs of the younger generation and recruit them as well as what can be done moving forward.
Sorensen noted that in the next five years, the collision repair industry will need 110,000 technicians. According to TechForce, the tech shortage reached 232,000 in 2021. In collision alone, the demand was 35,000 techs while only 4,500 graduated. That makes programs like TAP and others more important than ever to recruit young talent.
"That's just fact based on the average age of the technician being 47 years old and older," he said. "We're going to be aging out technicians and without bringing technicians into the industry, we're going to be in a bad place very, very quickly, especially with the technologies coming. I think — for me, for Caliber — the one thing we've had some success with over the last 18 to 24 months is an apprenticeship program with some structure behind it. …at the end of the day, we all need to have a driving force in this."
Images
Featured image: The Florida Capitol. (Aneese/iStock/Thinkstock)
Share This: