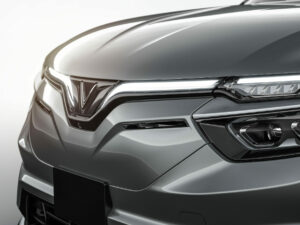 VinFast requires Gold Class shop credentialing for U.S. repair network
By on
Announcements
The first Vietnamese electric vehicle (EV) manufacturer says I-CAR's Gold Class shop level credentialing will be a requirement for its U.S. repair network.
VinFast, which recently secured $2.5 billion in investments, to accelerate its growth throughout Europe and the U.S., said Wednesday that requiring I-CAR's curriculum and certifications will standardize and enhance skills for technicians.
"Excellent service is one of VinFast's core values," shared Nguyen Van Anh, CEO of VinFast North America. "Choosing I-CAR's prestigious education programs and certificates will help us quickly achieve that, bringing peace of mind to customers when using VinFast electric vehicle products."
The OEM is among dozens of other automakers and insurers who also require Gold Class status for their network facilities.
According to I-CAR's website, its Gold Class standard sets the bar for the collision repair industry by providing shops and insurers with a reliable training framework. Its professional development program "maintains up-to-date knowledge and skills that contribute to proper repairs, improved business performance and risk reduction," its website says.
Through the newly-announced partnership, I-CAR will provide VinFast's Certified Collision Network with technical education including welding certifications.
I-CAR already partners with more than 20 OEMs worldwide on training.
"We are very excited to now also support VinFast – an electric vehicle brand that is making rapid strides in the global EV market and in the U.S. in particular," said Greg Ross, I-CAR's vice president of sales and marketing. "We look forward to working with VinFast to bring our high-quality solutions to its VCCN for the ultimate benefit of the consumer."
Meanwhile, Mitchell announced on Thursday that it signed a data licensing agreement with Rivian, becoming the first collision industry information provider to do so. Through the partnership, auto insurers and collision repairers will be able to use Mitchell's software to write Rivian damage estimates and access OEM repair procedures for all of its passenger and commercial vehicles.
"Rivian is committed to supporting our passionate, adventurous owners and customers throughout the vehicle lifecycle. Unfortunately, this may occasionally include a collision event," said Brandon Chittenden, Rivian's manager of collision data and industry relations. "We are eager to make Rivian's data available in Mitchell's collision estimating database. This is a crucial step in helping insurance carriers and repairers restore our vehicles to pre-accident integrity and get our customers back on their adventures quickly."
A Rivian spokesperson told Repairer Driven News that it would continue to work with shops within its certified networks that aren't using Mitchell software, saying "Rivian will work with any estimating systems in our sales markets that would like to carry our vehicles and that execute a license agreement with us."
Debbie Day, executive vice president and general manager of Mitchell's auto physical damage division, said the partnership will help prepare for the anticipated widespread adoption of EVs.
"Increasing EV adoption rates have reinforced the need for accurate data on the latest vehicles along with a technology platform built for battery electric vehicles (BEVs) and their unique design differences," Day said. "Mitchell is meeting this need through expanded EV coverage and enhancements to our cloud-based estimating platform, which are designed to better support accurate and efficient BEV damage appraisals."
Images
Featured image credit provided by VinFast
Share This: