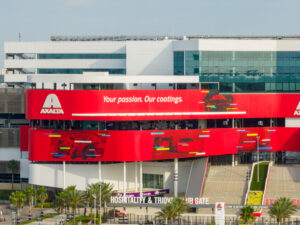 Axalta sees nearly half of 9.4% net sales increase in Performance Coatings segment
By on
Market Trends
Axalta shared last week that its net sales increased during Q1 by 9.4% year-over-year (YOY) because of better pricing and volume growth, including a 4% increase YOY increase in its Performance Coatings segment.
The company's income from operations reached $125.3 million compared to $86.3 million in Q1 2022. Adjusted earnings before interest and taxes (EBIT) also increased by 25% to $149.3 million compared to $119.5 million in Q1 2022.
The Q1 net sales increase was powered by 9.4% higher average price mix and 2.7% better volumes, offset by a 2.7% foreign currency headwind, Axalta said in a news release. The 4% performance coatings increase was partially offset by weaker industrial volumes.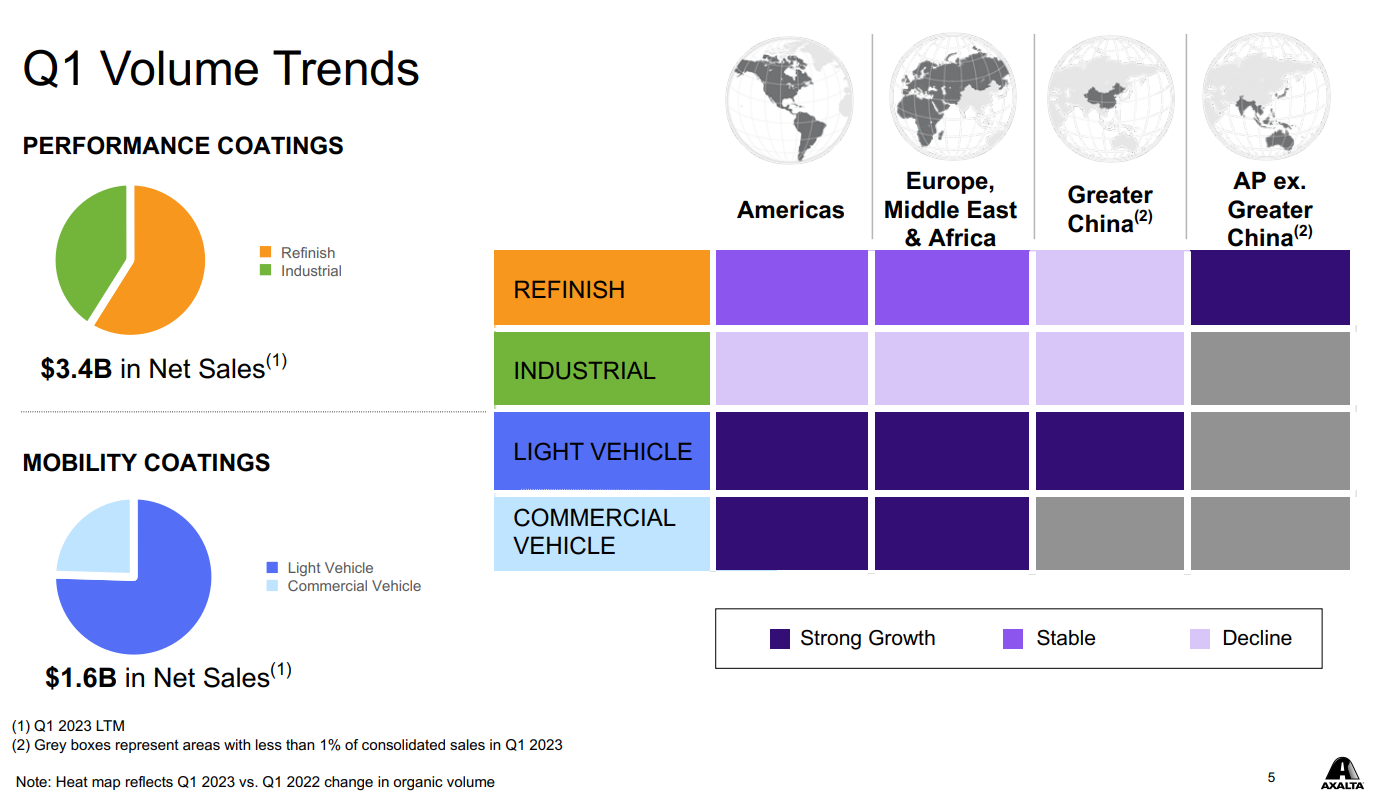 Axalta's Mobility Coatings segment net sales increased 21.4% supported by new business acquisitions, market recovery, and higher realized price paid by buyers. Adjusted EBIT generated by the segment was $23.5 million in Q1 compared to $500,000 YOY.
Income from operations for Q1 2023 totaled $125.3 million versus $86.3 million in Q1 2022. Axalta ended the quarter with cash and cash equivalents of $512.1 million and total liquidity of more than $1 billion. First quarter cash used for operating activities was $51.8 million versus $43.9 million in Q1 2022.
The cumulative total income from operations and adjusted EBIT impact since the beginning of 2021 from price-cost shifted positive for the first time; however, there remains a cumulative deficit in two of four end-markets where pricing remains a high priority, Axalta said.
"I am pleased to report first quarter earnings above our guidance range and am encouraged by the progress clearly demonstrated in our results," said Chris Villavarayan, Axalta CEO and president. "We are building momentum and working hard to maximize the opportunity in front of us through focusing on more efficient execution at our plants, productivity across all functions, and working with our partners to realize the full value of our product and services. We are taking actions to strengthen Axalta's long-term profitability, and as I close my first quarter as CEO, the future looks bright. I am excited to unlock the tremendous potential of this organization and wish to congratulate the entire Axalta team for a well-executed quarter."
Performance Coatings volumes declined 3.4% due to "modest" refinish growth of 0.9% but was offset by less industrial activity and strong North American MSO growth despite slow recovery in China from COVID-19 lockdowns and softer demand in Europe, the Middle East, and Africa. Refinish net sales increased 7.8% year-over-year to $497.6 million.
"Body shop customers are still being impacted by parts and labor shortages, which is driving elevated backlogs and continues to strain volume growth. However, share gains, MSO consolidation, increased points of distribution, and expansion into adjacent markets are driving growth in our business and the expected continuation of above-market performance."
The Performance Coatings segment generated adjusted EBIT of $109.3 million during Q1 compared to $94.6 million in Q1 2022, with associated margins of 12.9% and 11.6%, respectively. Refinish was the primary reason for YOY adjusted EBIT growth.
Net sales in Axalta's Mobility Coatings segment reached $436.8 million during Q1, creating an increase of 21.4% YOY. Volume growth of 16.5% "reflected robust market demand, customer wins, and the ramp-up of new customer plants," the company said. Net sales to light vehicle OEMs also increase reaching $328.5 million, or 19.2% YOY.
"Looking ahead, I expect operating income to continue to improve given momentum in price-cost and earnings recovery in Mobility Coatings," Villavarayan said. "In Performance Coatings, we expect that continued focus on price should more than offset softer demand in Industrial while Refinish is set up nicely to have another record year of profitability. Axalta is committed to driving meaningful operating income and cash flow growth in 2023; we believe we are on a favorable trajectory following a solid Q1 result."
PPG also saw improvements during Q1 with record net sales overall of $4.4 billion as a result of higher sell prices that contributed to PPG's ability to improve manufacturing efficiencies and overall cost discipline. The company expects refinish sales volumes to be close to 2019 pre-pandemic levels during Q2.
Images
Featured image credit: felixmizioznikov/iStock
"Q1 Volume Trends" presentation slide provided by Axalta 
Share This: