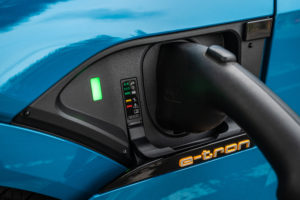 Audi is reporting a 43% increase in deliveries for its electric vehicle (EV) models and said it plans to launch about 10 new EVs through 2025.
Announcing its "strong delivery figures" for early 2023, the OEM said it delivered about 422,000 Audi, Bentley and Lamborghini vehicles during Q1, representing an 8% year-over-year (YOY) increase.
Of the vehicles sold, 34,584 were EVs, a significant jump above the 24,236 EVs delivered YOY.
"We increased deliveries of all-electric models in the brand group by 43%," said Markus Duesmann, Audi's chief executive. "This shows how attractive our electric portfolio already is. And with the largest model offensive in Audi's history, starting with the Q6 e-tron in the second half of the year, we are providing the right response to the accelerated trend toward electric mobility."
The automaker has pledged to go 100% electric and said that by 2027, it will offer an EV in each core segment.
The EV market has proven challenging for some other automakers.
Ford expects to lose $3 billion by year-end on EVs through its Ford Model e interdependent auto business segment that includes its "breakthrough" EVs, the automaker said in March.
However, the OEM believes its Ford+ Plan will produce "solid growth and sustained, healthy profitability and returns by deploying new technologies, achieving higher quality, lowering costs and complexity."
John Lawler, Ford's chief financial officer, said in March that Ford's EV business should be thought of as a startup.
"And like all EV startups, model E is initially operating at a loss as we invest to build scale," Lawler said. "We were intentional in being early to market with our first-generation EVs to develop knowledge, volume and share, and it's working. Ford was the number two EV brand in the U.S. last year. We're bringing lots of new customers to the Ford brand now so that they stay with us over time. There's a great amount of value in that."
He added that Ford is learning about better cost design and manufacturing practices looking forward to second and third generations EVs.
"We are obsessing over energy-efficient designs because they will allow us to significantly reduce the battery size and cost," Lawler said. "We are also focused on ultra-high simplicity of manufacturing and platforms that maximize commonality and reuse. …We are still focused on taking out billions of dollars of cost, primarily in Blue from reducing vehicle complexity, which flows through our manufacturing and engineering systems. And this savings will help fund the growth in Pro and Model e."
Meanwhile, Lucid fell short on its sales during Q1, bringing in about $149 million and falling well below analyst estimates. Nevertheless, its Q1 revenue represented a 159% YOY increase.
Lucid produced 2,314 vehicles at its Arizona manufacturing facility during Q1 and delivered about 1,400 of those vehicles. It said it plans to make more than 10,000 vehicles this year and end the quarter with $4.1 billion in total liquidity, which would fund the company through Q2 2024.
"Our mission and optimism are unchanged," said Sherry House, Lucid's chief financial officer. "We are committed to an environmentally sustainable future–designing, building and delivering the best EVs on the market."
A report released earlier this year indicated enthusiasm for near-term EV growth is waning among global auto executives.
KMPG surveyed more than 900 leaders for its Global Automotive Executive Survey and found the majority to be less optimistic about EVs than they were a year earlier.
In 2021, executives predicted that emission-free vehicles would capture 20-70% of the market by 2030. Last year, the forecast dropped with auto leaders saying it's now likely that EVs will comprise just 10-40% of market share by the end of the decade.
The survey found leaders were particularly bearish about EV sales growth in India due to poor infrastructure, and in Japan because of a focus on hybrid vehicles.
Interestingly, the number of executives who believe EVs can achieve widespread adoption by 2030 increased, growing from 77% in 2021 to 82% last year.
A number of luxury OEMs, including Mercedes-Benz and Lexus, have said they'll go all-electric by 2030. Non-luxury automakers like Honda, Hyundai, and Ford are moving in the same direction although with 2040 targets to sell all or mostly carbon-free models.
"Auto executives are extraordinarily optimistic about the future, but at the same time their confidence is tempered by the need to turn automotive dreams into reality," Gary Silberg, KPMG's global head of automotive, said in the report.
Russell Hensley, McKinsey Center for Future Mobility co-chair, said the complexity of producing EVs at scale, coupled with driver reluctance to make the switch, have slowed the electric transition.
"It's quite complex to actually design, develop, and produce electric vehicles at scale when you have a vehicle fleet so dominated by the internal combustion engine, and all the systems in the world for mobility have been indexed toward the internal combustion engine," Hensley said during an interview.
"Adoption has not gone faster because there is a hesitation in pivoting from something that is so trustworthy in the internal-combustion engine to something that is a relatively new technology. And, with vehicles being the second-largest investment that a household makes, it's obviously a decision that takes much consideration."
Other obstacles for manufacturers include a lack of raw battery materials as demand for batteries is expected to rise 900% by 2030, according to UP.Partners' newly released "The Moving World" report.
Automakers will also struggle to produce EVs at scale that are affordable for the average consumer due to the ballooning costs of key components such as lithium, cobalt, and nickel, the report said.
"Converging exponential technologies are disrupting aviation, EV adoption is accelerating at rapid pace, and electric 2- and 3-wheelers are displacing 1 million barrels of oil a day. Yet, the mobility sector has emerged as the largest CO2 contributor in the U.S. As many opportunities as there are in this rapidly transforming industry, there are even more challenges to be addressed," said Cyrus Sigari, Co-Founder and Managing Partner of UP.Partners.
"Transforming the moving world by moving people and goods cleaner, faster, safer, and at lower costs on the land, in the air, on the sea, and in space is a shared mission among governments, investors, and entrepreneurs alike. It is our hope that industry leaders and their teams will use the Moving World Report as a guide to confront the challenges and unlock the opportunities that lie ahead."
Images:
A charger is plugged into an Audi e-tron electric SUV. (Provided by Audi)
Share This: