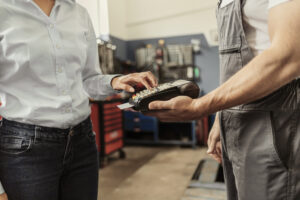 Less than half of U.S. adults can afford to pay an unexpected emergency expense, such as a vehicle repair, with the cash they have on hand, according to a new study.
The Morning Consult, in partnership with Bloomberg News, surveyed 11,000 people and found 48% to be cash-strapped, with 35% needing to take on debt to cover an unforeseen $400 bill and another 17% unable to afford it at all.
Low and middle-income earners are disproportionately affected by surprise bills, with 48% of those unable to pay them earning less than $50,000 per year, the survey found.
It also revealed that those earning less than $100,000 annually were more likely to be hit with an unexpected bill.
Those in the $50,0000 to $99,999 income bracket had a median vehicle repair cost of $335 in the month before they were surveyed, while those taking in less than $50,000 per year reported a median repair bill cost of $330. The survey was conducted in April.
"Despite having two years of robust job growth [and] a really resilient economy, just over half the population is living paycheck-to-paycheck, not able to pay a $400 expense," John Leer, chief economist at The Morning Consult, told Bloomberg.
A separate study released by FinanceBuzz last month honed in specifically on how tight finances are affecting people's ability to pay for their car repair bills.
It found that 58% of drivers surveyed could not afford an emergency car repair costing more than $1,000. With insurance deductibles often ranging from $500 to $1,000, it means more than half of those involved in a collision would struggle to pay to have their insured vehicles repaired.
It could dissuade drivers from having their cars repaired at all, potentially contributing to roadway hazards for other drivers. For instance, the owner of a rear-ended car might opt to continue driving it as-is, despite the brake or signal lights no longer functioning.
The FinanceBuzz survey also noted that the majority of drivers are foregoing routine maintenance. It found:
"46% of drivers say they have paid for a car repair in the past that they believe could have been avoided if they were better about getting scheduled maintenance done;" and
"69% of drivers say they delay getting maintenance done even after they know it is due."
It's not hard to imagine how driving with bald tires or worn brake pads could lead to a collision. According to the National Highway Traffic Safety Administration, 2% of collisions are caused by vehicles themselves. Of those, 35% happened because of bad tires, while brake-related problems accounted for 22%.
FinanceBuzz's survey found that oil changes are the most commonly-delayed type of vehicle maintenance, with 28% putting the task off.
"While that is a maintenance issue that drivers can let slide for a while with relative safety, some other repairs that are being put off could have major impacts on a car's driveability," FinanceBuzz said. "In that regard, nearly 1 out of every 5 people (17%) are driving on tires that need replacing, and the same percentage are actively ignoring a 'check engine' light. Sixteen percent of drivers are on the road with wheels that they know need alignment or brakes that need an inspection, while 15% are driving around with reduced visibility due to a cracked windshield."
Drivers' financial challenges are being made worse by the rising cost of insuring their vehicles.
The average cost of full coverage insurance is expected to reach $1,780 per year, and 45 states will see their car insurance premiums increase by at least 1% with drivers in Michigan, Florida, and Rhode Island paying the highest premiums.
Images
Featured image credit: PixelsEffect/iStock
Share This: