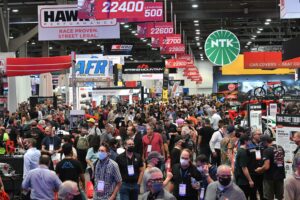 SEMA registration open, 2022 RDE educations sessions videos now online
By on
Associations
Registration for the 2023 SEMA Show is now open, with discounted fees for registration and Repairer Driven Education (RDE) sessions.
The show features thousands of exhibitors and brands, and so far for 2023, SEMA tells Repairer Driven News there's already a nearly 5% increase in the number of Collision Repair & Refinish company exhibitors. There's also a 15% increase in the number of Tools & Equipment exhibitors.
More than 2,000 exhibitors are currently taking part in booth place selection, with more exhibitors expected to sign up leading up to the show. The floor plan can be viewed at semashow.com/floorplan.
"The industry's support for this year's SEMA Show has proven and shown that people are focusing on the next three to five years with plenty of new products and innovation," SEMA Vice President of Events Tom Gattuso told RDN. "We're excited to see it all on the SEMA Show floor this November."
The show will be held Oct. 31-Nov. 3 at the Las Vegas Convention Center to showcase products in, and tools for, automotive customization.
SEMA says it's committed to providing the greatest ROI to SEMA Show attendees by offering, among many other things, a comprehensive Education Program presented by industry experts, including the Society of Collision Repair Specialists RDE and IDEAS Collide sessions; the Collision Repair Stage, and special features like the New Products Showcase, SEMA Electrified and electric vehicle (EV) displays, and Collision Repair Stage.
IDEAS Collide, an annual slate of several 10-minute information-packed presentations, offers a range of learning opportunities. Topics covered in the 2022 showcase ranged from glass replacement tips and techniques, spray gun science and setting up ADAS calibration centers to employee hiring, business financial planning, and much more.
The full playlist of last year's IDEAS Collide is now available for free on the SCRS YouTube page. Videos of all 2022 RDE and OEM Collision Repair Technology Summit sessions are available for purchase at rde.scrs.com.
Gearing up for this year's SEMA show, Gattuso said the association is "committed to ensuring that participation in the SEMA Show is easy and affordable."
A $40 fee for qualified buyers is available until June 30. Deadlines and fees for other registration categories can also be found at semashow.com/register. Repairer Driven Education (RDE) sessions are increased to full price on Sept. 29.
A single registration includes:
Four days of access to the trade-only SEMA Show floor, where manufacturers are prepared to provide product demonstrations and answer technical questions about thousands of products
Inspiration from leading innovators and celebrities sharing their personal messages at seminars, keynote addresses, and other special events
Insight on new technology, such as alternative fuel, electric vehicles, advanced driver assistance systems, and more
Emerging trends shown on the world-class vehicle build debuts throughout the Las Vegas Convention Center
Meaningful connections and partnerships with professionals from throughout the world, which can only be accomplished through face-to-face conversations and gatherings
"Making the annual trade show accessible to the worldwide marketplace is what helps make the SEMA Show the best place to connect with the industry," Gattuso said. "It guarantees that the best products, most innovative ideas, and emerging trends are at the Show."
Airfare discounts and low-price guarantees on all hotels are available through the SEMA Show block.
Images
Featured image: File photo of the show floor at a previous SEMA Show. (Provided by SEMA)
Share This: