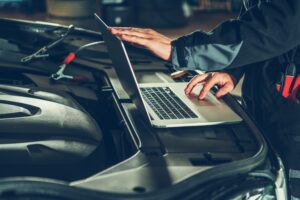 Automakers voice opposition in Maine 'right to repair' hearing, spearhead competing R2R Act
By on
Collision Repair | Legal
A competing bill to "right to repair" legislation introduced in Maine has been put forth that supports right to repair while preventing open third-party access to telematics-equipped vehicles.
The Alliance for Automotive Innovation (Auto Innovators) penned the bill, LD 1911, which was introduced in the House and Senate on Tuesday.
It states, "A manufacturer shall provide diagnostic and repair information to each aftermarket scan tool company and each 3rd-party service information provider with whom the manufacturer has appropriate licensing, contractual or confidentiality agreements for the sole purpose of building aftermarket diagnostic tools and 3rd-party service information publications and systems.
"Once a manufacturer makes the diagnostic and repair information available as provided by this subsection, the manufacturer is considered to have satisfied the requirements of this section and is not responsible for the content and functionality of aftermarket diagnostic tools or service information systems."
For vehicles model year 2018 and later, OEMs would be required to provide access to the same onboard diagnostic and repair information system available to dealer repair shops. Automakers would be able to exclude information on resetting an immobilizer system or security-related electronic modules.
Auto Innovators has continuously said independent repairers already have access to all the information they need to diagnose and repair vehicles under a 2014 Memorandum of Understanding (MOU) signed by representatives of the OEMs and the aftermarket industry, which was prompted by Massachusetts' original right-to-repair law.
LD 1911 is a direct response to LD 1677, the Maine right to repair bill brought by the Maine Right to Repair Coalition, which a hearing was held for before the Joint Committee on Innovation, Development, Economic Advancement and Business on May 9.
Coalition member Tim Winkeler, who is also president and CEO of VIP Tires & Auto Service, said during testimony that the purpose of the bill is to protect the future of automotive repair.
The coalition's argument is that as the use of telematics — the wireless transmission of failure code data and other data sets — becomes more common in vehicles without onboard diagnostics (OBD) ports, only OEMs and dealers will have access to the data needed to repair vehicles. Winkeler also said vehicles that have OBD ports will eventually have little to none of the data repairers would need.
"It's all about protecting the future of consumer choice and protecting the future of the independent repairer and the independent mechanic, not just for companies like VIP who are independent repair companies, but also for our vehicle owners as a vehicle owner," he said. "If you buy a new vehicle today in the next five or 10 years, if we don't get right to repair passed, it's likely that when that vehicle is older and needs to be diagnosed, the vehicle owner themselves will not have the ability to diagnose and repair their own vehicles. Because that data that transmits wirelessly only goes to the manufacturer. That's why this is so important."
Legislators on the committee asked Winkeler several questions about OBD ports and how the diagnostic scan process works. They also wanted to know who the coalition worked with on drafting the bill. Winkeler said they worked with people that helped write the Massachusetts voter-approved Data Access Law, which was passed by referendum in November 2020.
Language in a diagnostic access law passed in 2013, and included in the MOU, states telematics data provided to a dealer that's necessary for a repair and isn't otherwise available via a tool is covered by the legislation. If an automaker decided to send all of its repair information wirelessly using telematics, it would still have to provide the same capability to independent repairers or it would be in violation of the law. 
In November 2020, Auto Innovators filed a suit in Massachusetts after voters approved the law. which would grant access to automaker diagnostic and repair information as well as tools to vehicle owners and independent repair facilities. Though the legislation became effective with the 2022 model year, previous Massachusetts Attorney General Maura Healey agreed to withhold enforcement of the law while the legal challenge plays out.
Newly elected Attorney General Andrea Campbell has sought to terminate the non-enforcement stipulation, which if approved by a federal district judge, means the law will be enforced beginning June 1. The suit remains pending.
In February, Maine's Secretary of State Shenna Bellows approved the Maine Right to Repair Coalition's petition for the creation of a "standardized access platform" for data generated, collected, and transmitted by vehicles to be a referendum on November's ballot.
The coalition filed an application for a citizens initiative and a draft of proposed legislation with the Secretary of State's Office in August. Bellows approved the petition in October. Auto repair and parts store operators had 18 months from that time to collect signatures, which had to add up to 10% of the total votes cast in the 2022 gubernatorial election.
Some of the language used in the Massachusetts bill is in Maine's current version, LD 1677, but the coalition believes they took "a little bit more of a common sense approach," Winkeler said. "We made sure that we specifically stated who should be involved in this, what we're requesting or what the bill would require is a standard access platform."
"If you go back 30-40 years, all the car manufacturers agreed to put OBD II on-board diagnostics systems onto the vehicles that are standardized so companies like Snap-on can build a standardized tool and make it easy for tools to be built and for repairers to repair vehicles. Now that the data doesn't all sit in the OBD part of the car, this data that goes wirelessly to the internet, we are requesting that there be a standard access platform built."
The coalition believes its bill won't be a risk to cybersecurity and safety because its focus is only on diagnostic information needed for repairs. Mandated "right to repair" would help independent repairers now but even more so in the future after newer model vehicles on roads today are five to 10 years old, Winkeler said.
"Our part of the industry, the aftermarket, really serves consumers once that vehicle is out of warranty so years four through the end of life is when our industry is there for these consumers," he said. "Ten years from now it's going to be a bigger deal. That's just the reality of a 2023 vehicle."
Other proponents of the bill included Sen. Joe Rafferty (D-District 34), the Maine Auto Recyclers Association, and two shop owners.
Rafferty said more than 90% of new cars are now equipped to transmit real-time, diagnostic, and repair information wirelessly only to vehicle manufacturers.
"Quite simply, the citizens' initiative would protect Maine consumers' right to decide who repairs their vehicle," he said. "As you have heard in Maine, we have nearly 700 independent repair shop owners and employees whose income would be severely threatened if we do not pass this citizens' initiative.
"However, we also have individuals like me who do not or would not be able to repair automobiles. They have themselves purchased the cost of automobiles and practically every other important resource in everyday life has risen dramatically in recent years. A car is one of the most costly and important investments any manner can make. …This state has a proud history of self-reliance and do-it-yourself mentality that has served us well throughout our 200-plus-year history. …It is simply unjust and unfair to not have the ability to repair something that I have sunk tens of thousands of dollars into."
Dan Brooks, co-owner of Brooks Boys Capital Car Care, brought it to the committee's attention that OBD ports are federally mandated as a way to check vehicle emissions, which is why electric vehicles (EVs) don't have them since they're zero-emissions vehicles.
"We are going to start to see a gap in our ability," he said. "We operate with the OBD in order to find out what's wrong with the vehicle and how to fix it."
He added that a subcontractor his shop works with recently had to buy a $2,000 adapter to repair a vehicle because what they had wouldn't work, a website they usually use was down, and the local dealer had a 30-day wait.
"That just kind of gives us a feel for what will happen in the future if we start to lose this ability. Certain model cars have very few dealerships in the state. BMW has two dealerships in the state. So while maybe a Chevrolet might be a little simpler to get repaired, there are some other manufacturers that would be very difficult."
Maine Auto Recyclers Association Executive Director Bill Bell testified that Maine is a used car state and has more used car dealerships per capita than any other state.
"We have older cars so this is particularly important to our citizens," he said. "Maine parts wear out in these older vehicles and they come to us and we have the parts. Sometimes the manufacturers don't make those parts anymore. We have the parts. …We have this great infrastructure of recyclers and aftermarket parts and new dealers and used car dealers and this bill, the need for it, goes to the core of what's necessary."
Written testimony by Sean Moody, founder of Moody's Collision Centers, was also read. Moody wrote that it's time for Maine to act now with state legislation rather than continuing to wait on federal action as was decided the last time right to repair was brought before the legislature.
"It never happened so here we are again," he wrote. "When customers are forced to go to specific businesses by the automobile manufacturer because they have technology that is proprietary that not only drives up the cost, most dealers are at over $100 an hour now, but more importantly, it provides them with an unfair competitive advantage.
"The more competition, the better for all consumers… if the state of Maine does not enact automotive right to repair, independent employee-owned shops such as Moody's Collision Centers will have a hard time surviving down the road as newer cars are available with technological advancements, such as telematics, that are used to diagnose what is wrong with the vehicle. Unless we have the same access as the dealers and the manufacturers, we will not be able to compete with them."
Weikel contended that Auto Innovators agrees with 75% of LD 1667 but "the place where we stop short is when you're talking about opening up these vehicles to unfettered access from third parties and the only one protecting it is an entity appointed by your attorney general."
He added that the National Highway Traffic Safety Administration (NHTSA) has said such access would raise safety risks for families in the U.S. substantially and that the Department of Justice "described it as creating a serious cybersecurity risk to motor vehicle safety and it was not just government experts."
"We think there's a level playing field now… we wanted to make sure that repairers had access to this information so much so that we created a website so repairers would have a single place to go to get access to this information," he said. "Logically, we named it OEM1Stop.com …We want people to have this information. This doesn't apply to Maine, but in 2019, we were pushing language in New Hampshire that would require the use of OEM repair procedures in all insurance-funded repairs. So after you get in an accident, you have to follow the right procedures to get it fixed. How could we ever push that as a mandate if all the information wasn't out there?"
The bill had only one other organization that testified against the bill in addition to Auto Innovators, the Maine Auto Dealers Association.
Bruce Gary explained to the committee that OEMs void warranties when consumers have their vehicles repaired by non-franchise dealers. Also, he said, the association finds it inappropriate to have the attorney general appoint a committee for right to repair because they don't have the expertise.
"Dealers spend time and money on tools, equipment and training for certifications to do the work — not saying others can't do it but investment in training and tools should be required of anyone that works on a vehicle with telematics because electronics run through the entire car," Gary said. "I think one of the things you should look at is what kind of training should be mandated because in the final analysis, if something breaks, you're either affecting the value of the car, the performance of the car, or the safety of the car."
The committee plans to discuss the bills during an upcoming work session and, in the meantime, wants to hear from consumers. The attorney general has already been asked to attend the work session.
Images
Featured image credit: welcomia/iStock
Share This: