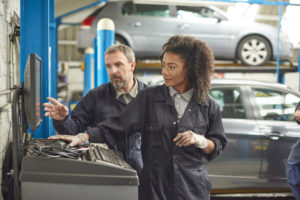 Scholarship puts 22 students on the path to becoming auto repair professionals
By on
Announcements
The Alliance of Automotive Service Providers of Minnesota (AASP-MN) is helping train the next generation of collision repairers through 22 newly-awarded scholarships.
The scholarships, totaling $20,000 will help cover the costs of tuition or tools for collision repair and automotive service students throughout the 2023-24 curricular year.
"I'm continually amazed by the wide range of stories we hear in the scholarship applications," Linden Wicklund, executive director of AASP-MN, told Repairer Driven News. "Students come to this field in all sorts of non-traditional ways with hopes of building life-long careers."
The financial help was made possible by AASP-MN's Automotive Education Fund, which was established to provide financial resources to support automotive students, enhance automotive programs and raise awareness of career opportunities in the independent automotive service industry.
Such scholarships are necessary to help fill a dire talent gap within the auto repair sector. A recent Techforce study found that 232,000 techs were needed in 2021 across automotive, diesel, and collision but schools were graduating only 42,000. In collision alone, the demand was 35,000 techs while only 4,500 graduated.
The talent gap isn't restricted to technicians–some colleges are also having trouble recruiting the instructors necessary to train and educate them.
Laura Garcia-Moreyra, an automotive technology instructor at Northern Virginia Community College (NVCC), recently shared with Repairer Driven News how the college has been struggling to recruit instructors for months. One listing posted in January received just one external application.
Garcia-Moreyra told Repairer Driven News that the shortage is caused by a "lack of qualified techs in the field [and] pay that is less than what a top tech in the field will earn." She added the roles require a variety of office and people skills.
"All topics have vacancies, even our entry level safety class," she said, adding people are discouraged from applying because it's "too far to drive, not enough pay and [candidate's] don't want to do associated administration work."
Right now, the Auto Collision Repair program at Portland Community College's Rock Creek campus is accepting candidates for two full-time faculty positions opening up this fall. Those interested in applying can do so online through May 19.
Meanwhile, ASE Education Foundation is working to recognize the best instructors through the 2023 Bryl Shoemaker/ASE Education Foundation Instructor of the Year Award.
Applications are now being accepted for the award, which recognizes a high school or college instructor from an ASE accredited repair program that "demonstrates excellence through their personal dedication and commitment to the young men and women who have chosen to pursue a technical career in the automotive service industry."
This year's AASP-MN scholarship round drew 30 college and high school students from 10 schools. Recipients include:
Gregory Arreola, Dakota County Technical College, Rosemount
Jonathan Broenen, Dakota County Technical College, Rosemount
Isaac DeBilzan, Hennepin Technical College, Brooklyn Park
Matthew Foster, Lake Superior College, Duluth
Mason Frank, Dakota County Technical College, Rosemount
Ty Gregor, St. Cloud Technical & Community College, St. Cloud
Jonathan Herrera-Martinez, Hennepin Technical College, Eden Prairie
Joshua Hogan, Century College, White Bear Lake
Catherine Jacobs, Dunwoody College of Technology, Minneapolis
Jacob Lee Marwyn Paulson, Century College, White Bear Lake
Lex Lewison, Riverland Community College, Albert Lea
Sydnie Mailer-Kelly, Dakota County Technical College, Rosemount
Cindy McCulley, Hennepin Technical College, Eden Prairie
Zack McLaughlin, Dakota County Technical College, Rosemount
Eric Otam, Dakota County Technical College, Rosemount
Peter Rozeboom, Dunwoody College of Technology, Minneapolis
Margaret Sager, Lake Superior College, Duluth
Landon Stookey, Dakota County Technical College, Rosemount
Julia Swanson, Dakota County Technical College, Rosemount
Tomas Szambelan, Dakota County Technical College, Rosemount
Samweil Tawfik, Century College, White Bear Lake
Joshua Taylor, Hennepin Technical College, Eden Prairie
Images:
Federal templates for auto body repairer apprentices describe 6,000-hour programs. (sturti/iStock)
Share This: