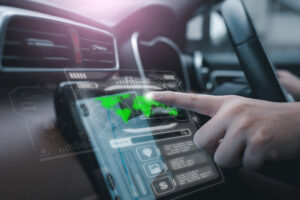 NHTSA's efforts enforcing automated technologies are highlighted
By on
Market Trends
The National Highway Traffic Safety Administration (NHTSA) has extended its standing general orders (SGOs) that mandate reporting obligations of certain crashes for an additional three years.
The extension was noted in Foley and Lardner LLP's most recent NHTSA and motor vehicle safety update, which highlighted how the federal agency is enforcing autonomous driving systems (ADS) and automated driver assistance systems (ADAS).
"The agency's approach involves the broad use of its information-gathering tools to police technologies on public roads," the law firm said. "Using the information it gathers through a wide variety of sources, NHTSA has been quick to investigate ADS-equipped vehicles being used in development projects."
The administration initially issued an SGO in June 2021, requiring OEMs to report crashes involving Level 2 ADAS or higher automation that happened on public roads.
The original SGO was set to expire in 2024 but last month NHTSA issued an amended SGO that will extend the requirements through April 2026. The latest order also made some changes to definitions and reporting periods.
NHTSA said when releasing its amended SGO that it would "proactively ensure that motor vehicles and motor vehicle equipment, including those with novel technologies" protect the public from accidents.
"ADS presents new and unique risks to motor vehicle safety because they fundamentally alter the nature of motor vehicles and their operation," NHTSA said. "Potential safety issues with vehicles operated with ADS include the design and performance of sensors and other technology used to determine the vehicle's location and to identify, classify, and position other roadway users and objects."
The SGO
contains a list of all of the manufacturers and operators required to comply with the Standing General Order. Its reporting obligations apply to a vehicle's manufacturers and developers. It does not apply to individual consumers or other entities, such as independently-owned vehicle dealers. A reporting entity that violates the SGO faces a maximum penalty of $24,423 per violation per day, up to $122 million for a series of related violations.
 "NHTSA could also refer the issue to the United States Department of Justice for a civil action to compel compliance with the General Order," a spokesman told Repairer Driven News.
Last June, NHTSA released a summary of the data it collected through the SGO. It said that as of May 2022, 25 reporting entities have submitted incident reports for 130 crashes involving ADS-equipped vehicles. The ADS-related crash data is listed online.
The ADS mandate OEMs or operators to report a crash if the technology was being used within 30 seconds of a crash that resulted in injury or property damage.
For Level 2 ADAS, a crash must be reported if the technology was used within 30 seconds of a crash that "involved a vulnerable road user or resulted in a fatality, a vehicle tow-away, an air-bag deployment or any individual being transported to hospital for medical treatment."
Foley and Lardner noted that aside from collecting crash data, NHTSA has also been investigating ADS-related crashes, leading to several recalls.
"As part of these investigations, NHTSA continues to use broad information requests to the manufacturer of the incident vehicle as well as 'peer information requests' to competitors," the law firm said. 
"Although NHTSA has a long history of using peer information requests, it is increasing the frequency and breadth of such requests as they relate to these advanced technologies. NHTSA likely sees these investigations as a necessary part of understanding the evolving use of ADS and ADAS technologies."
More changes afoot
Foley and Lardner also noted other possible changes the industry can expect to see from NHTSA. The agency's rulemaking agenda for 2023 includes:
Considering alternative options for rearview mirrors that could see them replaced by camera-mounted systems;

Proposing performance-based standards that would ensure headlights are correctly aimed at the road; and

Establishing federal safety standards that would require all new vehicles to be equipped with lane assistance systems.
"The automotive industry should anticipate more robust enforcement actions from NHTSA under the current administration," Foley and Lardner said. "NHTSA has taken an increasingly hard line in denying petitions for inconsequential noncompliance as well as ensuring that manufacturers timely meet all reporting requirements under the Agency's defect and noncompliance reporting regulations."
Images
Featured image credit: choochart choochaikupt/iStock
Share This: