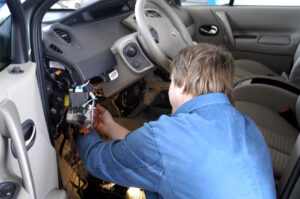 The National Science Foundation has awarded nearly $3 million to Central Oregon Community College (COCC) to help grow the region's electric vehicle (EV) technician workforce.
The funding will support COCC's participation in the federal Northwest Engineering and Vehicle Exchange (NEVTEX) program, which is working to address the need to educate a skilled EV workforce through a series of objectives. It is:
Supporting the launch and certification of 15 new two-year college EV technician programs; 

Launching an advisory group to promote and sustain a national, industry-recognized EV certification for educators and technicians;

Helping five college automotive instructors gain the EV technology knowledge and skills required to be certified in the national EVPro+ training and testing standards, with equipment provided at their colleges to establish five authorized EVPro+ certification testing sites; and

Introducing consortium-wide training based on proven and successful strategies that it says will enable automotive faculty to develop effective student recruitment and retention strategies to increase diversity in their programs by attracting and retaining women and underserved minorities.
With west coast states like Oregon, Washington and California representing about one-third of the nation's EV ownership, NEVTEX said there is "wide recognition" that current training programs won't be sufficient to serve the changing market.
"EV programs launched at 15 geographically and demographically diverse 2-year colleges will help broaden the EV workforce for national impact," a program spokesman told Repairer Driven News. "These capacity-building strategies will create a sustainable pipeline of diverse, certified EV technicians to more quickly grow an EV workforce and address the growing national need."
In announcing the COCC funding, U.S. Sen. Jeff Merkley (D-Oregon) said the cash injection will put the college "in the driver's seat for expanding and supporting this vital growing sector."
Margaret Ragan, executive director of the Northwest Automotive Trade Association said the funding came at the right time.
"EV training is desperately needed – especially the professional development piece of this grant," she told RDN. "Most auto programs are only offering very basic Intro to EV classes, but know they need to develop a more thorough curriculum."
The NEVTEX program is funding through the National Science Foundation's Advanced Technological Education (ATE) program. Other schools to receive funding to support EVs and battery technology include:
Florida State College at Jacksonville, awarded $378,987.00

Hudson Valley Community College in Troy, New York, awarded $350,000.00

Trident Technical College in Charleston, South Carolina, awarded $999,946.00;

Northeast State Technical Community College in Blountville, Tennessee, awarded $349,340.00

Clemson University in Clemson, South Carolina, awarded $1.01 million

Linn Benton Community College in Albany, Oregon, awarded $347,934

Spartanburg Community College in Spartanburg, South Carolina, awarded $389,297.00

Greenville Technical College in Greenville, South Carolina, awarded :$436,009

Sinclair Community College in Dayton, Ohio, awarded $602,424 to train automotive technicians on EVs

Mount Wachusett Community in Gardner, Massachusetts, awarded $350,000 

Minnesota State Community and Technical College, awarded $349,652
Indian River State College in Fort Pierce, Florida, warded $2.7 million
Madison Area Technical College in Madison, Wisconsin, awarded $744,987
A number of other initiatives in both the private and public sectors are underway to boost the EV workforce.
Earlier this month, Hyundai announced it would partner with Savannah Technical College to develop a new EV training program to give students a shot at being hired on with the automaker.
The OEM announced Wednesday that it signed a Memorandum of Understanding with the Georgia school for a training partnership.
"Everything we do at Savannah Technical College is about workforce development for our region," said Kathy Love, college president. "We are proud to partner with [Hyundai] to help train their workforce. We appreciate their input to develop this short-term, specialized training certificate."
The certificate was designed at Hyundai's request to help students prepare for entry-level roles in EV production. Training will focus on "safe and effective automotive shop operations, automotive electrical principles, and operation and service of electric and hybrid vehicles," the OEM said in a press release.
It said once graduates complete the course, they'll have the skills to work in sub-assembly shops building components, and at production facilities participating in the EV manufacturing process.
It's not unreasonable to assume graduates could create a greater employee base for all automotive businesses outside of Hyundai, such as collision repairers in the area. The colleges graduates are trained to work in both auto service and collision repair. In the past other automakers have partnered with skills and governments to boost a region's skilled worker pool.
Meanwhile, the Central Florida Auto Dealers Association (CFADA) recently made the case for more public funding to support growing the EV workforce. Earlier this month, its request for state funding to develop the necessary talent was rejected.
In its application to the state, CFADA cited a statistic showing there are more than 70,000 unfilled positions for gas-powered vehicle techs; it also pointed to a projection indicating more than half of new vehicle sales will be EVs by 2028.
"In 5 years, there will be 9 million EVs on the road," the application said. "We need to build the talent pipeline of EV techs to service these vehicles."
The association's president, Evelyn Cardenas, told RDN that the time to prepare for EV growth is now.
"If we do not get ahead of this now, the required workforce is not going to be there," Cardenas said. "Our industry is rapidly changing. The growth in alternative fuels is exciting. As some industries contract, there is an opportunity to offer high-skilled wage careers in other industries such as ours."
Images
Featured image credit: Marjan Laznik/iStock
Share This: