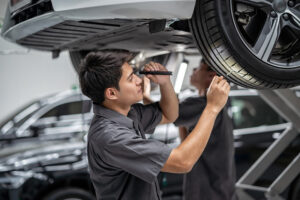 A Texas bill that would eliminate regular mandatory vehicle safety inspections for non-commercial vehicles has passed the state's House and Senate committees.
Under House Bill 3297, now headed to Gov. Greg Abbott's desk for a signature, annual inspections would no longer be necessary beginning in January 2025.
The bill passed the Senate with a 20-11 vote during a May 21 meeting despite strong objections from Sen. Nathan Johnson (D-Dallas), who said lawmakers were putting people's lives at stake by no longer making safety inspections a requirement.
He cited a University of Texas study from Oct. 31, 2018 that showed the average costs related to vehicles with defects are more than $2 billion per year. The university said that those defects would have caused a vehicle to fail a safety program inspection.
Johnson also referenced a separate study by the American Society of Civil Engineers that found states that have safety inspection requirements have 5.5% fewer fatalities per year than states that don't have inspection programs.
"In Texas, that's 261 dead people every single year if we don't have vehicle safety inspection programs," Johnson said. "Now it is inconvenient, these things are a nuisance, but …it really [doesn't] take any time and if they want to sell me a windshield wiper while I'm there, I'm OK [with that] because I want my kids to be safe when they're on the road. I don't want another 261 people a year to die."
As it stands, all registered Texas vehicles are required to undergo a comprehensive safety inspection each year. While the law will eliminate that need after it takes effect, it won't do away with emissions tests required in some counties.
Rep. Mayes Middletone (R-Galveston) told lawmakers during a previous committee meeting that the safety checks weren't necessary.
"Vehicle inspections are a costly and time-consuming process that provide little benefit to public safety," he said.
Rep. Cody Harris (R-Palestine), who authored the bill, likened vehicle inspections to a scam in a statement to ABC News.
"These inspections are a waste of time for Texas citizens and a money-making Ponzi scheme used by some shady dealerships to upsell consumers with unnecessary repairs," Harris said. "Texans are responsible, fiercely independent, and I trust them to keep their cars and trucks safe while on the road."
The Automotive Service Association (ASA) contended that safety checks have proven to be an effective way of ensuring a vehicle's critical safety components — including its tires, brakes, windshield, lights, and seat belts — are in good working order.
Ahead of the vote, ASA urged senators to vote the bill down.
"Texas has a successful vehicle inspection program that protects the motoring public," said Bob Redding, ASA's Washington, D.C. representative. "This private-public partnership program should not be eliminated. Instead, the legislature should heed its own study's recommendations and consider adding additional inspection items to the program."
Most states do not require periodic safety inspections. The ones that do are Delaware, Hawaii, Louisiana, Maine, Massachusetts, Missouri, New Hampshire, New York, North Carolina, Pennsylvania, Rhode Island, Utah, Vermont, Virginia, and West Virginia.
Images
Featured image credit: Tzido/iStock
Share This: