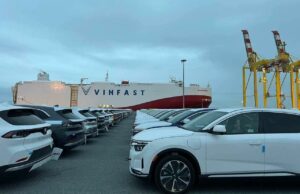 VinFast recalls VF8 models over display issue
By on
Announcements
VinFast says it will deploy an over-the-air (OTA) software update to remedy a blank multifunction head unit (MHU) on about 1,000 of its vehicles.
According to a National Highway Transportation Safety Administration (NHTSA) filing, VinFast recalled certain 2023 VF8 vehicles because of a software error that could cause the MHU display to go dark.
"A blank MHU display will not show critical safety information, such as the speedometer or warning lights, which may increase the risk of a crash," the notice says, adding that the affected vehicles fail to comply with a federal safety law.
"When this condition manifests, the driver can see neither the display's telltale warning lights nor the control icons," the recall safety report says. "After an ignition cycle, the MHU display screen returns to normal operation."
VinFast said it is not aware of any accidents resulting from the glitch. It added that 735 of the 999 vehicles affected are in VinFast's "custody and control," while the other 264 are with customers or fleet services.
It said it became aware of the issue on April 27 after reviewing a report from a customer who lost the image on their display screen. The complaint was escalated to VinFast's product assurance committee, which searched for other similar incidents and determined there were at least four other reports of blank screens from April 29 through May 4.
VinFast said it would begin releasing an OTA software update May 25 and mail letters to affected vehicle owners by May 29.
"The software fix VinFast is implementing has a new watchdog mechanism that detects this process malfunction and subsequently reinitializes this small piece of software," the OEM said. "It is able to detect and recover this process error in under 200ms."
Vinfast owners who aren't sure whether their vehicle is affected can call its customer service department at 1-833-846-8255.
Even though OTA software updates don't require vehicles to be literally recalled, an NHTSA spokesperson told Repairer Driven News the term continues to be used for situations when it finds evidence of noncompliance or safety risk.
"Manufacturers are required to initiate a recall for any repair, including a software update, that remedies an unreasonable risk to safety," the administration said. "NHTSA recalls can include any required repair, which includes a software update, to remedy a potential safety risk. Manufacturers are also required to submit any communications to owners, dealers, and others about any software updates that address a defect, whether it is safety related or not."
VinFast began selling battery electric vehicles in the U.S. in 2022.
Images
Featured image: The first batch of VinFast EVs are lined up for export at Haiphong, Vietnam. (Provided by VinFast)
Share This: