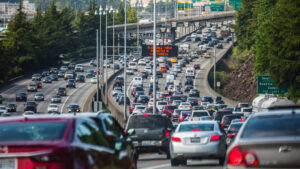 Memorial Day travel forecast up 7% YOY, claims likely to return to 'near-normal' volume
By on
Announcements
AAA projects 42.3 million Americans will travel 50 miles or more from home this Memorial Day weekend, a 7% increase over 2022, while CCC Intelligent Solutions predicts the number of collision claims will return to near-normal volume.
"This is expected to be the third busiest Memorial Day weekend since 2000, when AAA started tracking holiday travel," said Paula Twidale, AAA Travel senior vice president. "More Americans are planning trips and booking them earlier, despite inflation. This summer travel season could be one for the record books, especially at airports."
More people this holiday are taking other modes of transportation, such as buses and trains.
"Memorial Day-related claims activity has followed a similar pattern to overall claims activity the last several years, with pandemic-related dips in claims volume in 2020 and 2021 and a return to near-normal claims activity in 2022," said CCC Product Marketing Vice President Jason Verlen. "Given the claims trend line and predictions for a high volume of travelers this Memorial Day weekend, CCC would expect to see claims at the 2022 level, and potentially beyond, following the upcoming holiday weekend."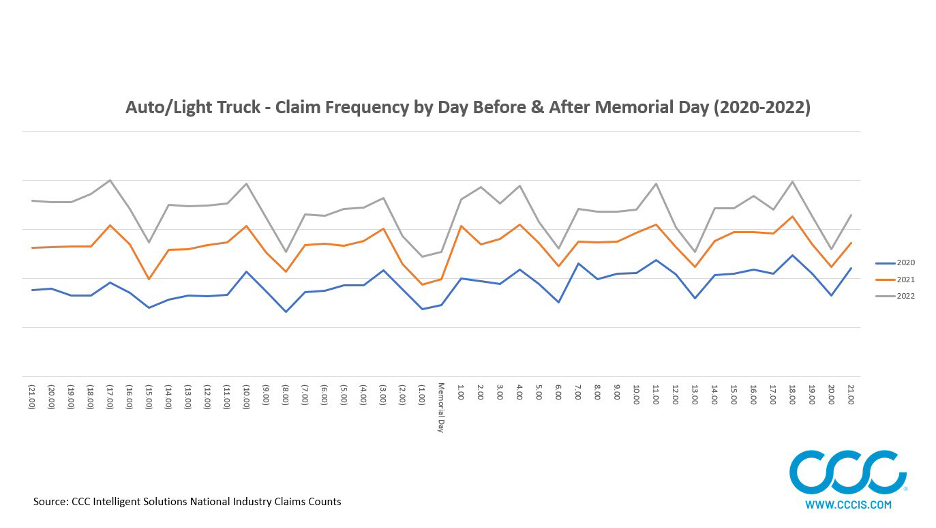 CCC Industry Analytics Director Kyle Krumlauf added that the types of claims made from Memorial Day weekend crashes are similar to those filed outside of the holiday, which are rear and front crashes.
When asked what significant trends CCC has noticed during the past couple of Memorial Day weekends, Krumlauf said, "Many sources have reported an increase in fatalities, especially those alcohol-related, over the holiday weekend. We have also seen a bit of a trend in RV/camper claims, with 2022 showing an elevated level of claims over the Memorial Day, though down from 2021, a year where RV sales peaked, according to Riva."
Memorial Day road trips are up 6% over 2022 with 37.1 million Americans planning to drive to their destinations. Gas prices are lower this holiday compared to last year but car travel is still expected to be nearly 500,000 less than average pre-pandemic travel, according to AAA.
Today is expected to be the busiest day for travel, according to INRIX. The best times to travel over the weekend and through Monday is in the morning or after 6 p.m. The lightest traffic days will be Saturday and Sunday.
Major metro areas like Boston, New York, Seattle, and Tampa will likely see travel times double compared to normal, according to INRIX.
"With lower fuel prices and more travelers on the road compared to last year, drivers should expect long delays this holiday weekend, especially in and around major metros as commuters mix with Memorial Day travelers," said Bob Pishue, transportation analyst at INRIX. "Knowing when and where congestion will build can help drivers avoid the stress of sitting in traffic. Our advice is to avoid driving during peak hours or use alternative routes."
AAA found that Orlando, New York City, and Las Vegas are this year's top domestic destinations for the holiday. Cruise port cities in Florida and Alaska, as well as Seattle, are high on the list given the 50% increase in domestic cruise bookings compared to last year. Other popular U.S. cities this Memorial Day include Denver, Boston, Anaheim, and Canton.

In follow-up to a national survey commissioned by Erie Insurance that found texting while driving to be largely unaccepted by passengers, psychology professor Dr. Stanislaw Kolek gave some tips to avoid the distraction during Memorial Day weekend travel.
Ten percent of passengers don't speak up when a driver starts texting, according to the survey results. The majority of that 10% said they don't say anything because they don't want to offend the driver or felt it would be uncomfortable to say something.
Kolek offers four ways to ask a driver to stop texting while driving:
Negotiation: Acknowledge the situation and provide a solution, such as offering to drive for them.
Positive reinforcement: Let the driver know how putting down their phone can benefit them. For example, some insurance carriers, including Erie offer rewards programs through mobile apps when drivers don't use their phones while driving.
Partnership and mutual accountability: A buddy system in which two people both agree to do or not do something and hold each other accountable, which can include mutually beneficial rewards as incentives.
Negative consequences: Create negative consequences for the driver, often as a last resort if other, more positive approaches fail. One negative consequence, Kolek says, can be social isolation from a group.
For more tips, view a video of Kolek here.
Images
Featured image credit: peeterv/iStock
Memorial Day claims data graph provided by CCC
"Best and Worst Times to Travel By Car" chart provided by AAA
Share This: