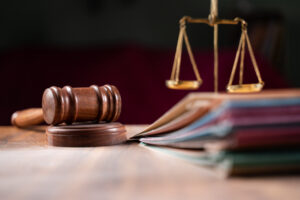 Hearing scheduled on Mass. R2R enforcement temp stop motion ahead of June 1 enforcement
By on
Collision Repair | Legal
District Judge Douglas P. Woodlock has scheduled a May 30 hearing on the Alliance for Automotive Innovation (Auto Innovators) emergency temporary restraining order (TRO motio) and expedited hearing request to prevent Massachusetts Attorney General Andrea Campbell from enforcing the state's new Data Access Law beginning June 1.
The hearing will be held by video conference at 3 p.m. Public access to it is available by signing up here.
In March, shortly after Campbell was elected, she terminated a non-enforcement stipulation of the Data Access Law agreed to by former AG Maura Healey that had been in place since Dec. 3, 2020. All along, Auto Innovators has argued that there is no need for a law to require access to in-vehicle diagnostics data because that right already exists in a 2014 Memorandum of Understanding (MOU)signed by representatives of OEMs and the aftermarket industry. The MOU was prompted by Massachusetts' original right to repair law. 
Auto Innovators argues in its lawsuit that OEMs can't safely and consistently comply with the legislation. The law was approved by voters via a 2020 referendum. It is an expansion of the state's earlier right to repair law and calls for an onboard and standardized diagnostic system across all makes and models in Massachusetts that are accessible to anyone with or without OEM permission. 
Auto Innovators contends in its motion that a TRO is "unequivocally warranted" because based on trial arguments and records, it "should prevail on its preemption claims, and therefore has more than a reasonable likelihood of success on the merits, because federal law preempts the Data Access Law."
"Absent a TRO, Auto Innovators' members will suffer irreparable harm, as any attempt to comply with the Data Access Law would require an OEM to remove essential cybersecurity protections from their vehicles; and any attempt to avoid compliance (e.g., by disabling telematics or withdrawing from the Massachusetts market) would harm consumers and cause incalculable harm to OEMs' brands, goodwill and reputation," the motion states. "Further, the balance of equities and public interest weigh heavily in favor of a TRO, as Massachusetts drivers should not be exposed to safety risk and deprived of important features in their vehicles until this case can finally be resolved."
In its memorandum of support for the motion, Auto Innovators requests that the court allow additional briefing on a preliminary injunction motion to prohibit enforcement of the Data Access Law until a ruling is made on the lawsuit. The alliance also has requested the opportunity for oral argument no later than May 31, ahead of Campbell's plan to begin enforcement of the new law on June 1.
In its memorandum, Auto Innovators states that Campbell has told their attorneys that she is going to issue a telematics system notice, based on the Data Access Law, without asking for public comment.
"As Auto Innovators established at trial, federal law preempts the Data Access Law because it requires original equipment manufacturers ('OEMs') to eliminate existing cybersecurity and emissions controls, which directly conflicts with the requirements, purposes, and objectives of the federal National Traffic and Motor Vehicle Safety Act (the 'Vehicle Safety Act')… and the Clean Air Act," the memorandum states. "Compliance with the Data Access Law is mutually exclusive with compliance with these federal Acts.
The Vehicle Safety Act "prohibits OEMs from 'knowingly mak[ing] inoperative any part of a device or element of design installed on or in a motor vehicle or motor vehicle equipment in compliance with an applicable motor vehicle safety standard prescribed under this chapter,'" Auto Innovators wrote.
"Any attempt to comply with the Data Access Law would require an OEM to remove essential cybersecurity protections from their vehicles. Once vehicles without those protections are sold in the Commonwealth, those protections cannot be reinstalled…"
If the new law is enforced, Auto Innovators argues that OEMs would suffer irreparable damage to their brands, goodwill, and reputation as well as relationships with dealers by having to leave the Massachusetts market altogether. And consumers would be misinformed that a standardized diagnostic system exists, according to the memorandum.
"Every expert at trial agreed that OEMs could not provide the interoperable, standardized, and open access platform that Section 3 requires …that no 'mobile-based application' currently exists that could be used to comply with the law… And as with Section 2, any attempt to comply with Section 3's 'open access' regime for broadly-defined 'mechanical data' would require OEMs to remove or disable important cybersecurity controls that protect safety-critical vehicle functions.
"OEMs' vehicle systems are already a prime target for cyberattack… attempted compliance with the Data Access Law would subject OEMs to federal scrutiny, enforcement, and penalties, as well as enormous potential recall and repair costs if compliance with the Data Access Law renders vehicles' safety and emissions systems defective. Yet if they continue to follow federal law, OEMs will be in violation of the
Data Access Law, which the Attorney General now promises to enforce under threat of significant penalties."
Auto Innovators notes that while the National Highway Transportation Safety Administration (NHTSA) encourages firmware-over-the-air (FOTA) updates to facilitate vehicle safety features, complying with the Data Access Law would remove that capability.
"[T]urning off telematics would also impact non-safety features that drivers bought their vehicles expecting to be able to use every day, such as GPS, entertainment systems, and remote-start functionality. Worse, any mechanism for potential disabling telematics units likely could not be cabined just to Massachusetts residents — so the harm to vehicle owners could be felt nationwide.
"…All it would take is one well-timed hack to undo decades of an OEM's efforts to build its reputation as a manufacturer of safe and
reliable vehicles."
Lastly, Auto Innovators says the development of the mechanisms required under the Data Access Law would take years, necessitate consensus from industry stakeholders other than OEMs, and once that's accomplished, "would then need years to design, build, and test vehicles that use those mechanisms to ensure compliance with federal safety and emissions requirements."
"Pre-existing Massachusetts law already requires OEMs to provide independent technicians with access to diagnostic and repair information and the ability to use the same diagnostic tools that dealers can — such that Massachusetts vehicle owners already have the ability to take their vehicles to any independent service provider of their choice," the memorandum states.
In an April brief, Campbell wrote that Auto Innovators continues to fail to prove "irreconcilable conflict" between state and federal law.
"The remaining claims to be decided in this case are the Alliance's preemption claims under the federal Motor Vehicle Safety Act ("MVSA") and the federal Clean Air Act ("CAA")," Campbell wrote in her April 14 brief. "The test for preemption is whether there is 'no set of circumstances' under which a party can comply with state law without violating federal law.
"…Incredibly, the Alliance's brief mentions neither the MVSA nor the CAA. It instead ruminates on purported 'problems' with the Data Access Law and difficulties its members will face in achieving 'compliance' with it. …Such concerns — even if they found support in the record, which they do not — fail to not support preemption."
Images
Featured image credit: lakshmiprasad S/iStock
More information
AAI: AGs' call for federal R2R law based on risky & 'problematic' bills, unnecessary effort
R2R debate continues in Maine, could result in 2 voter referendum questions
Share This: