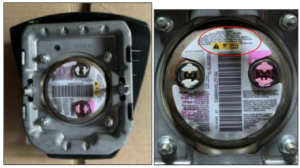 NHTSA pushes harder on ARC inflator rupture investigation, threatens civil penalties & DOJ order
By on
Legal
The National Highway Traffic Safety Administration (NHTSA) has issued a special order that required answers from ARC Automotive on why, despite at least two deaths, the company believes a recall on its air bag inflators isn't necessary.
In the May 31 order to ARC Automotive Product Integrity Vice President Steve Gold, NHTSA said to continue its defect investigation of the safety of ARC's frontal driver and passenger air bag inflators, ARC is required to file answers to a list of questions under oath and produce certain documents.
The requests are:
If ARC expects occasional ruptures of its inflators and, if so, the frequency;
Were customers notified by ARC that the inflators are expected to occasionally rupture? If yes, ARC is asked to provide details on who was informed, when the notifications were given, and what the notifications said. If no, ARC must say why no notification was given;
ARC's anticipated number of inflators that would have "random 'one-off' anomalies" ruptures and how the number was reached;
The number of ruptures that ARC concluded would serve as evidence that ruptures aren't random, and how the number was reached;
ARC's best estimate of the number of additional ruptures that will occur and an explanation of the methodology for that estimate, or an explanation of why ARC believes there won't be any other ruptures;
ARC's best estimate of the number of subject inflators used in the U.S.;
How ARC used a borescope to check the manufactured quality of its inflators and the name of the employee that approved using an automated borescope;
The number of inflators rejected since 2000 because of weld flash; and
A copy of the licensing agreement ARC and Delphi entered into on or around July 17, 2001, and whether the agreement allowed or required Delphi to use ARC's inflator design(s), manufacturing process(es), or both.
NHTSA says ARC must not seek confidential treatment for its responses as the administration intends to make them public unless ARC proves public availability would release confidential commercial material.
ARC's inflators use phase-stabilized ammonium nitrate (PSAN) as a propellant that has been known to result in violent explosions and send metal shrapnel into the faces of vehicle occupants. At least two people have been killed in the U.S. and Canada, and seven others have been injured by the defective ARC inflators, The Associated Press previously reported.
NHTSA has been investigating ARC's manufacturing process and air bag inflators since 2015 after the rupture of two air bags, according to the order. In August 2016, the investigation was upgraded "to further investigate allegations of inflator ruptures involving ARC driver air bag inflators, after learning of an ARC inflator field rupture in Canada that resulted in a fatality," NHTSA said.
The investigation was upgraded a second time when NHTSA found out ARC's inflators had ruptured during testing. The probe led NHTSA to discover "multiple additional ARC inflator field ruptures involving the forceful propulsion of metal fragments into the passenger compartment."
A federal class action lawsuit was filed in May against ARC Automotive, Audi, Volkswagen, General Motors, and Ford for the use of the propellant in their air bag inflators.
In April, NHTSA asked ARC to recall 67 million of its inflators, to which ARC refused. From 2017 to 2022, ARC's inflators triggered seven small recalls from automakers, according to USA Today. In May, GM recalled 995,000 more.
In a response to NHTSA Office of Defects Investigation Director Stephen Ridella dated May 11, Gold wrote that NHTSA's position is not based on any objective technical or engineering conclusion about a defect, "but rather conclusory statements regarding hypothesized blockage of the inflator orifice from 'weld slag' and a subjective inference that a defect exists based upon the occurrence of seven (7) field ruptures in the U.S.
"There is no legal basis for NHTSA's 'demand' that ARC conduct a safety recall," Gold wrote. "NHTSA's authority to require manufacturers to conduct safety recalls does not extend to manufacturers that supply original equipment for installation in new motor vehicles."
ARC has until June 14 to respond and hand the requested documents over to NHTSA or face the possibility of the U.S. Department of Justice ordering a response. Civil penalties of up to $26,315 per day, to a maximum of nearly $131.6 million for a related series of daily violations, could also be incurred.
ARC hasn't yet responded to questions from Repairer Driven News.
Images
Featured image: The back side of ARC Automotive's inflator in 2013-2017 model year Chevrolet Traverse vehicles is shown (Provided in federal class action lawsuit 3:22-cv-03053-JCS, U.S. District Court of Northern California)
Share This: