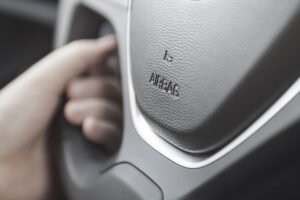 ARC Automotive pushes back against NHTSA, GM initiates air bag recall
By on
Announcements
General Motors (GM) has recalled nearly 995,000 vehicles over defective air bag inflators while the National Highway Traffic Safety Administration (NHTSA) is demanding the manufacturer, ARC Automotive, recall 67 million inflators.
The recall population includes model year 2014-2017 Buick Enclave, Chevrolet Traverse, and GMC Acadia vehicles, already included in the GM recall.
The inflators use phase-stabilized ammonium nitrate (PSAN) as a propellant that has been known to result in violent explosions and send metal shrapnel into the faces of vehicle occupants. A federal class action lawsuit was filed in May against ARC Automotive, Audi, Volkswagen, General Motors, and Ford for use of the propellant in their airbag inflators.
At least two people have been killed in the U.S. and Canada, and seven others have been injured by the defective ARC inflators, The Associated Press reports. Takata air bag inflators have also been an issue for several years. NHTSA confirmed four deaths caused by recalled Takata air bags in 2022, bringing the total to 23 in the U.S., and stressed that all vehicle owners should check for open Takata recalls. The same propellant used in ARC's air bags is used in the Takata air bags.
Now, NHTSA is demanding the ARC inflator recall following a nearly eight-year investigation. In a statement to the AP, ARC said, "We disagree with NHTSA's new sweeping request when extensive field testing has found no inherent defect."
In a response to NHTSA Office of Defects Investigation Director Stephen Ridella dated May 11, ARC Vice President of Product Integrity Steve Gold wrote that NHTSA's position is not based on any objective technical or engineering conclusion about a defect, "but rather conclusory statements regarding hypothesized blockage of the inflator orifice from 'weld slag' and a subjective inference that a defect exists based upon the occurrence of seven (7) field ruptures in the U.S.
"There is no legal basis for NHTSA's 'demand' that ARC conduct a safety recall," Gold wrote. "NHTSA's authority to require manufacturers to conduct safety recalls does not extend to manufacturers that supply original equipment for installation in new motor vehicles."
In February, in response to questions posed to NHTSA by Repairer Driven News about aftermarket replacement part safety defects, NHTSA said, "The Vehicle Safety Act requires both manufacturers of vehicles and replacement (aftermarket) equipment to conduct recalls for safety defects. NHTSA investigates potential safety defects in both vehicles and equipment and takes enforcement actions as appropriate. The law requires vehicle or equipment manufacturers to provide a free remedy for all safety defects irrespective of automotive insurance, which NHTSA does not regulate."
The next step in the process is for NHTSA to schedule a public hearing, which could result in taking ARC to court to force a recall.
GM's recall was filed on May 10 following an investigation into an allegation that a 2017 Chevrolet Traverse front-driver airbag inflator ruptured during deployment during a March 24 crash. GM and NHTSA confirmed in April that the inflator had ruptured. 
"GM is aware of two prior ruptures (allegations received: September 2, 2021 and February 18, 2022) of ARC-manufactured airbag inflators in 2015 model year Chevrolet Traverse vehicles, and GM conducted NHTSA Recalls 21V782 and 22V246 on the inflator production lots involved in these incidents," the recall report states. "All three rupture events in Chevrolet Traverse vehicles involved the same inflator variant (MC)."
Last year, GM hired an independent third-party engineering firm to assist in the OEM's investigation but the cause remains unknown. 
The fix for the recalled vehicles is the installation of the front-driver airbag module, which GM says doesn't contain an inflator that was
manufactured in the suspect time period that the defective inflators were made.
Images
Featured image credit: jpgfactory/iStock
Share This: