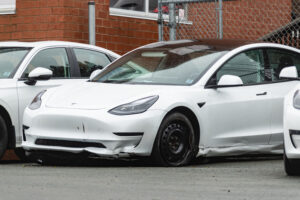 Electric vehicle (EV) repairable claims frequency within the U.S. increased to 1.13% within Q1 2023, according to a new Mitchell report.
It increased 2.41% during the same time period in Canada, the EV Collision Insights report said.
Ryan Mandell, director of claims performance at Mitchell, noted that the increase to vehicle repairability comes as EV sales gain traction due to higher gas prices, government incentives and more vehicles going into production.
"With more EVs on the road, there will naturally be more EV collision claims. That puts a strain on auto insurers, who must balance policyholder expectations with higher than average vehicle repair costs and cycle time," Mandell said. "It also puts a strain on collision repairers tasked with properly and safely restoring these automobiles to OEM standards."
Mandell told Repairer Driven News that the increase in repair claims frequency is a function of EVs being worth more and it being more economical for insurers to repair rather than declare EVs total loses. He said total loss frequently is "significantly lower" for EVs overall compared to internal combustion engine (ICE) vehicles.
"What makes their total loss frequency lower is the fact that they're just worth a lot more," Mandell said, adding: "Tesla is still dominating that market,  and that's why we're seeing them being 'more repairable.' It's just the fact that you've got more room in the threshold before you get to a total loss."
Mandell noted that there are other considerations insurance  companies take into account before deciding whether to deem an EV repairable or a total loss. One key factor they consider before making a decision is the likelihood of the battery being damaged internally.
"If there is a high likelihood that there's battery damage, then there's probably going to be a little bit more conversation on a one-off basis in terms of whether it is worth the liability long term because insurers are in the risk management business," he said. "They're looking at what the risk is of having the vehicle repaired, but there being some sort of hidden damage to the battery that wasn't diagnosed because you don't necessarily see damage and you're not able to identify that damage very clearly.
"If there's a high likelihood of that severity of the impact, then that may lead to a conversation where you get outside of that economic break even analysis."
The Mitchell report also noted that:
Average repairable severity decreased to $4,749 in the U.S. and $6,406 in Canada but remains higher than for internal combustion engine (ICE) vehicles;
OEM parts usage and the percentage of parts repaired increased to 90.76% and 12.68% respectively
Refinish time is nearly an hour more than for ICE automobiles, adding to claim costs
Models new to the market are now entering U.S. collision repair facilities for the first time
Tesla continues to lead the U.S. market share of repairable vehicles, although its share fell from 76.78% in Q4 2022 to 75.8% during Q1 2023.
As EV adoption increases, its impact on stakeholders such as collision repairs will be significant, Mitchell said. It noted that technicians will require additional training, tools and equipment requirements to restore vehicles to OEM standards.
"Automotive insurers, on the other hand, will need to account for higher than average repair costs and cycle time when determining policyholder premiums," it said.
Mitchell also highlighted the need for more EV charging infrastructure to meet growing customer demand.
"For mass-market acceptance of battery electric vehicles (BEVs) to take hold, the recharging infrastructure must do more than keep pace with EV sales," said Graham Evans, research and analysis director at S&P Global Mobility: " It must surprise and delight vehicle owners who will be new to electrification, so that the process seems seamless and perhaps even more convenient than their experience with gasoline refueling, with minimal compromise on the vehicle ownership experience."
A recent, unrelated survey of more than 2,000 U.S. consumers found most aren't ready yet to switch to EVs citing list price, lack of charging stations, and battery range anxiety as their top concerns.
While those concerns are understandable, ValuePenguin says consumers should also consider higher auto insurance and repair costs.
"While your dealership probably won't be upfront about the cost to insure an EV, they're about 28% more expensive to insure compared to a gas car," ValuePenguin's Divya Sangameswhar said. "It would be good to talk to your insurer about how much your premiums may increase if you switch to an EV."
Vehicle-specific insurance discounts, like electric car and safety feature-based, could save some money, the research company said.
"The Mini Cooper Electric is one of the cheapest EVs to insure, while Teslas are some of the most expensive," the report states. "The Porsche Taycan is one of the most expensive cars to insure, as it's both a sports car and an EV."
Citing CCC Intelligent Solutions' finding in 2022 that the average small non-luxary EV model costs $4,041 to fix — about 27% more than the average for roughly comparable non-EV models — Sangameswhar concluded that EVs have lower maintenance costs but cost more if they're damaged in a car crash or by bad weather. Among mid-size luxury SUVs, the difference was even more pronounced: $8,037 versus $5,242 for internal combustion engine (ICE) vehicles, according to CCC.
Images
Featured image: A Tesla Model 3 sedan awaits repairs at a body shop. (Shaunl/iStock)
Share This: