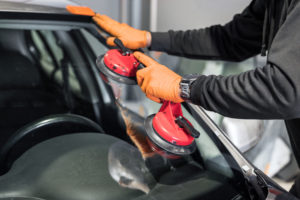 Maryland Gov. Wes Moore has signed a new auto glass calibration bill into law, requiring glass shops to inform customers before making repairs.
Under the state's SB 793, which goes into effect Oct. 1, businesses must tell customers before repairing or replacing windshields on vehicles equipped with advanced driver assistance systems (ADAS). They must also disclose whether recalibration is required, and provide a written statement attesting that the work will meet or exceed OEM standards.
The new law forbids repairers from charging customers for calibrations that have not been completed. It also requires them to inform customers when the calibration wasn't performed properly. The bill does not elaborate on the context of "properly", or whether it refers to repairers using the right tools or following OEM procedures.
It said a violation of the law would constitute an "unfair, abusive or deceptive trade practice" and would be subject to enforcement. It does not specify the type of penalty a non-compliant business might face.
Maryland is among several states where lawmakers are seeking to inform consumers of the need for recalibration of ADAS, specifically auto glass, to ensure that safety systems work correctly post-repair or replacement.
In New Hampshire, Rep. Tim McGough (R-District 12), has introduced a bill that aims to do just that.
"House Bill 304 is a good consumer protection bill designed to inform consumers about some potentially bad practices that you really could not possibly know about, or at least would be very unlikely to know about, related to windshield repairs," McGough said in March. His proposed legislation has not yet advanced beyond the subcommittee level.
A similar bill has been passed in Maryland and others are set to be introduced in Florida, Texas, Illinois, Nevada, and likely Hawaii this year.
The number of vehicles that require calibrations following windshield replacements is increasing, one study indicates.
AutoBolt, a new auto glass part lookup service, recently released its first annual "Auto Glass Advanced Driver Assistance System (ADAS) and Technology Report" which found that 89% of model year (MY) 2023 and newer vehicles will require calibrations following windshield replacements, up from 25% of MY 2016 vehicles.
"In general it's about 13 to 15 million windshields that are replaced every year and so once I knew I had the data on how many calibrations are required by model year, I could then cross reference that against the vehicle age distribution data that the National Household Travel Survey publishes," AutoBolt CEO Nick Dominato told RDN. "It's a billion-dollar industry — calibrations for windshield only. …It's a big number now, but it's going to grow exponentially over the years as newer vehicles come on."
Based on AutoBolt's data, there should have been 3.8 million ADAS calibrations performed in 2022 in the auto glass industry, which translates to a total addressable market for ADAS calibrations in the auto glass industry alone of $959 million.
"There are a lot of glass shops, typically near the bottom of the market or in customer pay markets, where either the shop doesn't have the equipment or the customer is paying out of pocket and is refusing to have the calibration done," Dominato said. "There's still a lot of room to grow but we don't actually have the data specifically for how often it's being missed in auto glass."
Images
Featured image: An installer replaces  a windshield. (herraez/iStock)
Share This: