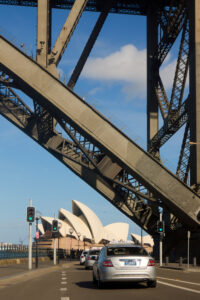 A parts and labor shortage creating months-long repair backlogs throughout the U.S. and Canada are being mirrored in Australia as well.
A local news station reported this month that an "Australia-wide phenomenon" was contributing to astronomically long wait times, with one driver waiting nearly a year to have his vehicle repaired.
Stuart Charity, chief executive of the Australian Automotive Aftermarket Association (AAAA), told ABC News Australia that the nation observed a significant increase in the number of cars on the roads after the pandemic cooled, leading to more crashes.
He said the issue is exacerbated by a skilled labor shortage within the repair industry, similar to the one being faced by U.S. shops.
"I think it's going to be the new normal for a little while, and there's no quick-fix solution," he said. "We as an industry need to do better at promoting careers.
"We need to change the perception that it's a low-paid, low-skill industry of last-resort. Because there's a terrific array of different careers in all the automotive trades [and an] opportunity to run your own business."
A number of initiatives are underway in the U.S. to combat the labor shortage, including apprenticeships, scholarships and partnerships between automakers and colleges to boost training opportunities.
Andrew Batenhorst, body shop manager at Pacific BMW in California, attributed the skilled labor shortage in part to poor leadership.
"Although this may not be a popular opinion, I think most of it starts from managers and how we are treating the people that are on our teams," Batenhorst told Repairer Driven News. "I think our industry is plagued with this concept that our technicians are robots, so to speak; that they're a means to an end to get a car out of the shop."
Batenhorst added that managers themselves are facing unprecedented levels of burnout and don't have the energy to more effectively engage and interact with their employees. 
"People are only going to tolerate that for so long before they bounce and they move onto the next shop," he said.
He said leadership should work harder to be more supportive and empathetic to staff, and to have processes in place to streamline workflows, empower employees and give them autonomy in their work. He said managers should also strive to help find solutions for employee pain points.
"Once you have a good shop process, then a manager can really start to move away from that manager title and start being a leader and doing the things that good leaders do," Batenhorst said. "Then you'll find they're trusting you and feel like you're in their corner. If you don't have the bandwidth to do any of these things, then your turnover is going to increase."
Another contributor to the repair shortage is shops' failure to properly diagnose cars for profitability, Batenhorst said. When shops don't do that, he said their profitability suffers and they become unable to pay the competitive wages necessary to attract and retain workers.
"There are plenty of shops out there that are willing to poach people because they're also struggling with [staffing shortages] and they will throw large amounts of money at those technicians to lure them away," he said. "I've been victim of it three times. I've had my paint department gutted. I've lost master technicians who are even as good as I am. Something has to change."
Image
Featured image credit: Kokkai Ng/iStock
Share This: