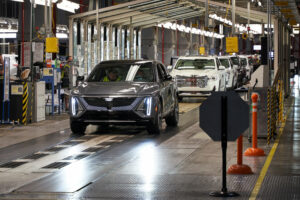 General Motors (GM) says it's expanding its electric vehicle (EV) charging access through a partnership with Tesla that will give its drivers access to 12,000 superchargers.
The automaker will integrate the North American Charging Standard (NACS) connector design into its EVs beginning in 2025, it said in a press release.
"Our vision of the all-electric future means producing millions of world-class EVs across categories and price points, while creating an ecosystem that will accelerate mass EV adoption," said Mary Barra, GM's chief executive.
"This collaboration is a key part of our strategy and an important next step in quickly expanding access to fast chargers for our customers. Not only will it help make the transition to electric vehicles more seamless for our customers, but it could help move the industry toward a single North American charging standard."
It's the second time in recent weeks that an automaker has announced plans to tap into Tesla's supercharger system.
In late May, Ford revealed that its EV owners would soon have access to Tesla's network throughout the U.S. and Canada under an agreement between the two automakers.
Next spring, Mustang Mach-E, F-150 Lightning and E-Transit models will be able to connect with the chargers through an adapter and software integration. Beginning in 2025, Ford said its next-generation EVs will eliminate the need for an adapter.
Likewise, the network will be open to GM drivers beginning next year and will initially require the use of an adapter. GM said it will also begin eliminating the need for adapters beginning in 2025, when its EVs will be equipped with a built-in NACS inlet necessary to directly access the superchargers.
GM said it will also integrate the Tesla's supercharger network into its vehicle and mobile apps to help drivers find charging stations.
"Our mission is to accelerate the world's transition to sustainable energy," said Rebecca Tinucci, Tesla's senior director of charging infrastructure. "Giving every EV owner access to ubiquitous and reliable charging is a cornerstone of that mission."
A number of stakeholders in both the private and public sectors are working to meet the growing demand for EV infrastructure.
President Joe Biden's Bipartisan Infrastructure Law included $7.5 billion for charging infrastructure. However, supporters of vehicle electrification point to the more than 140,000 EV charging stations currently deployed across the United States – including Level 2 AC and Level 3 DC fast chargers and both public and restricted access units – as a sign that a budding system to support our transportation transformation is in place.
Meanwhile, S&P Global Mobility data shows that the charging infrastructure is not nearly robust enough to fully support a maturing electric vehicle market. Even when home charging is taken into account, to properly match forecasted sales demand, the U.S. will need to see the number of EV chargers quadruple between 2022 and 2025, and grow more than eight-fold by 2030, S&P says.
"The transition to a vehicle market dominated with electric vehicles will take years to fully develop, but it has begun," S&P Global Mobility analyst Ian McIlravey said earlier this year. "With the transition comes a need to evolve the public vehicle charging network, and today's charging infrastructure is insufficient to support a drastic increase in the number of EVs in operation."
Images
Featured image: The 2023 Cadillac LYRIQ (Provided by GM)
Share This: