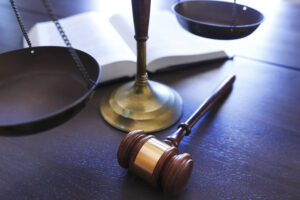 Settlement draws closer in $2.3M Georgia USAA underpayment lawsuit
By on
Legal
USAA has been ordered to pay nearly $573,000 in attorney's fees alone after a federal judge granted preliminary approval to a class action lawsuit accusing it of underpaying taxes in total loss claims.
The Georgia lawsuit, initially filed in 2021, represents about 9,000 people who were allegedly not fairly compensated for Title Ad Valorem Tax (TAVT) funder their USAA policies. It is seeking a settlement of nearly $2.3 million, with each class member owed about $252.
Last week's preliminary approval granted the plaintiff's unopposed motion for preliminary approval of the class action settlement agreement. The approval also greenlighted a request to award attorneys' fees and costs.
A proposed agreement filed in May states that case costs were expected to total $15,000 on top of an estimated $564,434.30 in attorney fees, accounting for 25% of the class cash benefit.
The lawsuit was initially launched by Jahazel Black, whose 2009 Honda Civic Sedan LXS was declared a total loss following an Oct. 2, 2018 crash. It was insured under USSA, which determined the vehicle had a base value of $5,291 and an adjusted value of $4,345.
After adding and subtracting a number of fees, it made a final payment of $4,277.10, the lawsuit said, adding that the figure included $49.25 for state sales tax.
However, Black contended that she was underpaid in taxes given that the TAVT on her vehicle was 7% of its value, meaning she should have received $344.75 and was underpaid by $295.50.
"Plaintiff also was harmed by USAA's underpayment of license plate transfer fees by a minimum of $5," the lawsuit said. "USAA breached its Policy with Plaintiff and violated Georgia law by failing to pay all the TAVT and license plate transfer fees due on Plaintiff's total loss claim."
The case is expected to be settled during a Dec. 13 hearing.
USAA did not contest the proposed settlement agreement. It did not respond to Repairer Driven News query for comment on the case and whether, if the allegations prove true, it will take measures to ensure drivers are properly compensated for taxes in total loss claims going forward.
The case is among several working through the courts related to alleged claims underpayments in total loss payouts.
Earlier this year, a U.S. District Court has granted class certification to a New Jersey woman who filed a complaint against GEICO for allegedly failing to pay the title and transfer fees for her total loss vehicle.
Diane McCoy filed a class action complaint against the company in 2020, detailing how she was involved in a total loss vehicle collision in January 2018 while insured by GEICO.
According to the lawsuit, GEICO, through a third-party vehicle valuation provider, determined the vehicle had a base value of $3,777 and an adjusted value of $3,838. The insurer added $254.27 for sales tax and subtracted $500 for the deductible for a total payout of $3,592.27, the complaint said.
However, it did not cover the cost of title transfer and tag fee transfers, the legal filing said.
Last October, GEICO agreed to pay over $19 million to nearly 227,000 policyholders to settle allegations that it did not pay them the full amount owed in total loss claims.
The federal class action lawsuit was filed in 2019 and combined last year with a second suit filed in 2020. The combined complaint alleges that GEICO breached private auto insurance policies by improperly calculating or failing to include sales tax for the purpose of buying a replacement vehicle in total loss claims. Some plaintiffs also alleged GEICO didn't pay local and state regulatory fees. At least one plaintiff claims his sales tax wasn't paid because his vehicle was leased rather than owned, which the suit says goes against policy terms.
The settlement class is split into two types of plaintiffs — those owed sales tax and those owed regulatory fees. Class members include GEICO private passenger auto physical damage insurance policyholders whose claims were adjusted under Section III (comprehensive or collision coverage) of the carrier's policy during the class period for which GEICO paid total loss claims and the policyholders didn't keep the salvaged vehicles. The class period is from June 27, 2015 if insured by GEICO General, Oct. 23, 2016 if insured by GEICO Indemnity, or June 30, 2017 if insured by GEICO Casualty or Government Employees Insurance Company through Aug. 27, 2020.
The majority of the class members include those who are allegedly owed regulatory fees.
This isn't the first time USAA has faced a lawsuit related to total loss claims.
Last year, a lawsuit filed in Texas against USAA moved forward as a class-action case on behalf of thousands of policyholders whose vehicles were allegedly deemed total losses without their consent and, as a result, their registrations were revoked and the vehicles titled as salvage, or non-repairable, by the state.
IMAGES
Featured image credit: DNY59/iStock
Related: 
Lawsuit: Insurer underpaid millions by deducting labor depreciation from claims
Share This: