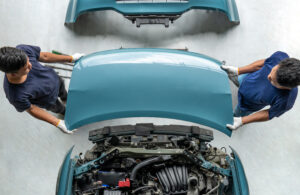 'Who Pays for What?' survey of shops indicates non-OEM parts labor not often paid for
By on
Collision Repair
A low percentage of shops say they're always paid by eight of the largest insurance carriers for labor to test-fit non-OEM parts, according to the findings of the industry's latest "Who Pays for What?" survey that covers body labor.
The surveys are conducted quarterly by Mike Anderson of Collision Advice in conjunction with CRASH Network to find out which not-included operations the nation's eight largest insurers — State Farm, Farmers, Nationwide, Allstate, USAA, Liberty Mutual, Progressive, and GEICO — typically pay for.
Interestingly, while some carriers prefer to only pay for non-OEM parts, more than 600 shops said carriers don't want to pay for any extra labor associated with ensuring the parts fit correctly.
Only 13.5% of shops that negotiated for payment said State Farm always covers the labor followed by USAA at 12.7%, Liberty Mutual and Nationwide at 12.2% each, Progressive at 11.7%, GEICO at 11.3%, Farmers at 11.2%, and Allstate at 9.5%.

Whereas the percentage of shops that said they're never paid for the not-included labor was nearly half per carrier: 43% by Progressive, 42.9% by Allstate, 39.7% by GEICO, 38.5% by Farmers and Nationwide, 38.4% by State Farm, 38% by Liberty Mutual, and 35.1% by USAA.
Shops were also asked in April how often carriers cover air bag residue, vehicle fluid, and old urethane cleanup; vehicle pre-wash; labor to disassemble and reach damaged areas for assessment and/or repairs; removal of molding, emblem, and decal adhesive; vapor barrier replacement; cleanup of used or salvage parts; seam sealer OEM texture duplication, and many more operations.
The full results of the survey can be downloaded at crashnetwork.com/collisionadvice.
Of the aforementioned, only one — old urethane cleanup — saw an increase in the percentage (2.1%) of shops that see payment, and another — vapor barrier replacement — saw no change since last year with 68% of shops that negotiated for the operation getting paid most of the time or always. The latter operation is particularly important to carry out in vehicles that have air bag pressure sensors inside the doors, which OEMs often say are one-time use parts, Anderson noted in the report.
Of those that negotiated for payment of additional labor to remove old urethane adhesive residue following glass removal more than 50% said they had never asked any of the insurers to cover it.
Shops said State Farm (26.6%), USAA (23.2%), and GEICO (20.8%) were most likely to always pay for the additional labor. Allstate (19.8%), USAA (18.2%), and Nationwide (18%) were the top three carriers that shops said paid for the operation most of the time.
"Although the removal of a rear window or quarter glass may be included in the quarter panel replacement labor time, additional labor may be required to clean or level the old urethane prior to reinstalling the glass, and this is not included," Anderson wrote. "I'm wondering if the percentage seeking to be paid for this is so low because a sublet vendor performs this task. It will be interesting to see if this changes as more shops start to do more of their glass work in-house."

Labor for removal of air bag deployment residue saw a drop in coverage. Thirty-six percent of shops, down by 3.2% compared to last year, said carriers paid most or all of the time.
State Farm is most likely to always cover the operation with 30.6% of shops that negotiated payment answering that they were paid at that frequency by the carrier. Next was USAA at 24% and Nationwide at 20.5%. Between 12 and about 16% of shops, per carrier, said each of the carriers pays most of the time for the procedure.
Of the shops that negotiate for payment of labor to cut into vehicles to access damaged areas for assessment ahead of repairs, 53% said they're paid most or all of the time. Of those that negotiated, the top two carriers to always pay were State Farm (32.7%) and USAA (29.2%). Between 20 and 24% of shops, per carrier, said they haven't asked to be paid for the operation. Around 25% to a third of shops per carrier said they're always paid for the extra labor. The highest percentage (18.7%) of shops that said they were denied payment for labor to gain access was by Allstate.

"The percentage of shops that have not sought to be paid for this is very surprising to me," Anderson wrote. "It has been my experience that it is not uncommon for a collision technician to need to cut an access hole to remove components from a damaged door, for example, or to get the latch open when the hood is damaged."
The current survey covers not-included frame and mechanical repair operations. It can be taken at crashnetwork.com/collisionadvice.
The site also offers an opt-in for notifications about upcoming surveys and when new survey findings are available. The next survey will be conducted in October.
CRASH Network subscribers receive coverage "Who Pays for What?" survey results including additional analysis of the data and topics covered such as:
When a leaky car gets towed in (July 12, 2021)
Charging for washing vehicles (May 9, 2022)
The power of a simple regular reminder (vapor barriers) (July 4, 2022)
Insurers increasingly paying for inspections (July 5, 2021)
Seam sealer labor is time-consuming – and not-included (July 25, 2022)
Practices related to OEM post-crash safety inspections (December 5, 2022)
Automaker stresses steering column measurement (April 19, 2021)
Images
Featured image credit: amnat jomjun/iStock
All carrier payment charts provided by Collision Advice and CRASH Network
Share This: