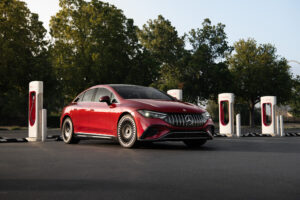 Mercedes-Benz is the latest automaker to announce a North American Charging Standard (NACS) integration for its electric vehicles (EV).
The automaker said Friday that its EV drivers can begin using Tesla Superchargers in North America next year using an adaptor and that it will integrate NACS charging systems into its designs beginning in 2025.
"Our strategic priority is clear: Building the world's most desirable cars. To accelerate the shift to electric vehicles, we are dedicated to elevating the entire EV-experience for our customers – including fast, convenient, and reliable charging solutions wherever their Mercedes-Benz takes them," said Ola Källenius, chairman of the board of management Mercedes-Benz Group AG.
"That's why we are committed to building our global Mercedes-Benz High-Power Charging Network, with the first sites opening this year. In parallel, we are also implementing NACS in our vehicles, allowing drivers to access an expansive network of high-quality charging offerings in North America."
A string of other OEMs have made similar announcements in recent weeks. 
Most recently, Electrify America said June 29 that it will add Tesla's NACS connector to its fast charging networks in the U.S. and Canada, and SAE International is working on standardizing NACS.
SAE International previously shared that it will develop NACS standards, shortly after Ford, General Motors, Rivian, and Volvo made separate announcements that they would begin using NACS. 
Several states including Washington, Texas, and Kentucky have also mandated NACS in order for EV charging companies to receive money for charging infrastructure from a federally-funded state program.
Mercedes said its partnership with Tesla would give its drivers access to more than 12,000 Superchargers in North America through its Mercedes me Charge service. 
It also said the Superchargers will be integrated into Mercedes' Navigation with Electric Intelligence system, which calculates a "convenient and time-efficient route including charger stops."
Tesla does not have a media department and could not be reached for comment on why it is sharing its network with a growing number of OEMs, although profit is one obvious possibility with one analysis estimating the network could be worth up to $100 billion.
Tesla said on its website that its motivation is to support wide-scale EV adoption.
"It's always been our ambition to open the Supercharger network to non-Tesla EVs, and by doing so, encourage more drivers to go electric," it said in a blog post. "More customers using the Supercharger network enables faster expansion. Our goal is to learn and iterate quickly, while continuing to aggressively expand the network, so we can eventually welcome both Tesla and non-Tesla drivers at every Supercharger worldwide."
J.D. Power research found that a lack of charging availability has been the No. 1 reason shoppers have opted to stick with internal combustion engine (ICE) vehicles for the past three years.
However, it noted that charging availability has grown slowly year-over-year, rising 13% this year versus last year's 33% increase. 
Images
Featured image credit: Courtesy of Mercedes-Benz
Share This: