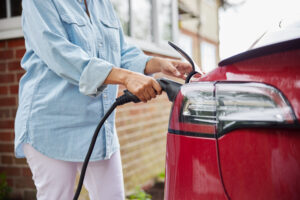 Electric vehicle (EV) charging companies in Texas, and now Washington, must include Tesla's plug-in to qualify for a federally-funded state program, according to new reports.
However, a spokesperson said that Washington has denied claims a decision has been made on its EV infrastructure plans.
The state is set to receive $71 million throughout five years, including $10.5 million for the first year, through the National Electric Vehicle Infrastructure Formula (NEVI) Program. 
The federal initiative is providing funding to states to "strategically deploy EV charging infrastructure and to establish an interconnected network to facilitate data collection, access, and reliability."
Washington is the second state reported to be mandating the use of Tesla's North American Charging Standard (NACS) at its stations, Reuters said.
However, the Washington State Department of Transportation's communications director said no decision has been made on its charging connector types beyond federally-mandated requirements.
"We are still in [the] early stages of considering how recent industry developments may impact our efforts to build out EV charging infrastructure in the state and region," Kris Abrudan told Repairer Driven News.
The federal government issued a final ruling on its NEVI program earlier this year, saying that stations must include at least four ports, not including the required Direct Current Fast Charger port which must include CCS Type 1 connectors.
"This final rule also allows DCFC charging ports to have other non-proprietary connectors so long as each DCFC charging port is capable of charging a CCS-compliant vehicle," it said.
Reuters previously reported that Texas, where Tesla is headquartered, will require its chargers to have one NACS connector and a Combined Charging System (CCS) outlet.
The Texas Department of Transportation (TxDOT) confirmed to RDN that each of its direct current fast charge ports is planned to have one CCS connector and one NACS connector.
"TxDOT is not accommodating one company or another as part of the plan. Electric vehicle companies other than Tesla also use NACS connectors," said Julien Devereux, a department spokesman. "TxDOT is leading the way in developing a plan to ensure all Texans have access to EV infrastructure. Having the most common connectors available (CCS and NACS) at each charging station will provide more options for EV drivers."
Tesla has previously said that its NACS chargers are "half the size and twice as powerful" as CCS connectors. The OEM does sell CCS adaptors so that its models can charge at out-of-network stations. At a select number of sites, Tesla's chargers can be used to power other EV brands as well.
Revelations that at least one state will require Tesla infrastructure as part of the federal funding were made after three automakers signed Tesla Supercharger network agreements.
In May,

Ford became the first OEM

to reveal that its EV owners will soon have access to a network of more than 12,000 Tesla superchargers throughout the U.S. and Canada under an agreement between the two automakers. Next spring, Mustang Mach-E, F-150 Lightning and E-Transit models will be able to connect with the chargers through an adapter and software integration. Beginning in 2025, Ford said its next-generation EVs will eliminate the need for an adapter.

Weeks later,

General Motors made a similar announcement

. The OEM will integrate the North American NACS connector design into its EVs beginning in 2025, it said in a press release.

Last week,

Rivian became the third OEM

  to sign an agreement with Tesla. It said an adapter will be available to enable Rivian's R1T and R1S to charge on the Supercharger network. NACS charge ports will come standard in future R1 vehicles beginning in 2025, as well as in its upcoming R2 platform.
Politico reported earlier this month that a growing divide between NACS and CCS connectors, saying incompatible ports, could "split the industry" by either slowing EV growth or causing states to spend money on infrastructure that won't be used.
"Imagine having a fuel dispenser with a different size hole than your gas tank," said Arcady Sosinov, founder of FreeWire Technologies, told the outlet. "It just seems ridiculous, but that's essentially what's happening in the EV charging industry."
Images
Featured image credit: Daisy-Daisy/iStock
Share This: