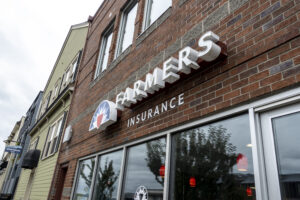 Farmer's Insurance to drop more than 100,000 policies, including auto, in Florida exit
By on
Announcements | Insurance
Farmer's Insurance will stop writing auto, residential and umbrella policies in Florida, it confirmed this week in a move that's expected to affect 100,000 policies.
The figure is believed to encompass a "very small amount of auto policies," with the majority related to home policies, an Insurance Information Institute spokesman told Repairer Driven News.
"We expect this decision by Farmers will have very minimal impact on Florida's auto insurance market as most major national and regional insurers continue to offer coverage to Florida drivers," said Triple-I's Mark Friedlander.
He said the non-renewal process will likely begin early next year based on a policy's expiration date and that Farmers plans to provide information about how affected customers can switch their coverage to its subsidiary Bristol West, which will continue operating in the state.
Trevor Chapman, a Farmers spokesperson, said in a statement to RDN that its decision to leave Florida was necessary to "effectively manage risk exposure."
"We have advised the Florida Office of Insurance Regulation of our decision to discontinue offering Farmers-branded auto, home, and umbrella policies in the state," Farmers said in its statement.
"This business decision was necessary to effectively manage risk exposure. Farmers offers insurance through several different brands, and this decision applies only to policies issued through our exclusive agency distribution channel."
Chapman said Farmer's exit will impact 30% of its customers, with the remaining 70% maintaining coverage under several of its subsidiaries including Bristol West, Foremost Signature, Farmers GroupSelect, Foremost Choice, and Foremost.
"Such policies will continue to be available to serve the insurance needs of Floridians," Chapman said. "Affected customers will receive notifications detailing when their coverage will end and will be advised of options for replacement coverage."
Farmers' confirmation Tuesday that it would leave the state came about a day after Florida's Chief Financial Officer Jimmy Patronis said he was "hearing rumors" the insurer might leave the state.
"If that's true my office is going to explore every avenue possible for holding them accountable," he tweeted. "Don't get to leave after taking policyholder money. Can't write auto if you're not doing homeowners either. Zero communication!"
Patronis reiterated in a statement Tuesday that he has directed his Division of Consumer Services to investigate complaints about Farmers. He added that if those complaints "hit a certain threshold, it will trigger [a] market conduct investigation that could lead to fines being levied against the carrier."
"I've always said that when big decisions are made on insurance – the policyholder is rarely in the room – and unfortunately Farmers Insurance proved me right," Patronis said. "I have asked my team to put their heads together in holding Farmers Insurance accountable to Florida policyholders. I want additional scrutiny on this company."
Patronis added that he expects policyholders to be refunded prorated amounts, and that his office is working with the Florida Association of Insurance Agents to discuss ways to transfer policies in bulk.
Samantha Bequer, communications director for the Florida Office of Insurance Regulation, said it received a market reduction notice from Farmers Insurance on Monday and is reviewing it "in accordance with applicable Florida Statutes."
Insurers are legally obliged to give Florida 90 days' notice if they intend to cancel at least 10,000 homeowner policies within the next year. Farmers confirmed to local media outlets in June that it planned to stop writing property policies in the state.
Bequer said that if a consumer receives a non-renewal notice from Farmers, they should contact their insurance agent to secure alternate coverage.
"It's also important to note, Florida has enacted historic and unprecedented reforms designed to promote market stability, but the impact of these reforms will take time," Bequer said. "Most of the primary cost drivers in the Florida property insurance market, including catastrophic claims, adverse loss reserve development, and higher reinsurance costs, are notably exacerbated by excessive and costly litigation."
She added: "These historic and unprecedented legislative reforms in recent years addressed these cost drivers to bolster Florida's property insurance market and create stability and competition by reducing costly litigation. Through these legislative changes, we are ensuring the future availability of affordable and reliable insurance products for consumers."
Farmer's departure came as auto insurance policies in the state continue to rise, with recent data indicating Floridians are paying 37% more for car insurance than the rest of the country.
Florida drivers pay an average of $3,183 per year for full coverage compared to the national annual average cost of $2,014, according to Bankrate. Rates for minimum coverage average around $1,128 — nearly 45% more than the $622 national annual average.
Lines of insurance coverage and pricing continue to be a widely reported issue in Florida with the rising cost of homeowners insurance and more than a dozen insurance companies leaving the state or going under in the past year.
Images
Featured image credit: Colleen Michaels/iStock
Share This: