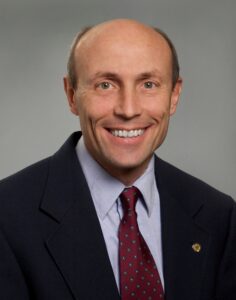 Outgoing ASE leader hopes work continues on improving tech image, education, recruitment & retention
By on
Education
The National Institute for Automotive Service Excellence (ASE) President and CEO Tim Zilke has announced his plans to retire on Dec. 31. Repairer Driven News sat down with Zilke and his successor, Dave Johnson, to talk about the future of ASE under new leadership.
Zilke joined ASE in 1991 and was promoted to president and CEO in 2008. Johnson began as president and CEO designate on Wednesday. Senior Vice President of Communications Trish Serratore will also retire at the end of the year.
ASE says the institute has "evolved significantly — defining standards and certification to better serve technicians, transportation service providers, and the motoring public" during Zilke and Serratore's tenure.
Zilke told RDN there have been monumental technological changes in certification testing and vehicles during his time at ASE.
"Our professional candidates were testing with paper and pencil until 2012. Now candidates are able to securely test from home or work. Vehicles have seen a huge increase in embedded technology, driver assistance systems, and, of course, electric vehicles [EVs]. ASE is strategically positioned to actively embrace candidate testing changes and the evolution of vehicle technology."
ASE says the switch from paper and pencil increased the availability of professional testing from six nights a year to year-round, enabling the addition of 11 new ASE certifications.
The ASE Renewal App was introduced in 2020 and last year Pro-Proctor remote testing was launched, offering alternatives to help automotive service professionals remain certified. ASE has also proactively responded to evolving vehicle technologies and the rapid introduction of EVs with an advanced driver assistance systems (ADAS) test and the rollout of EV safety certifications for all transportation industry personnel, including advanced levels for technicians.
ASE says that under Zilke's guidance, various levels of credentials to support a changing workforce have been introduced with the ASE entry-level tests soaring in popularity.
ASE also assumed management of the Automotive Youth Education Systems (AYES) organization in 2009, and in 2018 merged AYES with the National Automotive Technicians Education Foundation (NATEF) to form the ASE Education Foundation. In 2018, the Automotive Training Managers Council was rebranded as the ASE Training Managers Council (ATMC). ASE, ASE Education Foundation, and ATMC have all been aligned to support the career cycle of technicians from initial education through lifelong learning, ASE said.
Zilke told RDN that through testing and certification, "ASE has encouraged technicians which ultimately results in a better repair and driving experience for consumers. Technician improvement also makes technicians more productive and the employer more profitable."
When asked what he sees as ASE's greatest accomplishments since he's been president, he listed all of what ASE said he helped facilitate. He gave credit to industry schools for the rise in popularity of entry-level testing because they've come to appreciate the value of an industry-based, recognized credential that measures student achievement, he said.
"Over the past 16 years, ASE has transformed in many ways, and I am very proud of our achievements," he said. "ASE has an incredible staff of under 50 people that have an amazing passion and level of commitment to ASE. We navigated the organization through the pandemic while doing all that we could to support technicians during an incredibly challenging time."
There were some challenges, however, that weren't overcome during his tenure that he wishes could've been.
"While we had many accomplishments, we were not able to redefine the technician image and address the recruitment/retention challenges to the full extent," Zilke said. "Technician image and recruitment/retention are interrelated and changing perceptions will take time to improve. ASE is the logical industry-wide organization to help address these challenges, primarily through the ASE Education Foundation that is working diligently on these initiatives…
"The ASE Education Foundation has the tools and connections between industry and education to improve the situation. The foundation's industry-based education program standards, Adopt-a-School program, and work-based learning programs are practical solutions. The foundation can also serve as an industry focal point to address the situation. In addition, the industry technician training programs will have to adapt to the rapid shift to electric vehicles. ASE can work with the industry to align the ASE tests to the changes, which will in turn drive the training."
Going forward, Zilke said he hopes to see ASE "continue to add measurable value to industry organizations' technician training programs and be nimble in adapting to a rapidly changing industry and its technologies."
"I'd like to see ASE provide an unsurpassed level of service to technicians and employers," he said. "I am excited to be working side-by-side with Dave through year-end and help him in any way I can. We look forward to introducing him to our many industry partners, colleagues, and friends. We both have a passion for ASE, and I am very confident that he will take ASE to the next level."
Johnson, who has served as an ASE board member, told RDN he's had a passion for vehicle repair since he was eight years old eventually rebuilding cars, trucks, and tractors by the time he was in college. He holds a degree in mechanical engineering technology and worked for 32 years with Ford Motor Co. Before leaving Ford, Johnson led a global service engineering operations team that supported 80,000 technicians and dealers worldwide on all vehicle repair support activities.
"A little more specific to collision repair, I started learning from an amazing high school shop teacher whose family owned a collision repair business of their own," Johnson said. "My senior project was restoring a 1952 Ford F-1 pickup that I loved! Later, while going to college, I worked for a small collision shop along with other jobs operating and maintaining trucks and heavy equipment.
"It was a wonderful opportunity when I was able to put much of that practical experience to work when I later led a talented team at Ford in developing and implementing the aluminum repair strategy for the 2015 F-150 so all collision shops would have the ability to repair our first high volume aluminum-intensive vehicle."
Heading into his new job, Johnson said his first goal is to learn as much as possible from Zilke and the ASE team "to build upon the solid foundational elements that ASE is best known for."
"I do have thoughts and ideas of my own on moving forward but I first need to learn from those on the ASE team who have been working in these trenches much longer than I have," he said. "Just as importantly, I want to learn about what is on the minds of all the stakeholders that ASE supports to ensure that whatever ideas I may have are aligned with what the industry really needs.
"We have real challenges in our industry. From a lack of new collision and mechanical students coming into our industry and all that implies with our educational institutions to massively more complex vehicle designs and technology across the board that demand more knowledge and ability than ever before to provide quality service to the consumer. Having lived with the challenges firsthand
and working within one company to address those challenges, I see ASE as the place for the industry to come together and multiply our efforts, influence, and accomplishments in rising to these challenges. It is going to be an exciting and rewarding journey for all involved."
Other challenges Johnson hopes ASE can address include a shortage of vocational programs in middle and high schools; changing the perception that only some have the knowledge, intelligence, and skill that technicians need to successfully service all vehicles; getting ahead of ongoing rapid changes in vehicle technology; and ensuring that the industry demands and delivers excellence for the customers that it serves.
ASE Board Chair Homer Hogg said the board is overwhelmed with gratitude for Zilke building an impactful organization.
"He has led ASE through good times in our industry, and challenging ones, with unwavering enthusiasm and commitment. Under his leadership, ASE has evolved, grown, and introduced many new initiatives to support technicians, service repair business, education, and our industry overall.
"The industry will also miss Trish Serratore and her passionate promotion of ASE and ASE-certified technicians for so many
years. As the familiar face of ASE, she too has always had the industry's best interests at heart. We wish Tim and Trish all the best in their retirements."
Serratore joined ASE in 1988 and was promoted to her current role in 2008. She served as president of the ASE Education Foundation from 2012 to 2017 before rejoining ASE as senior vice president.
Donna Wagner has been named Serratore's successor. She will be responsible for both new and existing company relationships along with representing ASE to consumer, corporate, government, and technician audiences. Wagner brings a 30-plus year aftermarket background in education and parts supplier representation, including 12 years with the Car Care Council.
Her most recent position was assistant vice president of the ASE Education Foundation where she oversaw the field manager network and represented the organization in school, corporate and government relations.
Images
Featured image: ASE President and CEO Tim Zilke (Provided by ASE)
Share This: