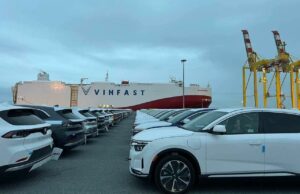 VinFast completes merger, begins trading on Nasdaq
By on
Market Trends
VinFast Auto Co. began trading on the Nasdaq yesterday following its merger with Black Spade Acquisition Co., a special purpose acquisition company.
The electric vehicle (EV) manufacturer, which recently began construction on its first U.S. factory, began trading its shares under ticker VFS and with an equity value of more than $23 billion.
Shares began trading at $22 when markets opened and closed at $37.06.
VinFast, in a June SEC filing, valued its merger with Black Spade Acquisition Co., which created VinFast Auto Co., to be more than $22 billion. The automaker also highlighted its "strong competitive advantage due to its relationship with Vingroup, one of Vietnam's largest conglomerates."
Black Spade will own a minority interest in the company, according to the SEC filing.
"As a part of one of Vietnam's largest private sector business groups, VinFast benefits from a wide range of synergies, relationships, and financial support from Vingroup and its major shareholders," it said. "Between 2017 and March 31, 2023, Vingroup, its affiliates, and external lenders have deployed approximately $9.3 billion to fund VinFast's operating expenses and capital expenditures."
VinFast's new factory in North Carolina, expected to open in 2025,  is designed to produce 150,000 EVs per year with initial orders slated for the U.S. market. A monthly production estimate has not yet been released.
The Vietnam-headquartered OEM delivered its first batch of cars to the U.S. in March, according to a Reuters report.
Madame Thuy Le, global CEO of VinFast Auto Ltd., said being listed on the NASDAQ marked a "significant milestone" for the company's expansion.
"More than just transaction on the stock market, going public reflects a powerful vote of confidence in our vision and potential, as well as fulfills our pledge to make smart, safe and environmentally friendly electric vehicles accessible to everyone," she said.
VinFast said that in addition to its new factory, it's also building up its brand recognition by expanding its retail store and service center system and organizing local test drives.
Dennis Tam, Black Spade's chairman and co-CEO, Black Spade Acquisition Co., added that the merger and subsequent NASDAQ listing will aid in those efforts.
"A listing on the Nasdaq will enhance VinFast's global outreach by facilitating even wider access to capital," Tam said. "Driven by a shared aspiration to shape a better future through innovation, we anticipate our collaboration with VinFast to bring about a fresh chapter of sustainable mobility."
Images
Main image: The first batch of VinFast EVs lined up for export at Haiphong, Vietnam. (Provided by VinFast)
Share This: