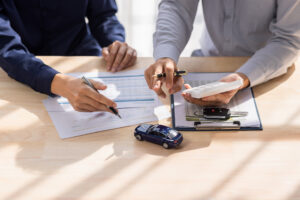 TransUnion: Auto insurance shopping has spiked 12%
By on
Insurance
Auto insurance shopping increased 12% during Q2 compared to the same period last year, according to a new TransUnion report.
TransUnion's quarterly Insurance Personal Lines Trends and Perspectives report, released Tuesday, attributed the rise to vehicle sales and the quest for cheaper insurance premiums.
It cited a J.D. Power report that forecasted a 23% spike in new vehicle sales year-over-year in June, as separately used car sales dropped because of an increase in new vehicle inventory.
"There was a drop in shopping activity among riskier consumers in Q2 2022, partly due to [insurers] reduced marketing spend; however, we saw a rebound in activity from that segment in Q2 2023," said Stothard Deal, vice president of strategic planning for TransUnion's insurance business. "Lower-risk consumers have been consistently shopping at higher rates for the past 12 months."
The rise in auto insurance shopping is happening as numerous insurers raise rates, rationalizing that catastrophes and loss cost inflation have left them with no other choice. 
"The U.S. property and casualty insurance industry saw a significant net underwriting loss — estimated at $7.34 billion — during the first quarter of 2023, a first quarter loss amount not seen since 2011," the report said.  "… A possible factor which is contributing to profitability challenges is deterioration of driving behavior, which we analyzed at TransUnion."
According to the report, moving violation rates remain 13% lower on average than they were before the pandemic, which TransUnion said is notable since they're something insurers use to add surcharges to the premiums of risky drivers. 
"With fewer violations since 2020, TransUnion estimates the auto insurance industry has lost an estimated $200 million per year in lower premium capture — and that will be made up by an increased rate burden landing on all drivers," the report said. "It's important to note that while fewer citations for moving violations are being issued, those that are handed out are an even stronger signal of driving risk now than they were before the pandemic, especially for younger drivers. 
"This may be because citations that are issued tend to be for particularly egregious violations."

While moving violation rates are down, the report said that fatal accidents are 22% higher than pre-pandemic levels. Alcohol and speed-related fatalities, as well as deaths resulting from failure to wear a seatbelt, are up by about 20%, it added. 
"Moving violations are down, not because of a change in driving behavior, but because of changes in traffic enforcement," TransUnion added. "This changing environment may be affected by a changing driver sentiment, especially among younger drivers who already tend to be less risk averse."
A previously-released TransUnion survey found that 35% of Generation Z drivers felt that wearing a seatbelt was unnecessary for short trips and 30% of Millennials believe speeding is acceptable.
The most recent report found that high-risk customers were most likely to shop around for insurance, with shopping increasing 25% among those with customers with credit scores between 300 and 500 points.
Shopping among moderate-risk customers with credit scores of between 501 to 700 increased 11%, while low-risk customers with credit scores greater than 701 increased by 16%.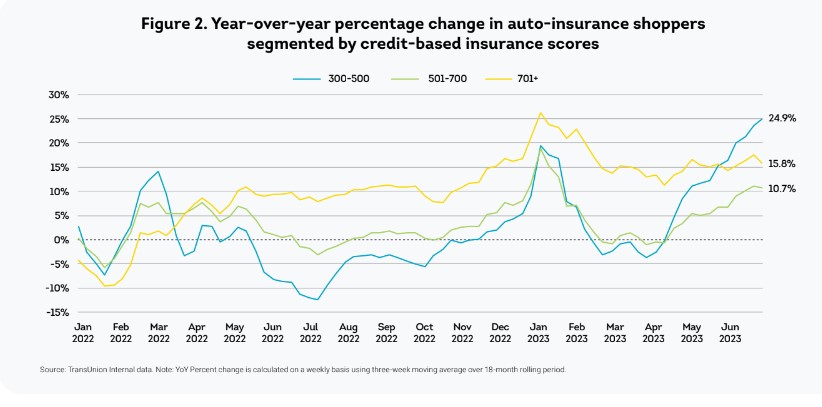 The disproportionately high shopping rate among customers with poor credit scores ties into an unrelated report that found drivers with fair or poor credit scores are, in some cases, paying more than twice as much as those with excellent credit and the same driving record.
Consumer Federation of America's (CFA's) report found that, compared to drivers with excellent credit, those with poor credit more.
According to CFA's findings, U.S. consumers with clean driving records and excellent credit pay an average annual premium of $470 for state-mandated insurance. Conversely, those with clean driving records and fair credit pay $701.
Drivers with poor credit and clean driving records pay an average of $1,014, or 115% more than those with the same driving history but excellent credit.
TransUnion said homeowners are also shopping for lower rates, with property insurance shopping rising 13% year-over-year during Q2. 
Images
Main image: iStock/David Gyung
Illustrations courtesy of TransUnion
Share This: