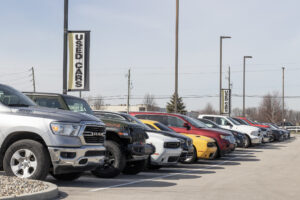 S&P: Older vehicle parc likely means longer repair backlog
By on
Market Trends
With the average age of vehicles on the road reaching a record high, S&P Global Mobility says the automotive repair industry will likely see additional growth in both damage repair and maintenance work because older cars will be driven more than traditionally expected. Meanwhile, the collision repair industry has set most of its focus on learning how to correctly repair new in-vehicle features, such as the latest advanced driver assistance systems (ADAS).
S&P's theory stems from two years of new vehicles being in short supply, driving consumers to the used cars market.
"The aging car parc has already expanded the repair business sweet spot, which we consider as vehicles from six to 11 years old," S&P wrote Aug. 7, referring to its 2022 study. "Now, 12- and 13-year-old vehicles are becoming a bigger part of the business — even though they were originally sold during the slow-sales years of the Great Recession."
S&P Global Mobility Associate Director for Aftermarket Solutions Todd Campau added that 7-year-old vehicles currently in use are expected to decline through 2028. That will lead to vehicles that are more than eight years old increasing by more than 25 million by the end of 2028, according to S&P projections.
"As vehicles with more electronic sophistication continue to age and increase in overall share, the aftermarket's role in maintaining the aging vehicle fleet will become increasingly critical," Campau said. "That's where the real opportunity is in the aftermarket space."
However, in November, Opus IVS ADAS Solutions Vice President Frank Terlep said having the means to conduct ADAS calibrations is the biggest opportunity available to the collision repair industry in the past 20 years.
He said 98% of vehicles sold last year were ADAS-equipped. Couple that with the potential for 14 million accidents and 13 million windshield replacements that call for calibrations and a lot of money can be made. At 10-12 calibrations a day, or 4,800 a year, at a cost of $300-400, Terlep said a calibration center can make over $773,500 in profit a year.
S&P agrees that vehicles will increasingly be loaded with sensors for ADAS as well as infotainment and communications. Adaptive cruise control, in particular, has been on a steady upward trend since 2015 and is projected to be in nearly 70% of model year 2023 vehicles, according to S&P Global Mobility estimates.
"I think sensors are where the next big opportunity is for the aftermarket," Campau said.
Likewise, as 5G connectivity becomes dominant in new vehicles, a growing share of vehicles in operation will be capable of receiving over-the-air (OTA) software updates. By 2028, S&P Global Mobility projects that more than one-third of vehicles in operation will be connected, with more than 95% of those OTA-ready.
S&P also brought up the lingering "right to repair" issue in which some auto and collision repair trade associations, as well as insurance companies, auto parts recyclers, parts suppliers, and state legislators, contend that independent repairers don't have the same access to in-vehicle telematics and diagnostics data as dealer and OEM-certified shops.
S&P says, "As the used vehicle parc grows in technological sophistication, right-to-repair issues will come to the fore, as automakers wrestle with wanting to maintain control over intellectual property while their service bays become more crowded."
But the Alliance for Automotive Innovation (Auto Innovators), which represents most automakers, argues there isn't an access issue — any information and data that is necessary to diagnose and complete repairs is already available to any vehicle repair shop.
With S&P's prediction that repair shop backlogs will get longer because of a growing used car parc, it says consumers need to timely maintain their vehicles.
"The volume of the vehicle fleet will make cooperation between OE aftersales service and aftermarket service shops a requirement to keep the nearly 300 million-vehicle population working as safely and efficiently as possible," Campau said.
For several years, pandemic-related supply chain headaches have kept automotive production below demand driving light vehicle sales down to 13.8 million in the U.S. last year, which S&P says was the lowest it's been in a decade. That became a key factor in the average vehicle age going up to to 12.5 years, according to S&P.
"The situation wasn't entirely unwelcome for automakers and dealers. Automakers shifted their production mix to high-ticket, high-margin vehicles," S&P wrote. "At the same time, tight inventories meant that dealers could sell new vehicles quickly to desperate shoppers willing to pay sticker prices, or higher."
But now that's changing, Campau said. It was expected that as the availability of components like semiconductor chips improved, new vehicle sales would increase and slow the rate of used vehicle growth. In July, S&P forecasted 15.4 million light vehicle sales in the U.S. this year, followed by 15.8 million in 2024, and 16.5 million in 2025.
On the consumer side, lingering inflation and high interest rates are expected to weaken the recovery of new vehicle demand just as inventory increases while the market is transitioning from being supply-constrained to being demand-constrained, Campau said.
One key indicator: Demand for auto loans has slipped below Q3 2020 levels, according to analysis by S&P Global Mobility and TransUnion.
The question now, Campau noted, is whether OEMs will start building more economy or mid-priced vehicles and trims to provide affordable options to middle- and lower-income families "currently trapped in a used vehicle spiral," or if automakers will stick with a mix that favors higher-margin vehicles.
Some brands, such as Tesla, Ford, and Lucid have cut prices on their electric vehicles (EVs) in hopes of boosting EV sales. This as automakers face proposed changes to the Environmental Protection Agency (EPA)'s already-stringent emissions regulations. Incentives to purchase EVs have increasingly become one of the ways to attract buyers to EVs, not only through the OEMs but tax breaks as well.
"The market is already starting to see increased incentives as new vehicle inventories have risen this year," Campau said.
But, S&P noted, spiffs are still at less than half of pre-pandemic levels.
Images
More information
Tips for consumers on vetting used cars before buying, how collision repairers can help
Share This: