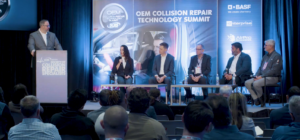 Representatives from the insurance arms of Rivian, General Motors (GM) and Toyota will kick off a series of OEM Collision Repair Technology Summit sessions during this year's SEMA show, the Society of Collision Repair Specialists (SCRS) announced.
The senior executives are set to participate in a panel on Understanding OEM Insurance to discuss the emergence of branded insurance programs. It's the first of three topics that will be covered during the summit.
"An increasing array of automakers have begun to offer exclusive insurance products designed and underwritten to deliver unique coverage to complement their vehicles. As programs mature and expand across the United States, so does the potential to positively impact the consumer experience during the claims and repair process," SCRS said in a press release.
"Each panelist will present the unique aspects of their individual offerings, and then join to further discuss the evolution and potential of OEM insurance and its intended impact on the claims and collision repair process."
The panel will open with Andrew Rose, president of OnStar Insurance.
Rose is regarded as a passionate insurance innovator and well-known thought leader in the insurtech space. He brings more than 20 years of auto insurance and finance experience to the organization.
Prior to joining the GM enterprise, he began his career at Progressive Insurance before transitioning to a senior leadership role at Bank of America. He later served as Founder and CEO of Elephant Insurance and most recently sat as CEO of Compare.com.
OnStar Insurance offers usage-based insurance in which the rates are predicated on the customer's driving habits.
The company uses embedded technology that tracks vehicle usage and driving actions to offer discounts and other incentives to safe drivers. GM said the data is "contextual," meaning, "OnStar Insurance can also more accurately assess potential risk factors."
During a
keynote speech
opening the International Bodyshop Industry Symposium in Nashville earlier this year, Rose told delegates that it's necessary for OEMs, technicians, and insurers to collaborate and find solutions to challenges the collision repair industry is facing.
"The vehicles leave our manufacturing lines with some incredible safety features these days. They help us prevent or diminish the significance of an accident when it happens," Rose said. "But those people want those vehicles back on the road and we want them as safe as they were when they came off the line [after a collision].
"And so from that standpoint, that's where I see the collaboration and the cooperation that needs to take place between all three parties. We want those vehicles returned back to the state they were when they came off the manufacturing line, and that's the partnership. Working with the industry, working with partners that have that goal in mind, is going to be a key step for us as we build out our ecosystem."
Mike Slattery, Rivian's head of insurance, will take the mic next. He joined the OEM in 2019 to design, develop, and operationalize its insurance program, which SCRS noted is "embedded into the vehicle purchase process and vertically integrated throughout the automotive organization."
Rivian has been offering its own auto insurance since rolling out its first models in 2021.
The OEM said at the time that customers would find it easy to get a quote when buying a Rivian, and it plans to offer a discount by default in recognition of its standard "Driver+" advanced driver assistance suite.
The electric automaker describes its insurance on its website as a comprehensive approach.
"Rivian Insurance integrates with our connected vehicle platform and suite of safety features to bring you tailored, data-driven coverage," it said. "We understand our vehicle, our technology, and our repair costs better than anyone."
Slattery previously spent a decade developing and launching P&C insurance lines on the carrier side for Safeco, Liberty Mutual, the Hartford, and AAA. He later entered the insurance-technology space to launch a smartphone-based solution with Verizon Telematics and Farmers Insurance.
Rob Spencer, president of Toyota Insurance and vice president of Toyota Motor Credit Corporation, will also speak during the panel.
Toyota Insurance serves as Toyota's product development and distribution channel for new and innovative automotive insurance offerings and data utilization.
In his role, Spencer is responsible for leading the Toyota Insurance organization and developing Toyota's strategy to commercialize branded insurance products and services enabled by new vehicle-based connected technologies, which encourage safe driving and enhance the Toyota ownership experience.
Spencer joined Toyota in 2020, and served as a managing director at Goldman Sachs prior to that.
Toyota announced in July that it expanded its branded insurance to Colorado, Georgia, and Oregon.
The OEM said in announcing its expansion that its coverage benefits include an "immediate upfront discount" and that further savings are possible through good driver, good student, or multi-policy discounts.
"Toyota Auto Insurance offers customers quality, customizable coverage at affordable rates, and is seamlessly integrated into the vehicle ownership experience, making it easy to obtain and use," Toyota spokesman Derrick Brown previously told Repairer Driven News.
"That includes combining with Toyota vehicle benefits such as Toyota Care, which includes roadside assistance, so customers won't pay for something their Toyota already provides."
He added: "Toyota Auto Insurance is customizable based on how customers use their Toyota vehicle and their lifestyle. Toyota Auto Insurance customers enjoy the assurance that comes knowing they can have repairs done with Toyota Genuine Parts, and trusting Toyota Certified Technicians to perform quality repairs when and where available."
Toyota previously expanded its insurance arm to California. It also offers coverage in Arizona, Illinois, Indiana, Missouri, Ohio, South Carolina, Tennessee, and Texas.
Amber Alley, SCRS chairman, said she was "beyond excited about the caliber of panelists," set to speak during the panel.
"The OEM Summit has always been designed to gain insight into the most cutting-edge developments in the industry, and to give our attendees access to individuals that are on the front lines of innovation," Alley said. "This panel sets the bar for both objectives, and every operator in the collision and insurance industry will want to learn more about how each of these gentlemen perceive the industry, and the impact of their products upon it. I'm personally very excited for the opportunity."
The Understanding OEM Insurance session, which runs from 9 a.m. to 10:30 a.m. Nov. 2, is happening at the Las Vegas Convention Center in conjunction with SEMA. The trio of sessions are expected to offer attendees a chance to learn how shifting vehicle, material, and technology trends are impacting repair processes and businesses.
Learn more about the SCRS Repairer Driven Education (RDE) track, or click here to register for Repairer Driven Education sessions.
You can also use the SEMA Map Your Show site to explore all available courses in the SCRS Repairer Driven Education (RDE) track.
Images
All photos courtesy of SCRS
Share This: