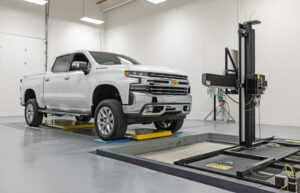 SEMA has new research findings from its ongoing study on how the safety and functionality of aftermarket-equipped vehicles with factory advanced driver assistance systems (ADAS) could be affected by a newly proposed National Highway Traffic Safety Administration (NHTSA) standard.
NHTSA issued a notice of proposed rulemaking (NPRM) in May that would require automatic emergency braking (AEB) and pedestrian AEB systems on light vehicles. The proposal is the result of the adoption of a new Federal Motor Vehicle Safety Standard (FMVSS) to reduce the frequency and severity of rear end and pedestrian-involved crashes.
Under the proposal, OEMs would have to meet all the requirements of the standard within four years of publication. Small-volume and final-stage manufacturers and "alterers" would have an additional year to comply, according to NHTSA's proposed rule. If approved, SEMA Senior Director of Federal Government Affairs Eric Snyder says it could make the manufacture, sale, or installation of any product illegal if it takes a vehicle out of compliance with any safety standard.
It's important to point out that there's a stark difference between a customer who goes to a repair shop to have modifications done and aftermarket parts installed versus post-collision repairs to return the vehicle back to factory standards and specifications. In the case of the latter, the repairers should follow all post-collision OEM standards whereas the first situation may not have OEM guidance.
SEMA engineers have set out to research exactly how aftermarket modifications, such as lift kits and larger wheels, can alter the functioning and safety effectiveness of ADAS to inform the public of the risk associated with making the changes in the first place and to provide shops with some procedural guidance. There is little information from OEMs on steps for shops to take during repairs to correctly calibrate modified vehicles, according to SEMA.
Repairer Driven News spoke to SEMA Aftermarket ADAS Engineer Mike Mike Muller about the research, conducted at the SEMA Garage Detroit ADAS Research Center, and how repairs can be affected by modified vehicles.
"The challenge to the aftermarket is that, today, we are only provided information about a stock vehicle recalibration from the OEMs, so the unknown is the ADAS operating constraints with aftermarket modifications," he said. "Because of the complexity of the ADAS systems, we don't know what the ADAS operating limits are. In light of not having enough data from the OEMs, we're trying to create the view of what the operating limitations of these ADAS systems are."
The other part of the research purpose is how aftermarket parts and accessories can successfully work with factory ADAS.
To help guide its research, SEMA set up an advisory panel of member manufacturers, modifiers, and installers to recommend vehicles for study.
Reasoning that suspension components, wheels, and larger tires for pickups and SUVs are perennially among the most popular parts in the specialty-equipment aftermarket, trucks seemed a natural choice.
The advisory panel chose the baseline Silverado 1500 LTZ due to its popularity. Its sensor suite includes a forward-facing camera behind the front windshield, rear corner radars mounted behind the rear bumper, and ultrasonic sensors mounted in the front and rear bumper.
The panel recommended three common scenarios for evaluation. The first involved the installation of a two-inch leveling kit and 33-inch tires, the second a 3.5-inch lift kit on 33s, and the third a six-inch lift kit on 35s.
The truck was tested after each modification and then recalibrated according to OEM procedures. Fifteen test runs were completed for each scenario. The systems tested were the vehicle's lane-departure warning (LDW), lane-keep support (LKS), crash-imminent braking (CIB, aka AEB), traffic-jam assist (TJA), blind spot detection (BSD) and rear cross-traffic alert (CTA).
After studying a set of typical modifications that might be made to a 2022 Chevrolet Silverado 1500 LTZ, Garage engineers now have insight into how its ADAS responds to lifts, leveling, and wheel and tire modifications.
"You could put a 2-inch or 3-inch lift and recalibrate the system to the OEM stock configuration but it is unknown at this time what the lift limit is to where you can continue to recalibrate to the OEM stock configuration and the ADAS function will continue to operate as designed," Muller said. "We're doing this research because we don't have the data to show where that outer limit is."
The findings will be presented on Sept. 13 in a virtual session for SEMA members called, "A Modified Vehicle and the Effects on ADAS Functionality — A Case Study." Ahead of this year's SEMA Show, the association will also publish a whitepaper on its findings.
"Several OEMs are already selling lifted trucks from the factory or authorized OE (dealership) modifications," Muller said. "The assumption is that they know what those limits are; however, in some of the vehicle instruction manuals to the consumers, it's stated that you shouldn't modify your vehicle. That's where the question comes in. These authorized OE modifications are clearly there, so there needs to be allowances for the aftermarket to do the same."
Muller noted as well that there is legal liability for shops when repairing modified vehicles if customers aren't informed of possible ADAS function ramifications those changes could cause. He said when a modified vehicle is brought in, shops should consider a waiver of liability.
Erica Eversman, Automotive Education & Policy Institute founder and National Association of Insurance Commissioners (NAIC) consumer liaison, told RDN documentation on — is critical.
"The collision shops, they've got to be spelling out in their documentation that they may not be able to repair the vehicle per manufacturer's specifications," she said. "If there have, in fact,  already been alterations to the vehicle from the manner in which it was put out into the stream of commerce, i.e. the manner in which it was originally sold.
"Unless the manufacturer is approving post-factory changes to the vehicles then yeah, absolutely shops could be looking at liability. No question… consumers need to understand what's happening because if the consumers don't understand that this is likely to happen or could happen to them in the event that they buy a lifted vehicle then they're going to be fully expecting that the repair shop is able to restore that vehicle to its OEM manufacturer specs."
And to compound the liability issues, lawyers who would represent customers who accuse shops of wrongdoing in the future typically aren't going to know that the issues stem from improper repairs. For example, a customer involved in a collision post-repair and is injured because ADAS didn't operate correctly could try to hold the shop liable.
Shops need to be able not only to explain to customers but also have in writing whether via text, email, or a signed document that the modifications were voluntary on the part of the customer to either purchase a modified vehicle or have it altered, Eversman said.
"It isn't like there was an accident and it was just a really crummy repair job and, theoretically, it might be capable of being repaired to manufacturer specs intolerances," Eversman said. "It's not like they're saying, 'Hey, do you want me to rip out your lift kit?' …it's much, much better if you notify and you get consumer authorization but even if all you have is I notified them in writing via email or whatever, it was there so it's not my fault if they either didn't bother to read it or didn't like what it had to say."
NHTSA's projections suggest the rule could save hundreds of lives and prevent tens of thousands of injuries to drivers, passengers, and pedestrians annually.
"Depending on the type of modification, and the vehicle make, model, and year, it may be illegal to knowingly manufacture, sell or install any product — including aftermarket equipment — that would take a vehicle out of compliance with any safety standard, including the vehicle-based standards," said SEMA Senior Director of Federal Government Affairs Eric Snyder.
"This is informally known as the 'make inoperative' provision. The implementation of a safety standard is what triggers the make-inoperative provision, and parts manufacturers must have a reasonable basis to conclude that their product won't take a vehicle out of compliance with the standard."
According to Muller, NHTSA tends to allow new ADAS technologies to shake out and improve, using a wait-and-see approach until a prevailing standard presents itself.
"There's a moving target before there's a written standard," he said. "Technology takes a long time to standardize but standards for many of these technologies are coming."
There are numerous varieties of ADAS technologies, sensors, and systems in the marketplace. OEMs themselves draw from multiple ADAS suppliers and the ADAS components can vary by vehicle make, model, and year. Also, there are constant software updates that a repairer, installer, or vehicle modifier must stay on top of. All of this results in hundreds of discrete ADAS repair, replacement, and calibration procedures across the automotive market.
Proper calibrations also require a correct testing environment to avoid space constraints, for example, that could position the target to close to a sensor and mimic a successful calibration.
Most OEM owner's manuals note that modifying a stock vehicle may result in malfunction of ADAS features and could lead to damage that vehicle warranties won't cover, according to SEMA.
There is a caveat to keep in mind that testing conducted on one particular vehicle may not apply to another because of the many variations in OEM systems.
SEMA's framework for the criteria it used to evaluate whether a test was a success or failure followed NHTSA's, including:
LDW: Testing of both left and right lane departure per NHTSA Lane Departure Warning System Confirmation Test, February 2013;
LKS: NHTSA Lane Departure Warning System Confirmation Test, February 2013;
CIB: NHTSA Crash-Imminent Brake System Performance Evaluation for the New Car Assessment Program, October 2015;
TJA: NHTSA Blind-Spot Detection System Confirmation Test (Working Draft), May 2020; and
RCTA: Custom test procedure, based on concepts from similar global tests.
Dynamic testing was included as well and rake angles were evaluated for their influence on the truck's ADAS operations.
The test results indicated that forward-facing camera functionality (LDW, LKS, CIB, TJA, and AEB) was more impacted by the vehicle modifications compared to rear radar functions (BSD and RCTA). The latter showed very little difference in the test results for the particular Silverado and option package used in the study.
The data sets are still being evaluated but SEMA says preliminary findings suggest some interesting positive trends and patterns that will provide guidance on recalibrations with aftermarket modifications in ways that won't compromise safety systems.
Testing is underway on the Ford F-150. SEMA expects the next trucks tested will be the Ram, Toyota Tacoma, and Nissan Frontier.
Images
Featured photo: Silverado 1500 LTZ at ADAS calibration targets during SEMA's testing of the effect aftermarket modifications have on ADAS. (Photo provided by SEMA)
Graphic of varying vehicle ADAS. (Photo provided by SEMA)
Interior of Silverado 1500 LTZ. (Photo provided by SEMA)
Share This: