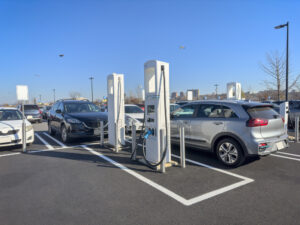 EV growth is surging faster than expected & could hit two-thirds of sales by 2030, studies say
By on
Market Trends
Electric vehicles (EVs) are likely to encompass two-thirds of global car sales by 2030, new studies indicate.
Rocky Mountain Institute (RMI) detailed how three separate reports, including its own, called X-change: Cars, The end of an ICE Age, support the same finding: that the EV market is growing faster than anticipated.
The RMI analysis established ways of modeling the future of EV demand and concluded that EVs will represent between 62% and 86% of vehicle sales by 2030 if the industry continues to solve challenges, such as affordability, that have prohibited growth. By then, it said China's EV market share will likely reach 90%.
"There is a clear exponential growth pattern for EVs, as rising sales track along an S-curve. Led by Northern Europe and China, and driven by policy, it is taking around six years for EVs to go from 1% to 10% of new car sales. The next stage is quicker still: In leading countries, it is taking another six years to get to 80%," RMI said in its analysis.
"The new driver of change is economics. Because battery costs enjoy learning curves, total cost of ownership price parity has been reached, and sticker price parity will be reached in every major car market and segment by the end of the decade. That will enable the revolution to widen across the Global South and deepen into other transport sectors."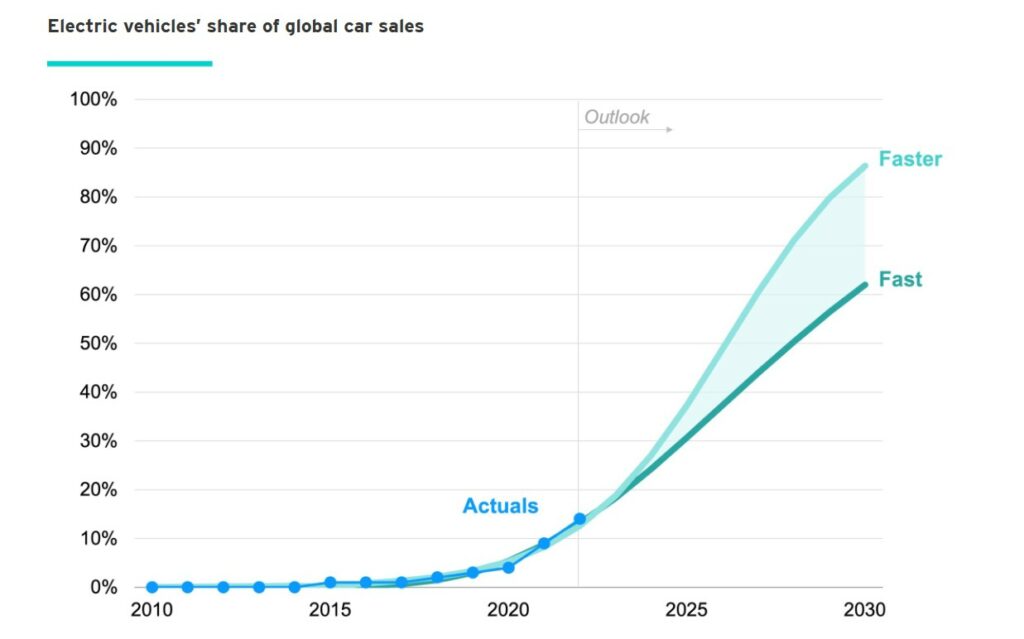 According to RMI, the S-curve models, which take historic data and an endpoint to estimate future growth rates, imply that the range for EV sales is higher than current forecasts. It acknowledged that while S-curves can be "too aggressive" during the early stages of growth, their accuracy increases and more data points are included.
"Electric vehicles are on track to dominate global car sales by 2030, signaling the endgame for the largest sector of oil demand," said Kingsmill Bond, senior principal at RMI. "And where cars lead so the rest of transport will follow: exponential change is spreading to 2-wheelers across the Global South and to trucks in China. This is good news for cutting emissions and improving public health. But it also shifts money from the hands of petrostates into the pockets of consumers."
RMI's analysis, which was conducted with the Bezos Earth Fund, said economic factors are now outpacing policy incentives in driving EV sales as EV battery costs remain the top driver. It said it expects battery costs to decrease 50% by 2030, going from $151 per kilowatt hour (kWh) to between $60 and $90 per kWh.
"By 2030, falling costs will, for the first time, make EVs as cheap or cheaper to both buy and run as petrol cars in every market globally," RMI said.
Other reports cited by RMI include a Systems Change Lab piece that details which countries are adopting EVs the fastest, with Norway and China taking the lead.
The third analysis, by The Economics of Energy Innovation and System Transition (EEIST) Project, said the U.S. is likely to experience a "tipping point" in EV sales next year. Combined with China and the European Union (EU), where EEIST said that the tipping point has already been crossed, the three regions will have a global impact as they account for 60% of the global market, the study said.
"Their progress greatly increases economies of scale in battery production, bringing down the cost of electric vehicles for the rest of the world," EEIST said in its analysis. "The shift in consumer preference towards battery electric vehicles (BEVs) is likely to accelerate once upfront purchase price parity is achieved, while range, model availability and charging infrastructure continue to improve."
According to EEIST's research, national price parity can be advanced by several years if the EU, U.S., and China align their regulations to require all new car sales to be zero-emission by 2035.  It detailed how this would create a faster transition in the largest markets because it would scale up production, drive down costs, and speed up innovation.
"Coordinated policy action to phase out fossil-fueled vehicles by 2035 in the EU, U.S., and China can bring forward EV purchase-price parity by years, in those markets and beyond," said Mei Mei Aileen Lam, an EEIST researcher. "It would bring forward the tipping point in India a whole three years from 2027 to 2024. It would enable a faster, cheaper – and therefore fairer – transition for everyone."
Meanwhile, Systems Change Lab's analysis found that late adopters, including India and Israel, are accelerating EV deployment rates faster than the global average, meaning it's possible they could catch up with EV leaders like China. It added that countries like China, the Netherlands, and Norway have already proven to meet climate goals by speeding up EV sales.
Systems Change Lab said the top factors facilitating strong EV growth included strong government policy and financial incentives. As the economics of EVs become more reasonable, it said other countries could find success in following the same path.
"Not every country is the same, but when it comes to EV sales they are all following a similar pattern of exponential growth," said Joel Jaeger, a Systems Change Lab senior research associate. "Scandinavia and China have been the leaders up to this point, but they have paved the way for other countries to follow in their footsteps, or go even faster."
Images
Featured image: gerenme/iStock
Graphic courtesy of the Rocky Mountain Institute
Share This: