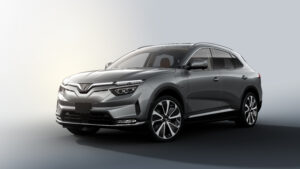 VinFast shares Q2 results, deliveries up more than 400%
By on
Announcements
VinFast has shared its first quarterly results since going public, and says its electric vehicle (EV) deliveries were up 436% during Q2.
The Vietnamese automaker delivered 9,535 EVs during Q2, up from the 1,780 it delivered during Q1, it said when announcing its unaudited financial results.
Both its vehicle sales and revenue were up during the period with $334.1 million in earnings — a 131% year-over-year increase and 303% higher than Q1 earnings.
A VinFast spokesman did not respond to a Repairer Driven News query seeking information on how many of its Q2 deliveries were made in the U.S.
"It has been a remarkable journey since we started our company back in 2017," said Madam Thuy Le, VinFast's global chief executive officer. "I could not be more proud of what we have accomplished in our short history. We are excited for the tremendous global opportunity in the EV space and believe we are well positioned to deliver on our strategic goals and achieve our mission of creating a greener future for everyone."
The OEM said it expects total deliveries for the year to land between 40,000 and 50,000; as of June, it had 122 showrooms globally.
As part of its market expansion, VinFast said it plans to adopt a multi-channel distribution strategy beginning next year. This involves:
Acting as its own distributor and introducing dealership networks in places like Vietnam, North America, Europe, and other areas; and

Working with distributors to import and distribute VinFast cars to another 40-50 markets.
"VinFast has identified Indonesia from among seven new market clusters as a key potential market for the potential establishment of manufacturing facilities for its EVs and batteries due to the relatively low cost and availability of domestic raw materials," the OEM said in a press release. "Based on the Company's evaluation of the market opportunity in Indonesia, a preliminary investment target of up to approximately $1.2 billion has been set for Indonesia in the long-term. 
"The target includes approximately $150 to $200 million that the Company envisions applying toward the establishment of a CKD factory with production capacity in the range of 30,000 and 50,000 cars per year and a target production start date no later than in 2026."
Last month, VinFast shared that its VF 9 — a full-size, seven-passenger SUV — had a certified EPA-estimated range of 330 miles for its Eco trim and 291 miles for its Plus trim when fully charged.
VF 9 deliveries have been made to customers in Vietnam and the model is available for reservations globally.
VinFast's deliveries are on the rise as a study it recently conducted with The Harris Poll found than half of internal combustion engine (ICE) drivers within the U.S. would be interested in having their next vehicle be electric.
The study examined U.S. drivers' EV-related beliefs, experiences, and behaviors and found that 54% of ICE drivers are keen to make the switch and that 85% of current EV drivers would likely purchase or lease another EV if it offered all their desired features.
When paired with a July 2022 AAA study, which found about one-quarter of drivers were likely to make an EV their next auto purchase, the VinFast/Harris study indicates demand for EVs has doubled year-over-year.
Meanwhile, VinFast began trading on the Nasdaq last month following its merger with Black Spade Acquisition Co., a special-purpose acquisition company. The OEM also started construction on its new factory in North Carolina, expected to open in 2025, which is designed to produce 150,000 EVs per year with initial orders slated for the U.S. market.
Images
Featured image provided by VinFast
Share This: