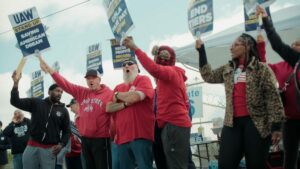 Parts concerns surface as UAW Big 3 strike continues in U.S., terms accepted in Canada
By on
Announcements
As the United Auto Workers (UAW) strike against the Big 3 — General Motors, Ford, and Stellantis (otherwise known as the Detroit 3) — continues stateside, Ford Motor Co. of Canada has reached a new national labor agreement.
The U.S. strike continued into its 11th day Monday after the inclusion last week of parts distributors added 5,600 Big Three workers to the 13,000 who were already on strike.
Ford of Canada came to an agreement with Limited and Unifor and it was ratified by employees on Sunday. It includes significant wage increases, bonuses, additional paid time off, retirement enhancements, significant inflation protection provisions, and an accelerated grow-in period for new hires, according to a news release from Ford.
Terms include enhanced income maintenance and eligibility during the Oakville Electric Vehicle Centre (OEVC) retooling period and introduction of new investment and added capacity at Essex Engine Plant for the 7.3-litre engine in Windsor, Ontario.
Ford of Canada's hourly employees also will receive:
15% in general wage increase over the life of the agreement, which Ford says is the largest "uplift" in Ford of Canada history and three times the increase received in 2020;
A record C$10,000 ratification bonus for full-time permanent employees and $4,000 for temporary employees;
Significant increases to retirement programs including raised pension benefit rate and increased contributions; and
Reduced new hire wage progression period by 50%.
"Our Unifor-represented autoworkers are the heart of Ford of Canada," said Bev Goodman, Ford of Canada president and CEO. "This contract invests in our talented and dedicated employees, who remain consistently focused on the critical work of assembling our vehicles, building our engines and components, improving customer satisfaction, and expediting parts delivery service to our more than 400 dealers. Together, we are ensuring our Canadian operations continue to deliver with the skills, knowledge, and processes to compete and win."
The automaker is also making the most progress over GM and Stellantis in U.S. negotiations.
On Saturday, UAW said it won't be expanding its strike against Ford, for now, because of "important progress at the bargaining table."
Agreements reached so far include, according to UAW:
Rawsonville Components and Sterling Axle employees will now be on the same wage scale as assembly workers, eliminating a former wage tier;
Reinstatement of cost of living adjustment (COLA) formula that was suspended in 2009;
The right to strike over plant closures during the life of the agreement;
If laid off, UAW members, including temporary workers, will receive income security for up to two years with health care;
Enhanced profit-sharing formula that would have resulted in a 13.3% increase for the average employee in payouts last year. All temporary workers will have profit-sharing after 90 days of service; and
Immediate conversion of all temporary employees with at least 90 days of employment upon ratification.
The union continues to strike Ford's Michigan Assembly Plant in Wayne but isn't expanding its strike against the Dearborn-based automaker, UAW said on Saturday.
In response to questions from Repairer Driven News about how collision repairers could be affected by the strike, such as further parts delays and backlogs, GM said, "We're continuing to bargain in good faith with the union to reach an agreement as quickly as possible."
On Sept. 14, GM offered step pay increases for qualifying employees including step one from $38,000 to $44,000 a year, steps five through eight from $53,000-$62,000 to $74,000, and for some workers an increase that will bring them up to $82,000 a year. Skilled trade workers' pay would be brought up to $93,000-$96,000. Terms also include inflation protection, retirement security, up to 200 hours of paid vacation, the addition of Juneteenth as a paid holiday, and two weeks of paternal leave.
According to Reuters, GM said last week it was forced to stop operations at its Kansas vehicle plant because of a parts shortage caused by the strike, which led to a furlough of 2,000 workers. Stellantis temporarily laid off 68 employees in Ohio last week and expects to furlough another 300 workers in Indiana because of the strike, Reuters reports.
Stellantis responded with its most recent written statement: "Following Thursday's publication of comments made by the UAW's Communications Director and the subsequent strike announcement, we question whether the union's leadership has ever had an interest in reaching an agreement in a timely manner. They seem more concerned about pursuing their own political agendas than negotiating in the best interests of our employees and the sustainability of our U.S. operations given the market's fierce competition.
"The fact is, we made a very competitive offer yesterday that includes all our current full-time hourly employees earning between $80,000 and $96,000 a year by the end of the contract (a 21.4% compounded increase), a long-term solution for Belvidere [Assembly Plant], and significant product allocation that allows for workforce stability through the end of the contract. And yet, we still have not received a response to that offer. We look forward to the UAW leadership's productive engagement so that we can bargain in good faith to reach an agreement that will protect the competitiveness of our Company and our ability to continue providing good jobs."
Ford was asked the same questions but didn't respond by publication deadline.
GM and Stellantis dealers have raised concerns over parts shortages and higher prices following the expanded UAW strikes and parts centers.
"It's going to become near impossible to get a lot of these parts," Richard Fasulo, a mechanic at a New York state Cadillac dealer, said to Reuters. "[The strike] is going to have these shops telling their customers, 'We don't know when we can fix your vehicle. It might be indefinitely.'"
Other dealers told Reuters they expect the strikes to lead to limited choice for vehicle purchases and cars clogging service bays at dealers, waiting for parts.
President Joe Biden will travel to Michigan today to show support for workers and visit a UAW picket line. Donald Trump, who is trying to get on the 2024 presidential ballot, will speak in Clinton Township, Michigan Wednesday about the strike.
Images
Featured image: UAW members strike during 2023 Big 3 negotiations. (Provided by UAW)
Share This: