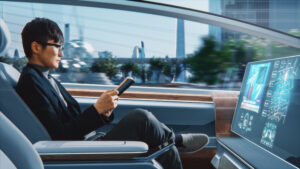 A new S&P Global Mobility forecast predicts autonomous vehicles won't hit the mainstream market for widespread adoption until at least a decade from now.
Over the next 10 years, S&P says autonomous tech will be limited to geofenced robotaxis operated by fleets in specific areas and hands-off systems with various safeguards in personal vehicles that will still require some form of driver engagement.
SAE Level 5 autonomy, when the driver doesn't have to intervene, won't be available to the public before 2035 nor likely past that mark, according to S&P's report. However, SAE also characterizes Level 3 and Level 4 autonomy under nearly the same terms. The difference is the two highest levels will never require the driver to take over but there's the possibility that Level 3 will.
S&P's report says it's been incredibly difficult to combine ADAS and sensors with the necessary predictive software and engineering in unsupervised vehicles to operate properly and safely unsupervised, even though there have been "extreme instances of autonomous test vehicles performing as perfectly as a human would."
"The outlook for more targeted implementations of the same fundamental technologies, especially in Level 2+ and Level 3 but also for some forms of Level 4, is more positive and will certainly happen on a much shorter timeline," said Jeremy Carlson, S&P autonomy practice associate director.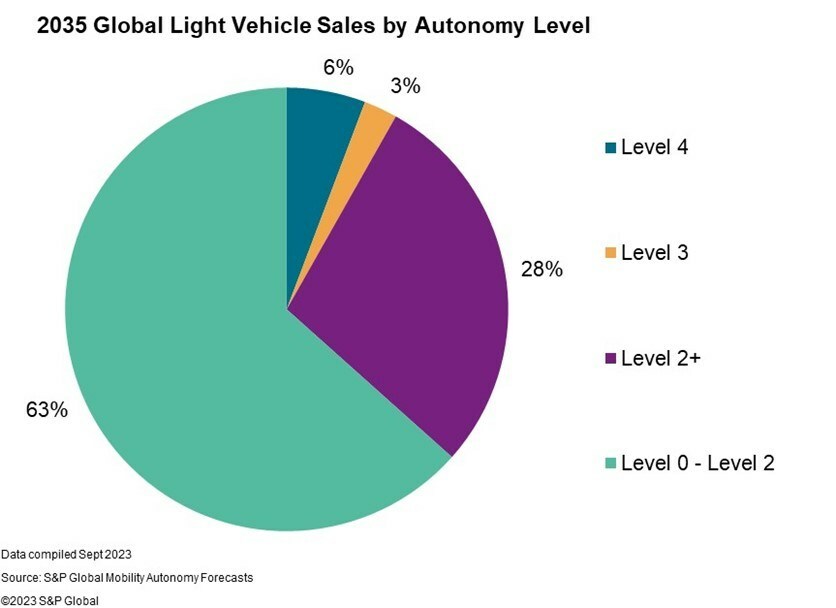 S&P notes that automated, rather than autonomous driving, such as Level 2+ and Level 3 systems, continue to be the focus of industry development. Those level systems by many automakers in multiple regions will reach at least 31% of new vehicle sales globally by 2035, according to the forecast.
L2+ and L3 allow the driver to be hands-off while supervising, or to disengage entirely in specific driving scenarios, such as in Super Cruise by General Motors and Drive Pilot by Mercedes-Benz, respectively.
"There is immense opportunity for automated driving systems in L2+ and L3, and they are benefiting from the standardization of basic safety features which provide a foundation of in-vehicle architecture, sensing, and compute," Carlson said. "Their functionality also complements driving today rather than fully replacing the driver, making consumer adoption less of a challenge. The next several years of wider deployment across brands and vehicle platforms will be a boon for automakers selling these optional features as well as suppliers who continue to build scale and a strong foundation for the future."
S&P also predicts fewer than 6% of light vehicles sold in 2035 will have any SAE Level 4 functionality. Some examples of features include advanced parking functions with the support of infrastructure.
Vehicles equipped with mobility-as-a-service (MaaS) and robotaxi applications are expected to represent less than 800,000 vehicles sold globally in 2035. Carlson believes robotaxis will be carefully geofenced in specific areas where they have already been extensively tested for the foreseeable future.
Owen Chen, S&P senior principal analyst, said robotaxi development and commercialization is a complex and multi-stage process including:
Technical feasibility demonstrations that confirm robotaxis can operate safely and reliably in the targeted conditions;
Technology optimization, integration, and refining vehicle design — which he noted is a long process — to eventually bring scale to manufacturing and deployment; and
Efficient expansion to several new locations and operating conditions with profit on top of revenue from meaningful adoption by consumers.
"In 2023, many are working through stage one while several are seeking scale in stage two, led by Mainland China and the U.S.," Chen said. "But the opportunity to restructure personal and shared mobility exists."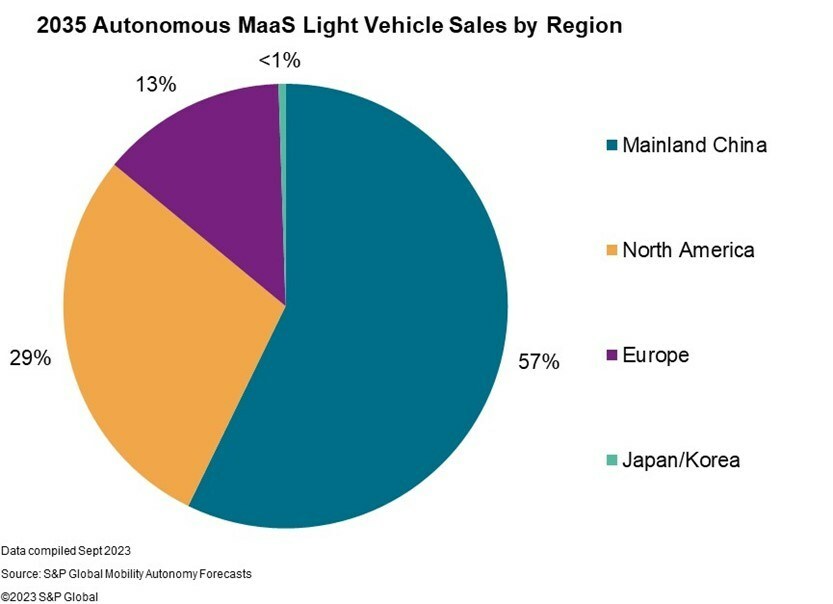 In August — despite safety concerns including blocking emergency vehicles — the California Public Utilities Commission (CPUC) granted driverless deployment permits to rival companies Waymo and Cruise. The approval made San Francisco the first major U.S. city with two fleets of driverless vehicles competing for passengers against ride-hailing and taxi services, such as Uber and Lyft.
However, General Motors' Cruise 24/7 deployment didn't start off very well. Its first week ended with the California DMV launching an investigation after one of the AVs was involved in a collision with a fire truck.
The California Public Utility Commission approved an expansion of operations in San Francisco for Waymo and Cruise. Mainland Chinese regulators are also enabling providers like Baidu Apollo, Pony AI, WeRide and more to test or operate paid services in parts of many major Chinese cities. Europe is also actively developing regulations to help bring some uniformity to such vehicles and services across the region.
While the U.S. captured an early lead in both development and deployment of L4 MaaS, Mainland China is expected to contribute the greatest volumes long-term, followed by the U.S. and Europe in that order, according to S&P.
"Challenges nonetheless remain for successful and widespread deployment of L4 MaaS," S&P wrote. "In addition to a fragmented regulatory landscape and relatively low public trust that may hamper consumer acceptance and adoption, the cost of technology and the time needed for robust development and validation of hardware and software have quashed the optimism that defined much of the last decade."
The reduced complexity of L2+ and L3 features face less risk or uncertainty for each of these factors giving them a more positive outlook in the short term, according to S&P.
"There's plenty of opportunity and growth ahead," says Carlson. "Significant volumes measured in the hundreds of thousands per year are quite likely to come before 2030 but a future of shared mobility everywhere all the time will remain an aspiration for the industry."
The full report can be downloaded here.
In the testing realm of advanced technologies, like autonomous driving and advanced driver assistance systems (ADAS), Humanetics and Mcity are collaborating at the University of Michigan's Mcity Test Facility for joint development of advanced software and robots for new mobility applications.
They say the tools will make it easier for commercial and academic researchers at the facility to conduct comprehensive and accurate evaluations of emerging autonomous and ADAS tech.
"By combining the resources and expertise of Humanetics and Mcity, this partnership will accelerate the development and deployment of connected and automated vehicle technologies," said Mark Westen, Humanetics safety president. "This relationship will contribute to ongoing efforts focused on creating a safer, more efficient, and sustainable transportation ecosystem."
Humanetics will provide Mcity with a variety of its active safety robotic test platforms, which can mimic a range of road users from pedestrians and children to bicyclists and motorcycles. It will also provide training services and TrackBase Connect — a software solution that Humanetics says helps manage complex test scenarios and coordinates the execution of the different vehicles, traffic lights, and pedestrian platforms on the proving ground.
The robots will also be used in Mcity's Safety Assessment Program, which is a two-part protocol for testing the safety of automated vehicles before widespread deployment on public roads. It's likely they'll be used in testing with smart cities in the future, a news release from the two companies states.
"The most critical part of testing automated systems is safely dealing with other people on the roads — in cars, trucks, buses, on bikes, etc. — and how they use our road network," said Greg McGuire, Mcity managing director. "That's what Humanetics is good at and that's where we need to be innovative as a state and as a country if we're going to improve road safety more broadly."
The latest on AV regulations comes out of California, where Gov. Gavin Newsom has vetoed a bill that would've required a trained driver aboard autonomous heavy-duty trucks over 10,001 pounds.
Assembly Bill 316 was passed in both the House and Senate by a landslide.
In a veto message filed by Newsom on Friday the governor wrote, "Among its provisions, this bill would ban driverless testing and operations of heavy-duty autonomous vehicles. Assembly Bill 316 is unnecessary for the regulation and oversight of heavy-duty autonomous vehicle technology in California, as existing law provides sufficient authority to create the appropriate regulatory framework.
"…DMV continuously monitors the testing and operations of autonomous vehicles on California roads and has the authority to suspend or revoke permits as necessary to protect the public's safety. Autonomous vehicle technology is evolving and OMV remains committed to
keeping our rules up to date to reflect its continued development in California."
Newsom also said he has the future of the state's workforce in mind pertaining to the impacts AVs could have. He said he has directed the Labor and Workforce Development Agency to review and develop recommendations next year to mitigate potential employment impacts caused by testing and deployment of autonomous heavy-duty vehicles.
AB 316 is backed by Teamsters, which has accused Newsom of not thinking about jobs. Prior to Newsom's veto message being filed Teamsters General President Sean M. O'Brien said signing the bill would be the right thing and if he doesn't "he is sending a message to California and every state in this country that technology should overrule middle-class jobs."
"Gov. Newsom, I got a message for you: you want to veto this bill and take on 1.2 million Teamsters in this country? Put your helmet on and buckle in your chinstrap," he said.
Newsom mentioned in his veto message a report that guides the state on emerging technology issues and the impacts those have on California's workforce. Teamsters was one of the groups that participated with the Future of Work Commission to publish the report, he said.
Images
Featured image: Stock illustrative concept of rider in autonomous vehicle. (Credit: gorodenkoff/iStock)
Share This: