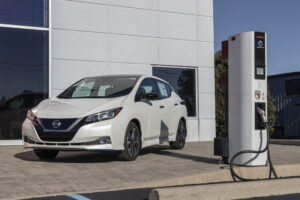 More automakers are revealing plans to increase EV production, including Nissan which revealed Monday that it will only sell electric vehicles (EVs) in Europe beginning in 2030.
Nissan's top executive made the announcement at a London, England event about a week after Britain's Prime Minister Rishi Sunak said his government would delay a ban on internal combustion engine (ICE) vehicles from 2030 to 2035.
"Nissan will make the switch to full electric by 2030 in Europe," Nissan CEO Makoto Uchida said. "We believe it is the right thing to do for our business, our customers, and for the planet."
Last December, the OEM unveiled its "Nissan Ambition 2030" — the automaker's new long-term vision "for empowering mobility and beyond."
Over the next 10 years, Nissan plans to deliver "exciting" electrified vehicles and technological innovations while also expanding its operations globally, which supports the OEM's goal to become carbon neutral across the life cycle of its products by fiscal year 2050.
Nissan has invested in building charging infrastructure and energy management and aims to accelerate the electrification of its vehicle lineup and rate of technology innovation with investments of 2 trillion yen (more than $15 billion) over the next five years.
It is the second automaker to accelerate its EV plans in recent days. Last week, Volvo announced it will no longer produce diesel-powered vehicles beginning early next year.
Meanwhile, Toyota is planning to triple its EV target by producing 600,000 units per year beginning in 2025, according to Japan-based news outlet Nekkei.
"The automaker notified major parts suppliers of its plans to boost production of Toyota and Lexus brand EVs to 600,000 units in 2025," the article said. "The production target for 2024 is set at 190,000 units. Toyota sold 24,000 EVs in 2022.
"Toyota's production target for all vehicles in 2023 is over 10 million units, including about 150,000 EVs. For 2025, the company aims to produce 11 million vehicles, meaning EVs would make up 5% to 6% of all vehicles."
Separately, Jaguar announced last week that it has signed an agreement with Tesla to use its Supercharger network in the U.S., Canada, and Mexico as it prepares to transform into an all-electric luxury brand by 2025.
The OEM said that beginning in 2025, all of its models sold in the region will have full integration with the North American Charging Standard (NACS) without the need for an adapter.
"[Jaguar Land Rover]  is dedicated to helping our clients make the switch to electric vehicles and to our commitment to net zero carbon emissions by 2039," said Mark Camilleri, director of electrification services. "[This] announcement is an important step as we deliver an outstanding charging experience for our all-electric Jaguar clients. Whilst most charging takes place at home, when away from home, our clients want access to fast, reliable, and convenient chargers.
"Tesla has created a charging network across the globe that delivers this, and we are delighted to be working with them to provide access for Jaguar clients."
A number of other automakers — including Ford, Rivian, General Motors, Mercedes-Benz, and Volvo — previously announced plans to integrate models with NACS.
Earlier this month, Honda joined that group when announcing it would adopt NACS for the charging port of its EV models beginning in 2025.
Images
Featured image: jetcityimage/iStock
Share This: