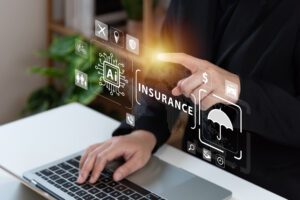 Roadzen goes public to expand mission of using AI to 'transform' auto industry
By on
Insurance
Data-driven insurer Roadzen is now trading as a public company after merging with a blank check company and launching an initial public offering (IPO) to fund its expansion plans.
After combining its business with Vahanna Tech Edge Acquisition Corp. last week, Roadzen shares began trading on NASDAQ under the ticker RDZN with a pre-money equity value of $683 million.
Roadzen said in a press release that it's "on a mission to transform global auto insurance powered by advanced AI [artificial intelligence]."
It also said that it has built a "pioneering technology platform" that uses telematics, computer vision, and AI to transform the insurance value chain. This includes underwriting, distribution, and claims.
"Going public is a pivotal moment in Roadzen's journey, yet it's merely one milestone in our mission to deliver simpler, smarter, and safer insurance to drivers globally," said Rohan Malhotra, Roadzen's founder and CEO. "We're incredibly excited about the transformative potential of AI in reshaping the $800 billion auto insurance market and are going to be unwavering in our focus to build Roadzen as the leader at the intersection of AI, mobility, and insurance."
A recent MarketWatch survey indicated that AI could reshape the insurance industry. It could do so by speeding up the decision-making process of determining customer risk and discovering claims patterns in certain locations or demographics that humans might not spot, according to MarketWatch. Its report said AI is also helpful in claims fraud detection, customer service, and telematics for usage-based insurance (UBI).
MarketWatch noted that insurance carriers today are using limited memory AI, such as ChatGPT, which analyzes existing data, performs tasks, and can create new content based on its training.
According to MarketWatch, there are four types of AI based on functionality and carriers use them, or some of them, in varying ways. Types include: reactive machine, limited memory, theory of mind, and self-aware.
Roadzen previously detailed how automated car damage assessments can simplify inspections and underwriting. It said its automated inspection platform includes a suite of features that can streamline the video call process, facilitate remote inspections, and allow customers to take vehicle photos.
"Automated vehicle assessment enables insurers to remotely inspect the condition of a vehicle through real-time pictures and video from a mobile device and get expert assessment," Roadzen said in a February article. "This technology saves time and money for both insurers and vehicle owners alike. Inspection data creates accurate vehicle condition reports, which inform the pricing and purchasing decisions for insurers, helping them cut costs and process claims faster. At the same time, it makes it easier for customers to report vehicle issues for repairs, and submit claims — right from their fingertips."
Photo-based claim estimates have been an area of concern for repairers. They have not proven to be a sufficient replacement for in-person inspections as damage detected by in-person appraisers can be overlooked in photos.
In fact, recent survey data by the Washington Independent Collision Repairer's Association (WICRA) shows that only 6.9% of nearly 1,100 photo-based claims were paid in full by insurers without supplements and only 26 of them were accurate.
Roadzen said its merger with Vahanna will allow it to further invest in its growth initiatives and technology as well as other merger and acquisition opportunities. The company said that thousands of companies, including world-leading insurers, are currently using its technology to build new products, sell insurance, process claims, and improve safety.
"Roadzen is truly one of the rare insuretech platforms leveraging applied AI, telematics and computer vision to revolutionize the legacy auto insurance industry, which is plagued by rising costs and soaring premiums," said Vinode Ramgopal, chairman of Vahanna LLC. "In today's inflationary environment, better underwriting and claims processing, coupled with lowering costs for insurers and ultimately consumers, provide a significant runway for Roadzen's growth in the years ahead."
Roadzen did not reply to a Repairer Driven News inquiry to provide a response to photo-based estimate concerns, or its growth plan for the U.S.
Images
Featured image: Poca Wander Stock/iStock
Share This: