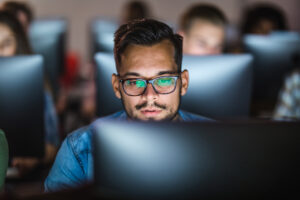 The National Institute for Automotive Service Excellence (ASE) says its advanced driver assistance systems (ADAS) Level 4 specialist certification test provides more business opportunities for repair centers through the employment of L4-certified technicians.
ASE said it created the certification test to find technicians who possess knowledge of the skills required to diagnose, service, and calibrate ADAS-equipped late-model sedans, SUVs, and light-duty trucks. The L4 test covers content focused on the diagnosis, service, and calibration of radar, camera, ultrasonic, and other ADAS.
Many of the questions relate to a sample vehicle with ADAS technology used by most OEMs. The vehicle is described in the composite vehicle type 1 reference booklet provided as an electronic pop-up during the test.
Before taking the test, automotive service professionals must have passed either the Automobile Electrical/Electronic Systems (A6) or Collision Mechanical and Electrical Components (B5) test. An L4 study guide is available to help with test preparation.
For more information and to register, visit ASE.com/test-series.
The L4 test has 50 questions and a two-hour time limit. L4 test takers will receive a pass or fail score report at the test center and/or through their myASE account.
While the L4 test can't be taken virtually, ASE does now offer at-home or in-shop recertification tests, as long as a rigorous sterile environment, the correct software is downloaded, and all distractions are removed. The tests must be registered for and scheduled ahead of time. A proctor watches test-takers via camera to make sure they stay on track and to ensure answers are only coming from the registered user.
All requirements to remote-test are listed in a two-page document provided by ASE prior to testing, as deemed by the test provider, ProMetric via its ProProctor platform.
"Part of what makes a valuable to technicians and to employers is that integrity of the test," said Trish Serratore, ASE communications senior vice president, said in a recent Remarkable Results Radio podcast. "We want to be sure that you are who you are and that it's your knowledge and competency that's being tested. We wanted to make sure that that could also happen in a home environment using your own computer. And the Parametric folks have gone top-of-the-line to do that."
In addition, ASE recently published Electric Vehicle Technician/Shop Personnel Electrical Safety Standards to provide guidance, document, and establish electrical safety requirements, standards, procedures, and safe work practices relating to the development of an electrically safe working area for service professionals in North America working on or around electrified vehicles (xEVs).
A new testing and certification program for all xEV vehicles is available as well that includes light- and medium-duty, heavy-duty, and hybrid vehicles.
The program provides two options to certify students and service employees based on their involvement with EVs. The certification tests are available at www.ase.com/ev.
"Technicians and service personnel must be properly trained to perform EV service and repairs," said Tim Zilke, ASE president. "With the increasing popularity of electric vehicles, ASE has taken a proactive approach to support shops as they encounter more hybrid and EV repair opportunities.
"The new ASE EV testing and certification program was developed in conjunction with industry experts to help ensure that service professionals are well prepared to safely and effectively service these technologically advanced vehicles."
Images
Featured image: Stock photo of a student taking a test on a computer. (Credit: skynesher/iStock)
More information
Share This: