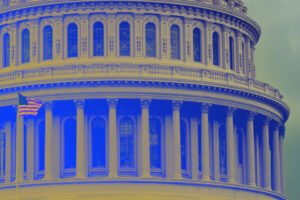 Federal legislators question need for R2R law, sponsor says OEMs pushing 'monopolistic bid'
By on
Collision Repair | Legal
During a U.S. House subcommittee hearing Wednesday, there wasn't a consensus on support or opposition to the federal REPAIR Act but there were many questions about why the act is needed for independent automotive and collision repair shops, leaning toward the necessity for it.
Supporters have claimed the re-introduced Right to Equitable and Professional Auto Industry Repair (REPAIR) Act (H.R. 906) will ensure access to "all tools and equipment; wireless transmission of repair and diagnostic data; and access to on-board diagnostic and telematic systems needed to repair a vehicle."
However, the request for in-vehicle data may not always be for the same objective as accomplishing the "right to repair."
The R2R debate has been ongoing for some time at the state and federal legislative levels and among trade groups. The Alliance for Automotive Innovation (Auto Innovators), which represents most automakers, contends that the data necessary to repair vehicles is already made accessible by OEMs.
The REPAIR Act is sponsored by Rep. Neal Dunn (R-FL) and co-sponsored by Reps. Brendan Boyle (D-PA-02), Warren Davidson (R-OH-08), and Marie Gluesenkamp Perez (D-WA-03).
The act was discussed in a Q&A panel fashion on Wednesday between the Innovation, Data & Commerce Subcommittee of the House Committee on Energy & Commerce and two panelists — Automotive Service Association (ASA) Board of Directors Chairman Scott Benavidez and Kathleen Callahan, owner of Xpertech Auto Repair in Florida.
When asked what tools and information are made accessible by OEMs to independent repairers to diagnose, repair, and maintain vehicles, Benavidez said multitudes of scan equipment are offered and are the same as offered to OEM dealership repairers. He also said, when asked, that to his and ASA's knowledge, there is no evidence that shows consumers are harmed by the current state of competition in automotive repair.
Dunn is a member of the subcommittee and said he sees R2R as a necessity because when consumers buy a product they own it and should have the option to repair or service it without OEM restrictions.
"Our property is being increasingly restricted," he said. "I think this should be simple. Either I buy a car, in which case I own it, or I lease a car and then we just come to contractual [obligation on] who actually controls repairs and maintenance. As technology continues to develop faster than consumer protection laws, it's essential for an update and I believe my bill, HR 906 — the REPAIR Act — does that.
"…It's unacceptable for the vehicle manufacturers to exclude independent repair shops from accessing that data, especially if they're [shop customers] the owners… It's the right of owners to repair their equipment and their vehicles and to choose where to repair. I think forcing auto owners back into the dealerships for repairs not only leaves a huge existing industry behind, it veers towards vertical integration and monopolistic bid. The Repair Act fixes this just like the hardworking mechanics who fix our cars. Lastly, MOUs absolutely do not go far enough to protect the consumer and the consumer choice."
At the state level, Massachusetts voters passed an update to the commonwealth's right to repair legislation, on referendum in 2020, that requires OEMs to create and implement an onboard, standardized diagnostic system that would be accessible to everyone with or without OEM permission. Auto Innovators argues in its lawsuit that OEMs can't safely and consistently comply with the legislation.
Enforcement of the new law began on June 1. Enforcement was delayed by the state's former attorney general amid a lawsuit against the state by Auto Innovators that argues compliance can't be met by OEMs. Newly elected AG Andrea Campbell has taken a more forward approach to Auto Innovators' arguments and ended a non-enforcement stipulation between the AG's office and Auto Innovators in May. The lawsuit remains pending.
Right to repair has also been brought up in Maine by the Maine Right to Repair Coalition and will be a referendum question on the Nov. 7 ballot.
Also, 28 state attorney generals banded together earlier this year to support R2R federal legislation to ensure "small automobile businesses and "mom-and-pop" auto shops can remain competitive against a closed system favored by original equipment manufacturers (OEMs)."
R2R has been debated in Canada as well.
On Wednesday, Dunn added that in an updated agreement between OEMs, Auto Innovators, the Society of Collision Repair Specialists, and ASA only half of 1% of independent repair facilities in the country are represented.
"I don't think that an MOU that's unenforceable that only includes less than one-half of 1% of an industry is representative of that industry's choices," he said.
Callahan said she views the agreement as merely a handshake that isn't enforceable and doesn't apply to European OEMs.
SCRS Executive Director Aaron Schulenburg told Repairer Driven News the agreement "reinforces that independent repair facilities will continue to have access to the same diagnostic and repair information that auto manufacturers make available to dealers."
"What concerned representatives should be asking is how these efforts can be repositioned to ensure that the data that is already available is accessed, followed, and utilized to result in safe and proper repairs for the motoring public," he added.
Dunn asked Callahan what she foresees happening to her business in the next five years if the REPAIR Act isn't passed.
"I foresee that I have a very limited capability of working on cars more and more as the technological advancements continue," Callahan said. "I'll be able to do tires and maybe some brakes but anything electronic and anything safety-related will be locked."
She also said that she believes, eventually, her facility will be limited to only work related to tires and brakes because of data access prohibitions that would prevent any electronic system repairs.
Callahan shared a recent example of what she said was representative of an OEM preventing independent repairs. One of her customers let her know that their car broke down in South Carolina and had to be towed 90 miles to a North Carolina dealership because an independent shop didn't have data access to repair it. The repair took four days and cost $7,000, she said. She gave no details on the specific procedure or vehicle type or any information about what supposedly limited independent access to the information.
Rep. Debbie Lesko (AZ-08) asked Benavidez how he can contend that the REPAIR Act isn't needed when the ASA's website says the association represents independent repairers and Callahan, an independent repairer, says her repair options are limited by OEMs.
Benavidez posed the argument that the example Callahan shared of a facility's inability to repair the vehicle likely wasn't because they didn't have information access. Instead, "they probably didn't either want to pay for that information, didn't know how to gather that information, or didn't have the tools and equipment to repair that vehicle," he said.
"We're able to gather that information," Benavidez said. "Sometimes it's hard for us to find but we find it and it's accessible. Sometimes you have to pay for it, sometimes you don't. That's just the nature of where we work. Is it easier for OEMs to get that information? Yes, because they're dealing with one specific vehicle. Sometimes we have to go searching for it longer or pay a subscription fee but we can gather that information."
Lesko also asked if Toyota and Honda are included in the agreement to which Benavidez said the groups are "in talks" with them to come on board with the agreement.
While more detail wasn't given about "talks" with Toyota and Honda during the hearing, it should be noted that Toyota and Honda are Auto Innovators members and are both leaders in the industry in providing information to independent repair facilities.
In fact, Toyota offers repair information on its "TIS" website as well as all of the OEM's position statements, CRIB bulletins, technical service bulletins, and mechanical and collision repair procedures — everything needed to safely and properly fix a customer's vehicle.
Honda has an Independent Repair Website, which covers all Honda and Acura vehicles from 1990 to the current models.
Following the hearing, ASA posted a news release on its website regarding the REPAIR Act that states the agreement between Auto Innovators, SCRS, and ASA "resolves concerns regarding the impact of new technologies on data access, establishes a Vehicle Data Access Panel and Data Access Working Group to address gaps in data access, accounts for future vehicle technologies, and encourages collaboration on training." Because of the agreement, ASA says the need for the REPAIR Act is nullified.
Written testimony that was submitted to the subcommittee included support for the REPAIR Act from SEMA.
SEMA President and CEO Mike Spagnola encourages lawmakers to expand the bill to include similar protections to protect businesses that produce and install parts that modify or customize vehicles, SEMA said in a news release.
"SEMA strongly supports the REPAIR Act as drafted but also requests that the bill be expanded to clarify that it protects the right to modify vehicles, ensuring that auto manufacturers cannot employ any technological, legal, or cryptographic barriers that impede the ability of an aftermarket parts manufacturer or a vehicle repair facility to produce or install aftermarket parts and software that are custom, upgrade, or modify a vehicle," Spagnola said.
Schulenburg further expanded on R2R to RDN saying that, from the association's experience, independent collision repair facilities aren't currently struggling to access data or tools they need to properly fix vehicles.
"What collision repair businesses do struggle with today are insurance claim settlement practices that place economic pressure on consumers and independent businesses and discourage the use of available repair data, procedures, and prescribed tools to accomplish a proper repair.
"Consumers should have the right to be able to do so at the thousands of independent repair facilities that have invested in the training, equipment, and skillset development necessary to meet the demands of increasingly complex and sophisticated vehicles. This issue at hand is safety, not just for those who will drive and ride in the repaired vehicle, but the safety of those who occupy the roadway around it. If we are truly interested in safer roadways, then we should be focusing the conversation on an outcome that leads to safe and thorough repairs."
Images
Featured image credit: Douglas Rissing/iStock
Share This: