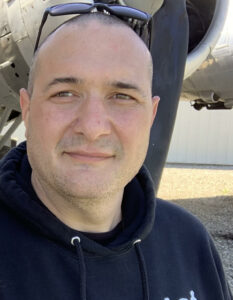 Collision repair industry loses 'industry leader' Greg Coccaro Jr. to car wreck
By on
Announcements
A second-generation collision repairer who advocated for quality repairs and certifications, and whose father was well-known within the industry for his pivotal court case with Progressive Insurance, has died.
Greg Coccaro Jr., co-owner of North State Custom in Bedford Hills, New York, passed away Sept. 26 from injuries sustained in a car accident.
"Jr. will be remembered by the North State family as a regular guy with a big heart, generous and kind," his colleagues said in a statement posted to social media. "He made some friends here at North State Custom. He will be dearly missed."
Coccaro Jr.'s father, Greg Coccaro Sr., was also considered a staunch advocate for the collision repair industry; known to fight for what he believed to be right.
Dave Gruskos, president of Reliable Automotive Equipment Inc., said he knew Coccaro Jr. through his father. After deciding to follow into the family business, the younger Coccaro was always working by his father's side and studying how to replicate his talents.
"Greg Sr. was honored to by his son's actions and was looking forward to Jr. walking in his shoes," Gruskos told Repairer Driven News. "So as Jr. took over, he immediately pushed to be better by embracing the EV revolution and the increasing certification as well as training. This allowed him to maintain himself as an industry leader, never a follower.
"Greg was a fighter for the industry to help all shops to be compensated for their certifications and training. His goal was to attract only the best workers to our industry. I know Greg would like to be remembered as the man who gave the industry and his community 100% at all times."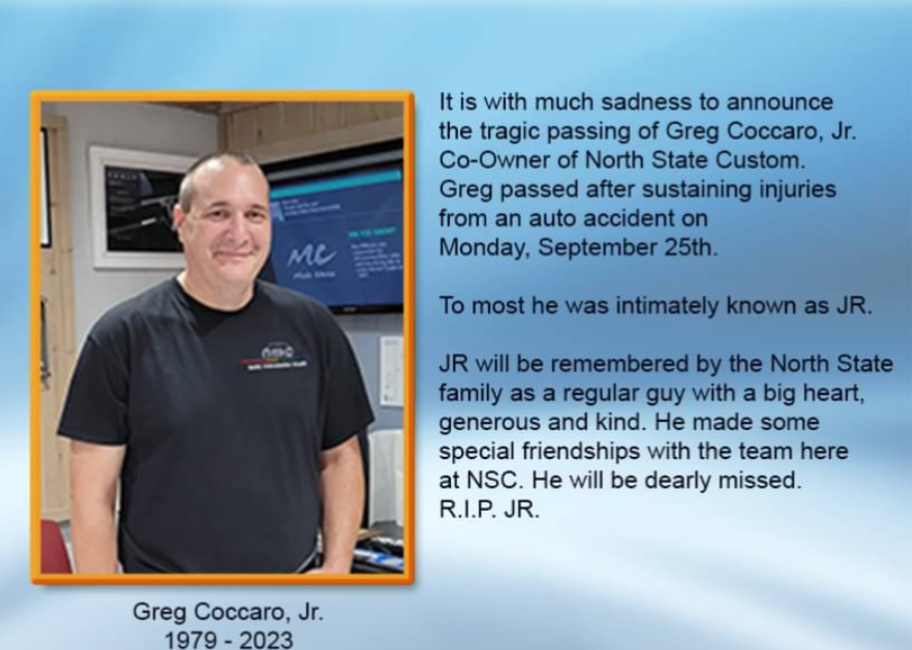 Ron Reichen, president of Precision Body and Paint, was close friends with Coccaro Jr. and said he hopes his family's legacy of championing for proper repairs carries on.
"He was certainly a warrior and a champion for standing up the right repair for the right reason," Reichen told RDN. "He never pulled away from that. He would never back down from that right."
Lou Dilisio, president at Automotive Industry Consulting Inc., knew Coccaro Jr. through his father and said he inherited his family's passion for running a high-quality shop.
"He was very intent on getting the latest and greatest equipment, the latest and greatest training," Dilisio told RDN. "He did a lot of highline automobiles and had a lot of certifications. He was a fanatic to make sure he followed all of the original equipment manufacturers' procedures. That's something that everybody should be doing but it's not something that everybody does."
Coccaro Sr., who died aged 66 in 2016, was known for defeating Progressive in a years-long lawsuit that caught national attention. He successfully sued the insurer after repairing a 2004 Mercedes-Benz for a customer who had run over a rock wall and garden in her yard.
The woman was insured by Progressive, whose estimate was lower than North State's, however, the car owner still hired Coccaro Sr. to complete the repairs given his vast experience with luxury vehicles.
Before performing the repairs, he advised her that she would be responsible for any charges not covered by Progressive. It took four weeks and more than $30,000 for Coccaro Sr. to return the car to its original state, and Progressive ultimately cut him a check for $34,090 to cover the expenses.
However, soon after, it filed a legal complaint against him and accused him of defrauding the company by providing fake invoices. After years of legal wrangling, the case against him was ultimately dismissed by a judge.
The case was considered a win for the collision repair industry by underscoring the legitimacy of repair estimates provided by qualified repairers.
Shortly after his death Janet Chaney, owner of Cave Creek Business Development, said Coccaro Sr. "walked the walk."
"He was an industry hero," she said. "He did what a lot of people talked about doing, and he did it."
Following Coccaro Jr.'s passing, Gruskos said both left their mark on the industry.
"As we all fight the fight for proper repairs and compensation, we should all thank Greg and his dad for helping pave the way for all of us," Gruskos said.
Sadly, this is the second time a tragedy has struck North State within the past two years.
In February 2022, the facility's general manager Avi Harrindranauth, 28, died in a car wreck after hitting a patch of black ice on his drive home.
A viewing for Coccaro Jr. is scheduled for Oct. 3, between 3-8 p.m., at Joseph J. Smith Funeral Home in Mahopac, New York. His funeral service will be held Oct. 4 at 10 a.m. at Saint Patrick's Church in Yorktown Heights, New York.
He leaves behind his wife and a young daughter.
Images
Featured image: Greg Coccaro Jr./Courtesy of Ron Reichen
Secondary image courtesy of Facebook
Share This: