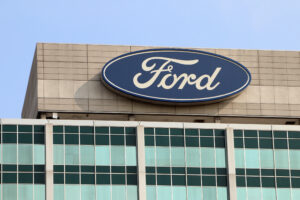 Ford execs call for end to UAW strike, warn supplies are 'balancing on knife's edge'
By on
Announcements
Two weeks into the United Auto Workers (UAW) ongoing strike against the Big 3 — General Motors, Ford, and Stellantis (the Detroit 3), Ford executives spoke out about the impacts it could have if a deal isn't reached soon.
Jim Farley, Ford's president and CEO, said the automaker has already made a "great offer" to its striking workers and that electric vehicle (EV) battery plant discussions are holding up the deal.
"We've stayed quiet and worked around the clock in an effort to reach a deal," Farley said during a live webcast held Friday. "We still have time to reach an agreement and avert a real disaster, but not much more time, given the fragility of the supply base of all the companies."
Farley's prepared remarks came around the same time Shawn Fain, UAW president, announced that the union would expand its strike at GM's Lansing Delta Township Assembly and Ford's Chicago Assembly, which will see additional UAW members take to the picket lines.
In total, there are now 25,000 union members on strike throughout 21 states, UAW said, adding that it wasn't taking future action against Stellantis "due to considerable progress in bargaining."
Stellantis said in a statement to RDN that it has been "intensely working with the UAW to find solutions to the issues that are of most concern to our employees while ensuring the Company can remain competitive given the market's fierce competition.
"We have made progress in our discussions but gaps remain," Stellantis said. "We are committed to continue working through these issues in an expeditious manner to reach a fair and responsible agreement that gets everyone back to work as soon as possible."
Fain made a similar statement when justifying the expansion of strikes against Ford and GM.
"Over the last week, the vice presidents, your national negotiators, and my office have been working night and day to bargain a record contract that reflects the record profits we have produced for the Big Three," Fain said. "Sadly, despite our willingness to bargain, Ford and GM have refused to make meaningful progress at the table."
Ford refuted that allegation in its Friday webcast, with Farley maintaining that it has "offered an incredible contract that would change the lives of over 57,000 workers for the better."
After the OEM halted construction on its $3.5 billion EV plant in Marshall, Michigan during the strike, it added yet another layer to negotiation concerns for both that plant and three others Ford is developing through joint ventures.
"We believe the UAW is holding up the deal over battery plants that won't come online for another two to three years," Farley said. "Of all the companies. Ford has been the most supportive of the UAW and manufacturing in America. We employ 57,000 UAW members, that's about 40% of the union's Big 3 membership."
Ford said its "historic offer" to UAW workers includes things like boosted wages of more than 20%, more time off, layoff protection for permanent employees, eliminated wage tiers, and restored traditional cost of living allowances.
Farley added that a deal must be struck soon to avoid further ripple effects on the supply chain.
"The good news is we still have time to reach a deal and avoid a serious and lasting blow to our region and this industry," he said. "The supply base is on a knife's edge already. Look at the Michigan assembly where we make the Bronco — suppliers there employ 125,000 hourly workers. In the plant, we employ about 5,000. All those 125,000 hourly jobs are at risk as a strike moves on."
Liz Door, Ford's chief supply chain officer, underscored worries that supply chain issues could grow as the strike drags on.
"Our concern really is the resilience of the supply chain particularly as they're feeling post-COVID," Door said. "…As it is prolonged, this really could have a significant impact. As it expands into our other Ford factories, we see anywhere between 325,000 to 500,000 employees that could be laid off."
GM and Stellantis dealers have also raised concerns over parts shortages and higher prices following the expanded UAW strikes and parts centers.
"It's going to become near impossible to get a lot of these parts," Richard Fasulo, a mechanic at a New York state Cadillac dealer, said to Reuters. "[The strike] is going to have these shops telling their customers, 'We don't know when we can fix your vehicle. It might be indefinitely.'"
Other dealers told Reuters they expect the strikes to lead to limited choice for vehicle purchases and cars clogging service bays at dealers, waiting for parts.
Images
Featured image: TennesseePhotographer/iStock
Share This: