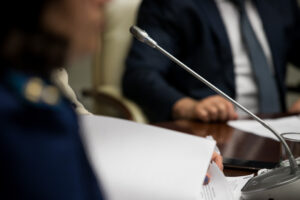 Massachusetts repair centers closing, losing techs because of low labor rate
By on
Legal
Collision repair center owners and collision and insurance trade groups testified before Massachusetts legislators on Tuesday in the continued fight to raise the state's labor rate of $40 — the lowest in the U.S., which hasn't increased since 1988.
Andrew Bedard, a repair center owner in Berkshire County, said eight body shops have closed just this year in the county because of the lower labor rate.
"Currently, the body shops that are still open, they're almost refusing insurance work because we can get paid $70 an hour customer-pay," he said. "All of us [that] take customer-pay work before any insurance work in our county [are] booked until February. Currently, just a price increase would change everything dramatically."
He added that collision repair shops in his area are losing technicians to jobs at Target because they pay $23 an hour.
The testimony was heard by the Joint Committee on Financial Services and was related to four bills —  H.950, H.1095, H.1118, and S.688 — to set auto body labor rates in the commonwealth.
In addition, H.950 would create an auto body labor rate advisory board to address any issues related to auto body labor rates. The board's responsibilities, in part, would be to create, implement, and oversee a biennial survey to compile data pertaining to contracted hourly labor rates, posted hourly labor rates prevailing hourly labor rates as well as any additional information it deems relevant, according to H.950.
Alliance of Automotive Service Providers of Massachusetts (AASP-MA) Executive Director Evangelos "Lucky" Papageorg, a longtime advocate of increasing the Commonwealth's labor rate, told the committee that the Commonwealth ranks in the top five most expensive places to operate a business in the country.
"Sadly, the labor rate of reimbursement has not kept pace with the changes in technology, training, and equipment required to perform proper repairs as well as with all the other escalating costs in running a business here in Massachusetts," he said. "While being in the top five regarding business expenses, we rank dead last when it comes to labor rate reimbursement by insurers."
The collision repair industry has been before the committee for nearly two decades on the issue, he added.
"The legislature can no longer wait for the insurance industry to do the right thing," Papageorg said. "They have been proven time and time [again] if left to their own devices, they will adhere to the status quo. While they do so, thousands of potential employees do not even consider entering this profession and hundreds leave or age out on a yearly basis.
"Businesses close down yearly, not because of the lack of work, but because of the lack of employees to do that work and the lack of a fair return on their investment. The collision industry is on the brink of collapse because of this and who will ultimately pay for the price for this? It will continue to be your constituency on an ever-growing great scale."
Massachusetts Insurance Federation Executive Director Christopher Stark said labor rates today are 7-15% higher than they were at this time last year, which he said means "the market is responding and it's responding well."
"We do not want to reintroduce some levels of government control of the marketplace since the 2008 reforms which moved us from fixed and establish and manage competition," he said. "Consumers have won in the state. We've gone from consistently one of the top five highest insurance rate states to now in the 15 to 18 spots nationally. And that's good for consumers if we look back to last year."
He said, according to research presented to the committee last year, labor rates remain low in Massachusetts because of a continuous oversupply of repair centers in the market leading to downward pressure on prices in the repair industry.
Jeffrey White, owner of North End Auto Body, refuted that if the labor rate increased today, does that mean the number of claims would go up?
"Because if it wouldn't, I don't see how that is relevant," he said. "He also stated that the higher rates would increase total loss. So the total loss rate is higher in every other state in the country? Because the average is $59 an hour. And I just don't understand that if our cost of living is number three, why can't we be on an average playing field with all the other shops?
"…I have to [sic] make sure that I'm putting out a safe product and making sure that my customers and their families are protected after I repair their vehicles. It's ridiculous that we're the lowest in the entire country."
David Brown, who works for the DeLuca Family of Dealerships, said not only has the collision repair workforce been thinned out because of a lack of wages but the issue also creates hardship for new car owners.
"It's led to delayed appointments, prolonged repair times, and upset customers," he said. "I don't know how a person survives in today's times without a car. People have been maxing out their rental coverages before the car is even completed. The insurance company's answer is to have the customer pay for the rental. I don't think it's fair.
"The collision repair technician in our shop makes around $21 an hour. The service technician makes around $45 an hour. But because your collision repair technician needs to invest in the same amount of tools [and] training as a service technician does, the body shops are only collecting 25% per hour of what a service shop is currently collecting. How can that be equal pay for equal work?"
He added that the national average body shop rate is $59 per hour and $73 an hour for framework so to match that according to cost of living, labor rates in Massachusetts should be $78 an hour and $96 an hour, respectively.
"The increased rate would allow me to bring the collision repair technicians' pay to the level that reflects their skill, investment, and talent needed to be a collision repair technician," Brown said.
Frank O'Brien, American Property Casualty Insurance Association state government relations vice president, said APCIA is "strongly supportive of" the labor rate bills.
"We've been down this road for many, many years," he said. "Back in 2001, when I first testified before the predecessor committee — the Senate Committee on Insurance — the minimum wage was $6.75 an hour. A gallon of gas was $1.50. We're at $15 bucks an hour now minimum wage. Gas is close to $4. Our electricity costs are up, health insurance costs are up, rent; everything is up at the repair shops except the labor.
"We are very willing to work with this committee and others in this legislature as well as the interested parties who still refuse to acknowledge that there's a problem here [in] getting to an agreement of some sort on how we can address this problem of the repressed labor [rate] to the repairers."
Donald Dowling, owner of Marblehead Collision, testified against statements made by Stark about claims made to the ADALB by repair centers over small disagreements, such as $30 over a repair procedure.
"I don't think these claims were frivolous because it was me that sent in 158 of them," he said. "As a trained repairer, I feel it is necessary to follow the safety requirements of the manufacturer. Please raise your hand if you would allow your children in a vehicle where a safety operation is not performed even though it's required by the manufacturer. The board members of the ADALB also did not raise their hands when this question was presented to them.
"…Just these complaints were roughly $40,000 put on the customer. These are our people and they're making them pay."
Images
Featured image: Stock photo of an individual speaking at a meeting. (Credit: Semen Salivanchuk/iStock)
Share This: