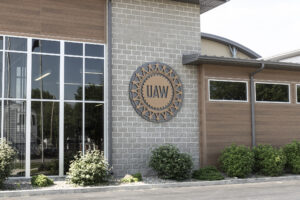 MEMA: Ongoing UAW strike, border issues are impacting vehicle suppliers
By on
Announcements
MEMA Original Equipment Suppliers says a survey of its members found that nearly 30% have laid off employees as a result of the ongoing UAW strike against Ford, General Motors, and Stellantis.
Its Sept. 29 survey also found that additional suppliers plan to follow suit, with 60% expected to begin making layoffs by mid-October. More respondents are worried about the repercussions of the strike, with 70% saying they have concerns about their sub-suppliers' ongoing financial viability and more than 50% of idled suppliers indicating they need at least one week to return to pre-strike levels.
Ann Wilson, MEMA's senior vice president of government affairs, said the vehicle supplier association has not received any information regarding collision repair part shortages. However, that could change.
"We may start to see an impact in the next couple of weeks," Wilson told Repairer Driven News. "When those parts are ordered, a lot of them come through OEM distribution centers and that's where the delay may come in if those centers are still not up and running.
"MEMA is concerned that there will be a parts shortage that will delay ramp-up of production when the strike is settled. As many as one-third of surveyed respondents indicated it will take up to one week to ramp up production with 10% indicating it will take two to three weeks."
MEMA has asked the White House to provide emergency training funding that would allow affected workers to remain employed during the work stoppage, saying that would help prevent parts shortages that could delay production.
"MEMA is working with the White House administration to develop a plan to provide financial assistance for smaller suppliers, defined as less than $200 million in revenue," the trade association said in a release. "The output of these suppliers, often Tier 2 or lower, is critical to the ongoing viability of the entire supply chain."
Further complicating the issue, it said, is the slowdown of commercial vehicle crossings at the U.S.-Mexico border. MEMA said it met with the White House National Economic Council (NEC) and National Security Council (NSC) officials to address the issue. In the meeting it co-led last week, it recommended that the NEC and NSC:
"Expand the border crossing hours in the U.S. Customs and Border Protection (CBP) El Paso and Arizona regions to  accommodate the additional trucks using these locations;" and
"Ensure the U.S. CBP coordinates with the Texas Department of Public Safety (DPS) to expedite truck crossings throughout the southwest U.S."
MEMA said it will continue to survey its members each week and share the results.
Ford previously detailed how the strike could hamper the supply chain, with its CEO Jim Farley saying last Friday that supplies were "balancing on a knife's edge."
"The good news is we still have time to reach a deal and avoid a serious and lasting blow to our region and this industry," Farley said. "The supply base is on a knife's edge already. Look at the Michigan assembly where we make the Bronco — suppliers there employ 125,000 hourly workers. In the plant, we employ about 5,000. All those 125,000 hourly jobs are at risk as a strike moves on."
Liz Door, Ford's chief supply chain officer, underscored during last week's media conference worries that supply chain issues could grow as the strike drags on.
"Our concern really is the resilience of the supply chain particularly as they're feeling post-COVID," Door said. "…As it is prolonged, this really could have a significant impact. As it expands into our other Ford factories, we see anywhere between 325,000 to 500,000 employees that could be laid off."
Late Monday, Ford made its "seventh and strongest" offer to the UAW as it works to reach a new labor agreement through April 30, 2028. The automaker said its latest offer would provide "unprecedented improvements" in wages and benefits, product commitments, and job securities.
"There's no doubt our UAW workforce put us on their shoulders during the pandemic, and these same workers and their families were hit hard by inflation. We want to make sure our workers come out of these negotiations with two things – a record contract and a strong future," Farley said when announcing the offer. "We've put an offer on the table that will be costly for the company, especially given our large American footprint and UAW workforce, but one that we believe still allows Ford to invest in the future."
As of Friday afternoon, the strike, which began after contracts expired Sept. 14, was ongoing.
Images
Featured image: jetsettyimage/iStock
Share This: